Call recording software plays an important role in contact centers as these take good care of your customers and your business  grows itself. They do not expect you to be perfect. They understand things go wrong with products. All they want is an honest and quicker fix to their grievances.
That's the motivation contact centers breathe in every day!
Call recording software is one of the most widely used tools that is enabling the support teams to keep that trust alive.
It is a single point of truth to understand what is working and what is not. From enterprises to startups, call archives are a goldmine of insights and they want to utilize them optimally.
Not to miss, contact center software that also includes recording, is a market growing at a CAGR of 20.9% and could reach USD 75.5 bn by 2026.
If you were hiding below the hood, here's a detailed discussion about the advantages of recording telephone conversation.
---
A. The advantages of call recording software
1. Quality assurance adds to convenience
By recording calls, call center managers can pinpoint and troubleshoot any errors related to digital audio quality. This helps in achieving a productive conversation.
They get immutable and real insights into an agent's response in a given situation. They also learn about their customers' response to stimuli providing important analysis.
Furthermore, this data helps in A/B testing to develop new regulations and other actionable tips for handling customer problems.
Now, call recorder in the contact centers helps in the automation of overall process of filtering insights as per different metrics. This means, call center managers can bypass the manual process of listening to and capturing key indicators.
Enthu.AI for example, records and monitors number of calls at a time for quality assurance. It also auto-surface calls in an urgent situation.
AI in contact centers  helps quality teams to focus on calls that are most important instead of random sampling.
Call center QAs can use Enthu.AI to monitor long calls, say a 30 minutes call,in just a matter of seconds.
This saves their time and allows them to handle three times the call volume in half the time. This way, quality analysts can directly improve their agent to QA ratio.
---
2. Allows for better training & coaching
A major advantage of automatic call recording remains improved training until date. Industries in the telephone sector and call centers still make use of flowcharts and scripts for their teams to use when interacting with a customer.
Although this is a good practice, employees can learn from successful calls and improve their analytical, sales and people skills. It teaches them to handle tough human situations in the best possible way.
Here, Enthu.AI bookmarks specific calls that agents can eventually listen and inculcate in their development plans. Managers can also create custom playlists and organize them as per their convenience.
This makes the onboarding process seamless and leaves the managers plenty of time to focus on other things. For example, a custom playlist for self-coaching can greatly help in the on-boarding process.
By using Enthu.AI, companies can compare and  assure call center quality to implement improvement strategies over time. They can also compare relative performances to determine what kind of training a particular individual needs.
---
3. Always stay compliant
It is important for all businesses to abide by related Government regulations and compliances. This means they need to follow a set of standards that the authorities have outlined for the protection of the interests of the public.
Although it is legal to record a telephone conversation after acknowledgement, companies still need to check the disclosures and laws depending on their geographical location and the person in charge of the local regulatory groups.
In the event of a dispute, it also becomes easy to solve problems with unhappy customers and hence reduces the chances of customer churn. Other times, a recorded call also acts as a verbal contract between the client and the company with proof of conversation.
Not to miss, companies may be required to maintain PCI compliance with call recording.
The PCI or the 'payment-card-industry-standards' are applicable to all organizations that transmit, store or accept cardholder data. Previously, it was hard to record calls because of stringent PCI regulations as recording transactions via software meant violating the law.
Today, contemporary recording software helps companies maintain PCI compliance in more than one way.
---
4. Make the most out of data driven insights
Call recording helps R&D teams to use feedback and work on the problems that their customers are facing. 
For example, the team for product design improvements can use any errors or confusions reported by the customers. 
Talking about customer service benchmarks, call recordings can help teams adjust to customer behaviors easily. Is it good or bad? This results in better human interactions that indefinitely increases sales team efficiency.
While we are at it, call recordings are also tangible proof in case of a dispute with a customer. 
When used with an automation tool like Enthu.AI, they are a boon for the call center managers who can better utilize their workforce for thinking that is more critical and productive tasks. 
Enthu.AI, on the other hand can do the required call listing, recording, analyzing and filtering tasks.

Over the years, there has been a significant rise in the quality of call-recording software applications. 
Based on the gaps they resolve and the value they add to the process, we have shortlisted the following call recording software tools. 
---
B. Top call recording software in 2022
In 2022, the list of high-quality call recorders includes and is not limited to:
1. Aircall
This is a modern cloud-based solution for companies that need a complete call center or phone system solution.
One of the many benefits of AirCall is that it offers both outbound and inbound call recording in their subscription plan.
AirCall is also not the best option if your users are looking to record calls easily with an existing phone system.
However, it works best for companies looking for an entirely new phone or calling system.
Have a look what Aircall said about Enthu.AI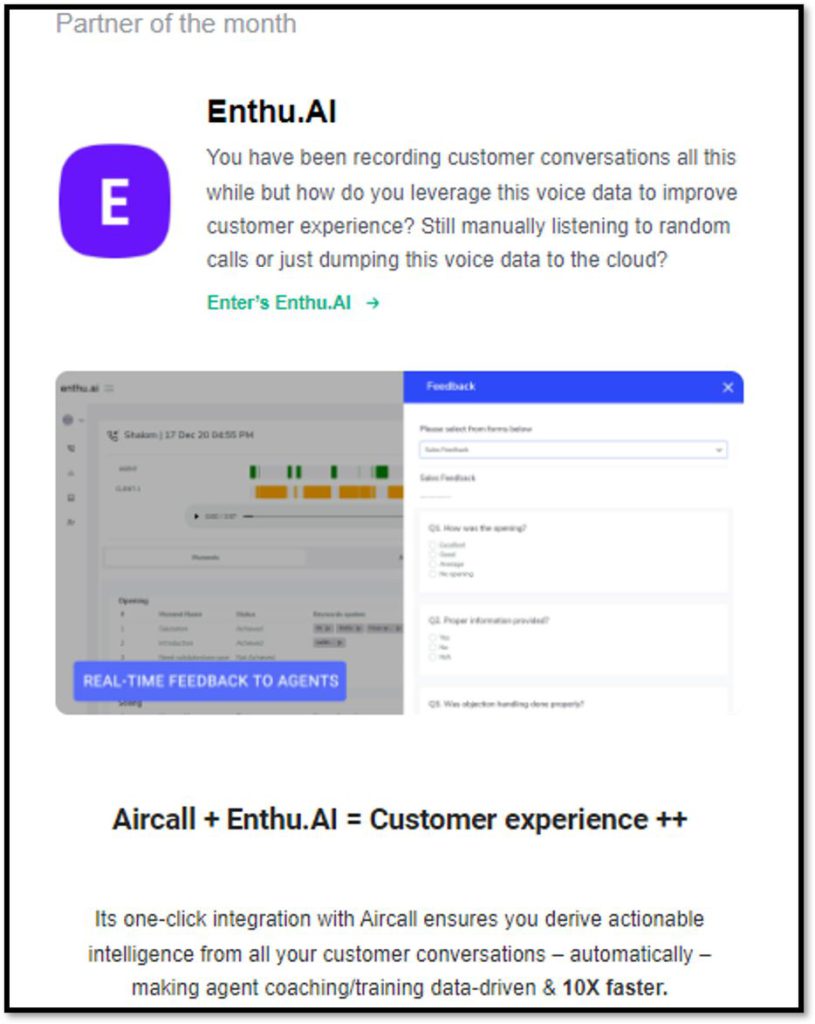 Other beneficial features include:
Ideal VoIP solution for companies needing a business phone system
Start with a 7-day free trial
Built-in recording software and App
Choose from 3 business plans – S, M or L
Pricing starts at 3-$ per month per user
Other additional services include call whispering, call analytics and monitoring. These features however are not included in the entry-level plan.
---
2. Kixie PowerCall
This is an apt offering for companies that are looking for an all-in-one solution. Kixie PowerCall has been the favorite choice of several remote teams that need to manage their calls in a simpler fashion.
The chrome extension installation is quick & easy on Windows, Macs or other Chromebook smart devices.
The agents can use the browser extension for seamless recordings management and receive & make calls seamlessly and handle difficult customers.
This software is definitely out-of-the-box and is ready to use.
Other beneficial features include:
Use voicemail drop with a single click
Get help from live-call training
Avail click-to-call dialing
Get phone numbers with local presence
Analyze with call reporting insights
---
3. Rev Call Recorder
The Apple product is one of the finest call recorders, allows users to record voice, and calls without any limitations. Record all incoming and outgoing calls with just a few clicks.
The sound quality recorded on this app is also of the highest quality. However, the star feature is the ability to transcribe calls given by Rev's real human transcribers.
Not to miss, it takes 12 hours to deliver a service.
It is only because of this feature that this app is a hit amongst professionals like journalists, content creators, podcasters and authors.
Other beneficial features of
Rev
include:
Record calls with a single tap
Edit audio recordings with ease
Avail audio transcription on request
Top-quality audio recording and playback
---
4. Ring Central
For companies looking for a generous amount of audio call recording limits for video conferencing, team messaging and phone systems, RingCentral Office is an ideal option.
There is an excellent user-friendly dashboard called RingCentral archiver that comes with an entire suite of communication tools.
With RingCentral, companies can store upto 100000 audio call recordings in a single account for upto 90 days. Moreover, the tool stores and organizes data effortlessly.
The RingCentral archiver easily shows all voicemails, SMS messages and audio recordings. Users can also see the phone numbers and the location they came from.
The RingCentral Archiver can easily connect to Smarsh, DropBox and Google Drive so that users can synchronize and backup their data easily on the cloud storage of their choice.
Other beneficial features include:
Enable hot desking
Easily barge calls or use call whisper
One time sign-on and use multiple integrations
Open API
---
5. VICI Dail
A cloud-based and open-source contact center solution is a great option for small to large team sizes in several industries. Avail inbound, outbound calls, online chat, and email integration, call routing and recording. 
Interestingly, VICI Dail combines both inbound and outbound calls with all incoming emails and chats on a single web interface.
Features like queue based prioritization and skill based routing can help managers select which calls go to which team members based on their performance.
Agents can also easily switch calls according to their convenience.
Other beneficial features include:
Users can access from any location
Schedule or automate call recording
Call transfer and blended sessions
Easy client contact management
Schedule callback easily
Custom music and website
Enable predictive dialing
Easily get client information action
Auto-dial, single and multiple dialing campaigns
---
6. TalkDesk
This platform has empowered several companies to make their customer experience work like a competitive advantage. TalkDesk provides users with enterprise class performance on one hand and consumer-like ease on the other. 
Teams can use TalkDesk as it adapts easily to their growing sales and support teams and get better productivity, savings and improve customer satisfaction. 
Currently, more than 1400+ enterprises around the world are using TalkDesk for their customer support call recording management.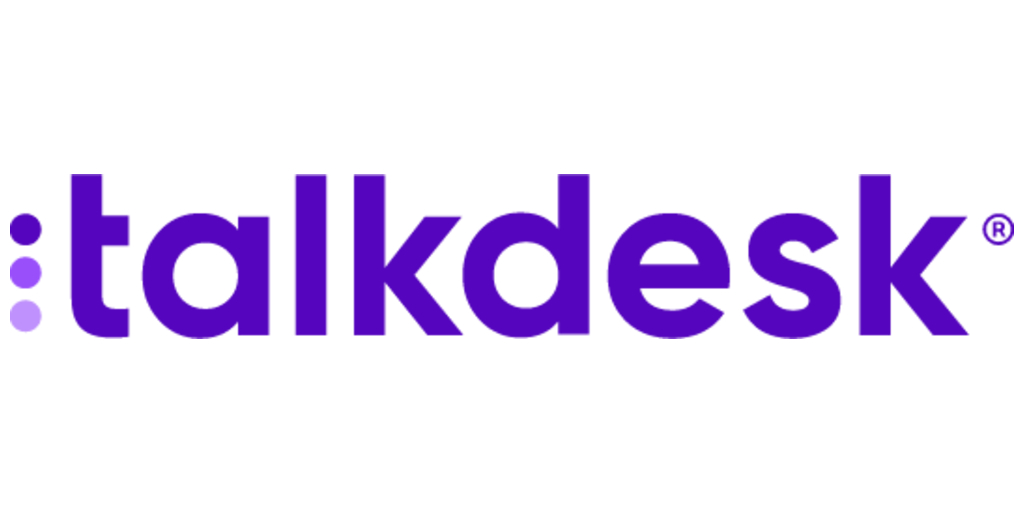 Other beneficial features include:
Call recording: inbound and outbound
Choose from several custom storage options
Pause and resume recording at will
Limitless recording time
Store on company system or get TalkDesks' cloud storage
---
7. Dailpad
This is a very popular and effective call recording software.
ware suitable for organizations of any size. DialPad sell offers several post-call and real time sales features that eventually drive efficiency for a business. 
These features include query answers to common questions and real-time advice during an active call.  
Users can also directly integrate with other apps like G Suite, Salesforce and log activity more accurately for both employees in the office and those out in the field.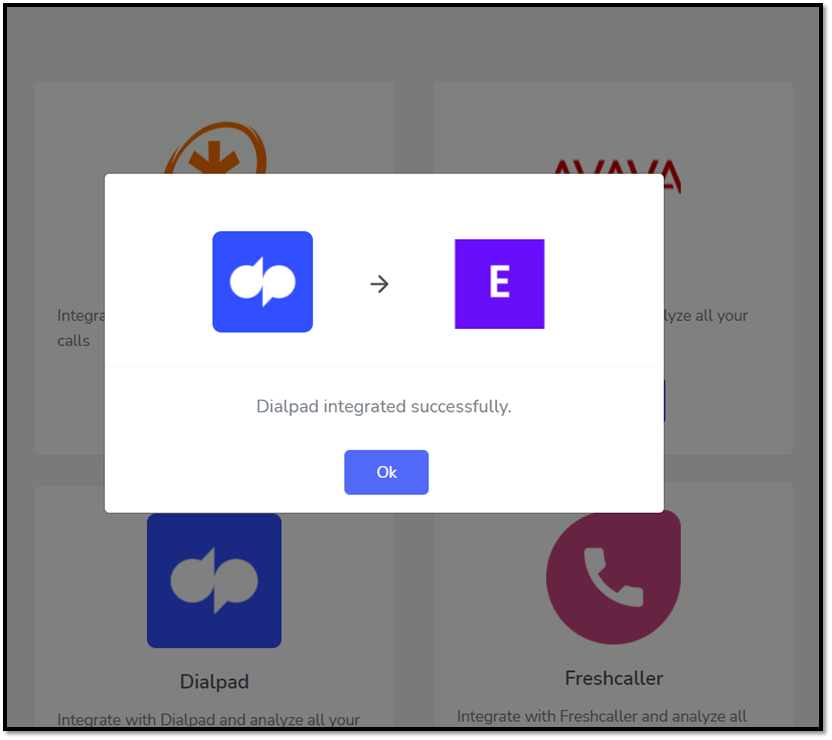 Other beneficial features include:
Call transfer, scripting and scheduling
Live chat
Manual dialer and meeting management
---
8. Zoom Contact Center
This omnichannel cloud center contact solution has been optimized for videos and integrated for the same immersive Zoom experience. 
Users can easily start a conversation on any digital channel of their choice with the Zoom Contact Center. This may be an app, a website or even a video or phone call. 
Customers can easily use the Zoom Admin Console to customize their contact center service. This can be integrated into already existing apps with just a few lines of code. 
Users can also easily integrate data from any third party apps like Salesforce to keep their agents up-to-date. 
Other recording features include:
Record both inbound and outbound calls automatically
On-demand pause and resume recording
Protect all callers' sensitive information
Integrates easily with all popular CRMs
Clear sound quality from recorded  playbacks
---
C. How Enthu.AI extracts calls from the software?
As already discussed, automation is essential to boost workforce productivity on the floor.

While most of the above-recommended tools support basic automation, Enthu.AI takes a step further and streamlines the end-to-end process of call evaluation. 

As the conversation intelligence tool, Enthu.AI performs smart scanning of calls, derives results as per commands and produces analytical output, instantly.

For example, the number of calls that have rude conversation can be known without manually listening to all of them.

It can quickly identify the most common problem in all the calls, estimates the hold time for inbound calls and other smart features like multilingual support, remote-agent calling, online and others.

From QA to agent training, Enthu.AI provides a comprehensive suite of solutions for all sectors.
---
D. Conclusion 
In this post, we discussed the growing importance of call recordings for building smarter contact centers. From the discussion, it is clear that automation solutions like Enthu.AI will prepare the contact centers to serve the impatient customers which may turns to the customer retention. Next, we discussed key call recording products and how Enthu.AI is leaving a significant mark.

Quality of service is not what you put into it, it's what your customers get out of it.