In this article, we will talk about the best call center software which you can choose to establish your business. 
Here is the list of top 13 software:
Aircall – Most popular cloud software solutions used by small and mid enterprises
JustCall – AI- powdered best customer communication platform
RingCentral – World's leading cloud phone system
Avaya – Leader in Cloud-Based UCaaS, CCaaS, & CX Solutions 
BT.com – Expertise in call blending
CloudTalk – Next-gen business calling software
TalkDesk – Best call center software available for enterprises
Genesys Cloud – Oldest players in the call center software space
Hubspot – Free call tracking software
Nextiva – Software that helps you run your business
Bitrix24 – Comes with best inbuilt CRM features
 Dialpad – Ideal tool for SMBs and mid market businesses
 Dixa – Comes with capabilities like call recording, call barging
In today's digital age, a customer has many options to interact with a product or service.
He may use an email, a chat, social media or a traditional phone call.
Still, the utility of traditional phone calls is huge, and therefore, call centers are still in the businesses, serving hundreds of customers on a daily basis.
In the past decade, the technology that backed call centers has evolved hugely – from on-premise setups to moving to the cloud and from just handling calls to handling chats, predicting customer needs, and so on.
---
In this guide, you'll find:
What is the meaning of call center software?
13 Best call center software list
Call center software features
Benefits of using call center solution
How to choose a call center software for your team?
---
A. What is the meaning of call center software?
Call center software refers to a type of computer software that is used to manage and optimise communication processes between a company and its customers.
This can include functionality such as call routing, automatic call distribution, voice prompts, interactive voice response (IVR), call recording, and reporting and analytics.
Enthu.AI is one such call center software that enables calling team learn and grow faster, Interested to know how?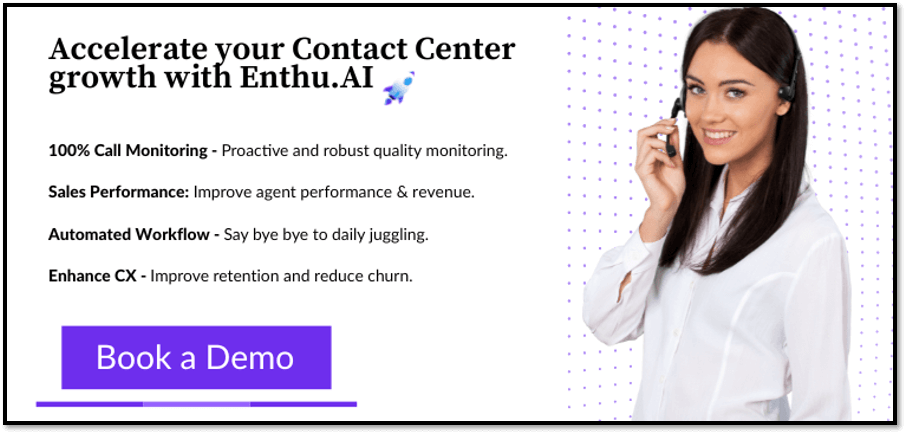 The goal of call center software is to improve efficiency, customer service, and overall performance of the call center.
The International Journal of Information Technology and Management found that implementing call center software led to significant improvements in efficiency and customer satisfaction for a large companies worldwide.
In-fact, the study found that the software reduced the average time it took to handle a customer call by 20%, and customer satisfaction and net promoter score increased by 15%.
---
B. 13 best call center software
1. Aircall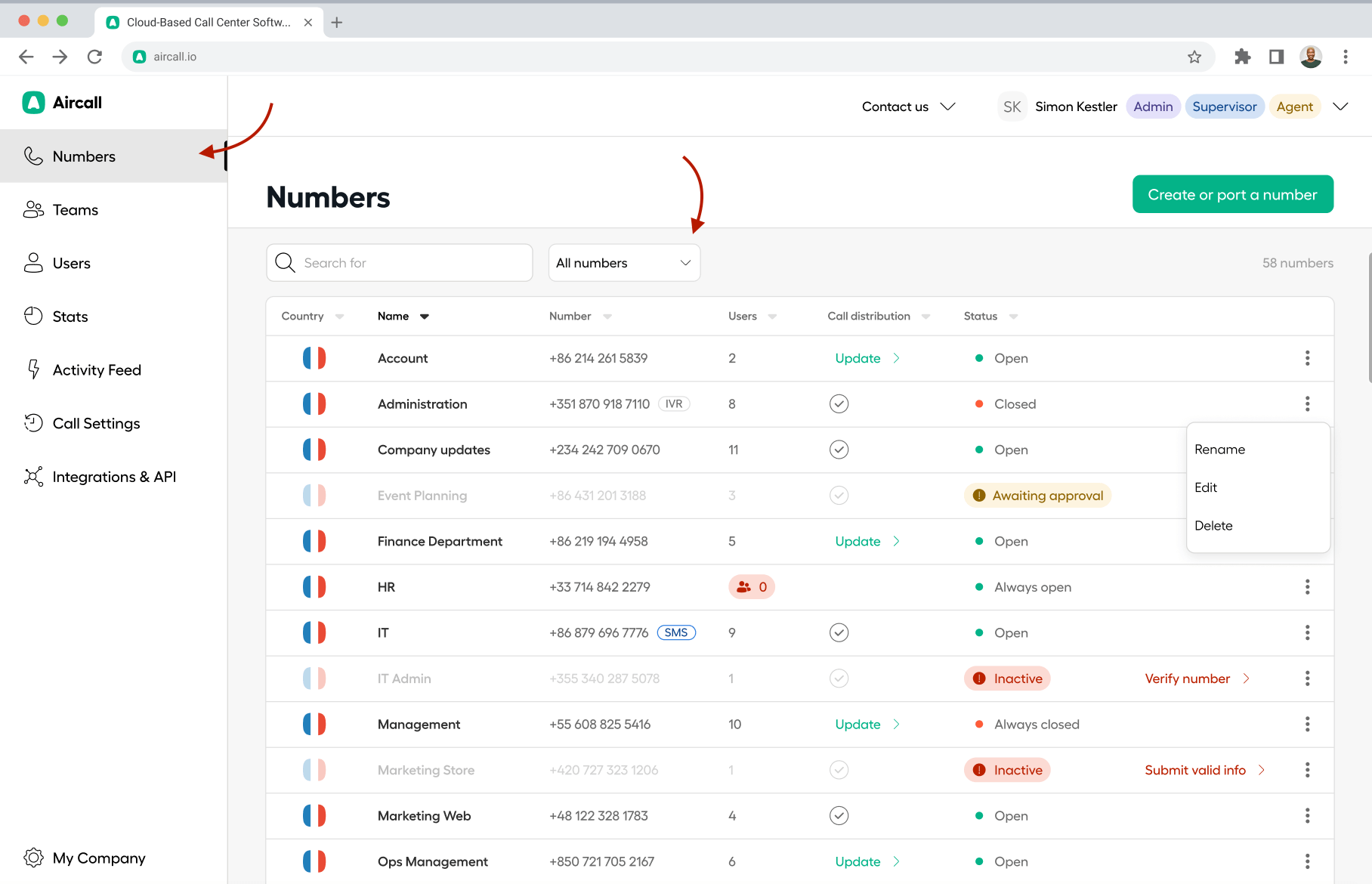 Aircall is one of the most popular cloud software solutions used by small and mid enterprises.
It is easy to adopt, is scalable, and can be used in remote work environments as well.
Above all, it is light on pocket and can accommodate multiple teams.
Its key features are as follows:
IVR support in various languages
Call routing, skill based routing
Call whispering
Live call monitoring
Strong reporting and analytics
2. JustCall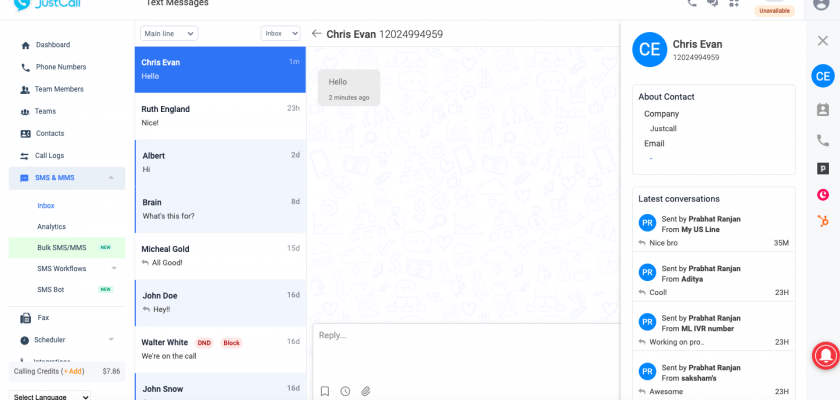 JustCall is a call center software solution purpose built for customer-facing teams. It comes with advanced voice and SMS features along with AI-powered capabilities which help agents engineer better customer conversations.
It easily integrates with 100+ CRM, help desk, and business tools enabling agents, teams and managers to enjoy seamless workflows and build productive experiences.  
Some of the salient features of JustCall are: 
Inbound & outbound calling 
SMS & MMS with shared WhatsApp inbox
Sales dialer
Live call monitoring
Conversation intelligence with SMS AI, agent assist, call analytics and call summary
Integrations with 100+ CRM, Help desk and business tools
3. RingCentral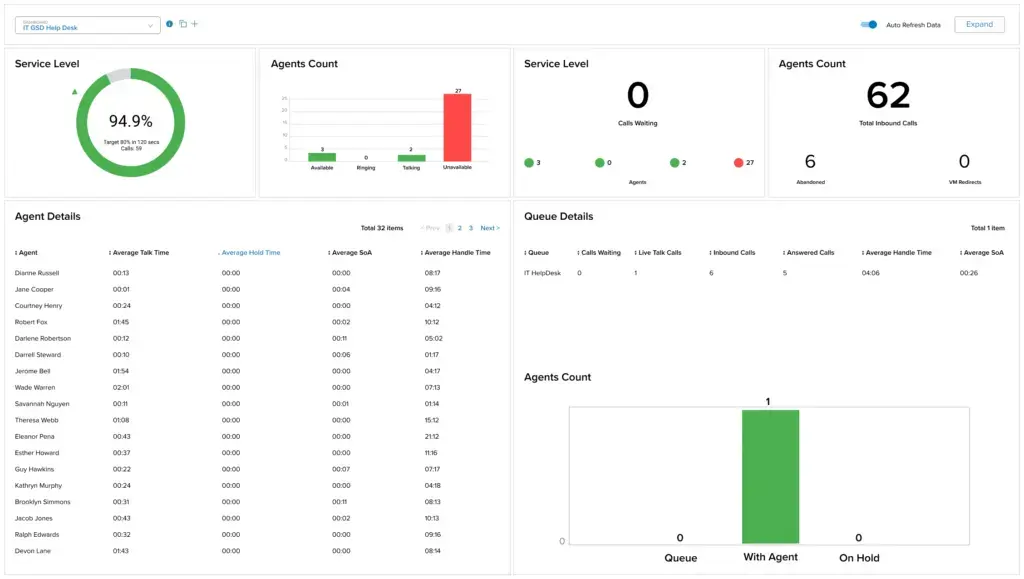 RingCentral is a cloud-based phone system for call centers that integrates seamlessly with various CRMs and has omnichannel support.
It supports both desktop and mobile users. It has very defined agent management module along with a skill-based call routing system. 
It comes with different pricing plans thus suiting both SMBs and enterprise clients.
We have listed some salient features of this contact center software:
Seamless integration with CRMs, ticket management systems, etc
Cloud-based and support remote agent working
Call routing enabled
Omnichannel supporting Social media, emails, and chats
Very powerful outbound dialer
Restful API available for integrations with third-party system
IVR and speech recognition options are available
4. Avaya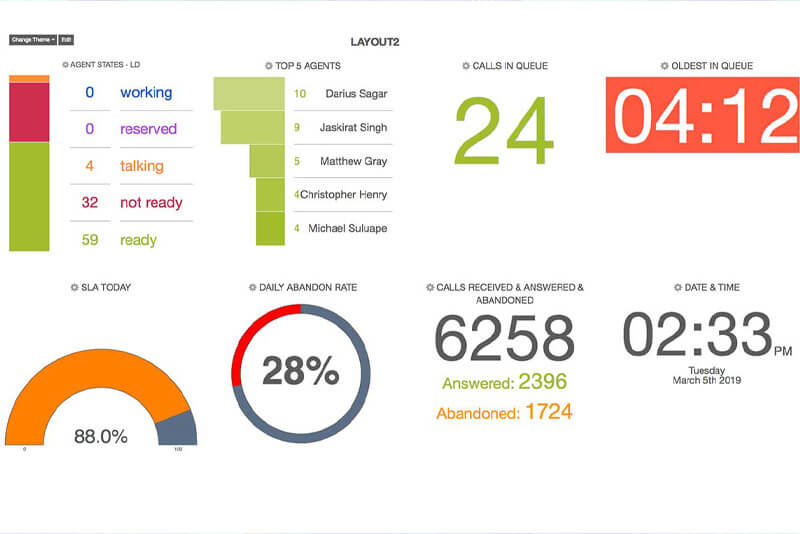 Avaya comes in two avatars – on-premise solution as well as a cloud-based solution. As per their website, 90% of fortune 100 companies are on Avaya. They have been the pioneer in this industry and have very stable enterprise-level products. But it comes at a cost.
It comes with the following features:
Omnichannel support
Desktop and mobile compatibility
Personalized desktop for agents
Powerful reports and analytics
Toll-free support 
5. BT.com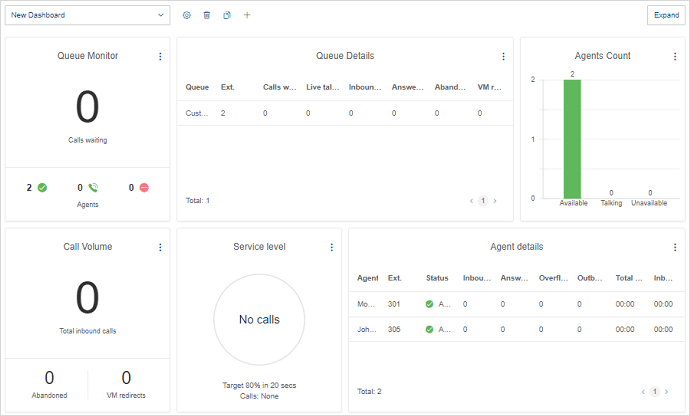 BT contact solution is available both on cloud and on-premise.
It can support legacy systems and provides options for flexible scaling.
It further gives an option of call blending which means the same agent can be on an inbound or outbound call.
Following are the features of the BT contact solution:
Intelligent call routing
Real-time monitoring
Call blending
Flexible scaling
Workflow management
6. CloudTalk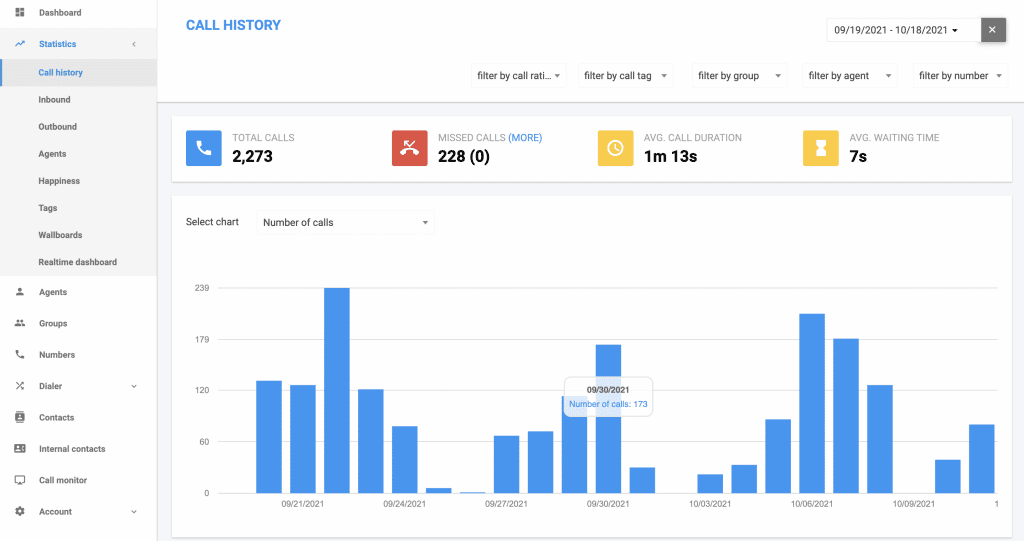 CloudTalk is a great cloud solution that comes with a plethora of great features.
It has highly customizable features like ability to create customer call queues, automatic call distribution, etc which makes it an ideal solution for your contact center.
CloudTalk also provides options like customized voicemails and greetings and helps you create a great brand experience over the calls.
Some of the features of cloudTalk are:
Customer call queue creation
Automatic call distribution
Click to call and predictive dialer
CRM and ecommerce integration
Real-time customer information
7. TalkDesk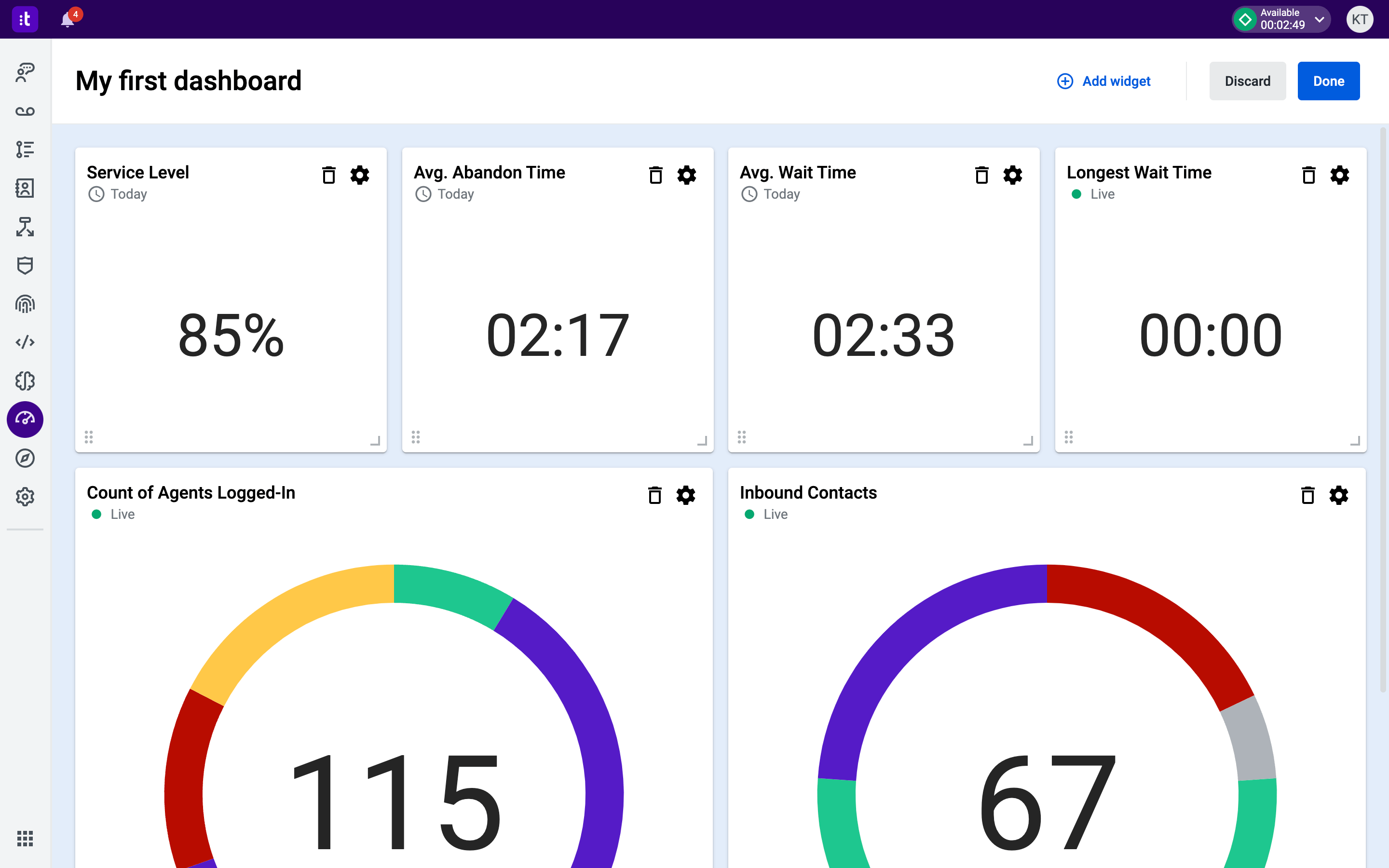 TalkDesk is one of the best call center software available for enterprises.
The software is designed to handle large teams and huge call volumes.
TalkDesk provides AI voice analytics that can give your call center enriched data on customer needs and sentiments.
It also can be easily integrated with various CRMs and other solutions.
Some of the salient features of TalkDesk are:
Voice analytics
Workflow management
Desktop customization for agents
Predictive outbound dialer
Integrations with CRMs and other solutions
8. Genesys Cloud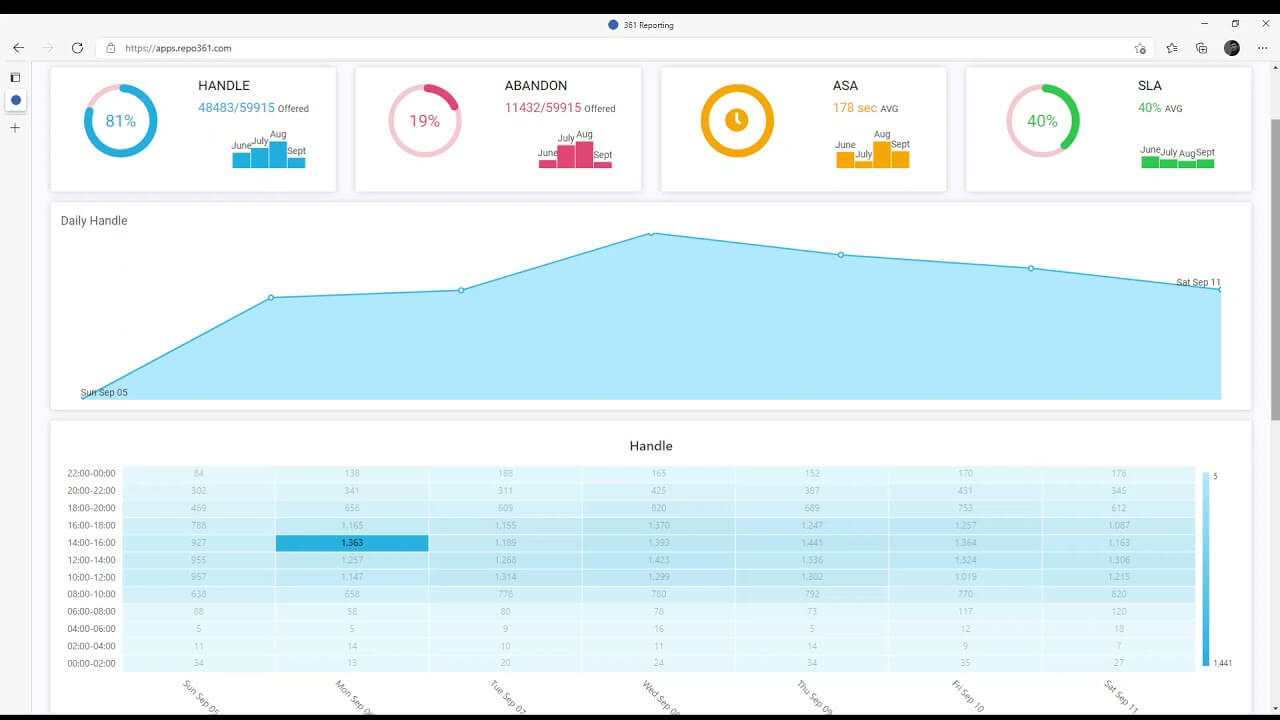 Genesys is one of the oldest players in the call center software space.
This is best call center software for small business, have great stability, can handle large volumes of calls and agents.
It can handle calls, emails, chats, social media, and instant messaging. It has great functionalities like chatbots and voicebots.
The key features of Genesys cloud are:
Omnichannel support
Voice and chat bots
Workforce management
Reporting and analytics tools
9. Hubspot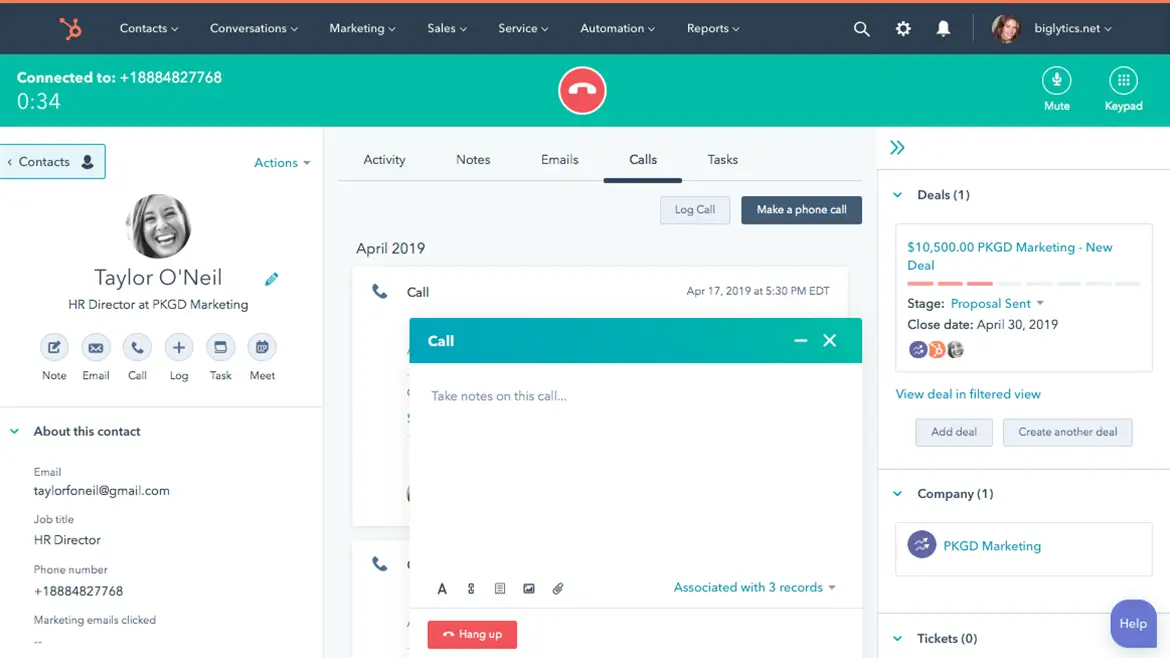 Hubspot is famous with marketers and sales teams as a CRM.
But it provides a very strong contact center solution as well.
It is particularly useful for sales teams with its click to call capabilities and its ability to prioritize calls and set up call queues.
It is omnichannel and hence works for email scheduling as well as live chats.
It has a powerful help desk solution which can create very useful call center software.
Following are its salient features:
Universal conversation hub
Open APIs and ease to interact with any other software
Omnichannel
Automation and insightful reports
10. Nextiva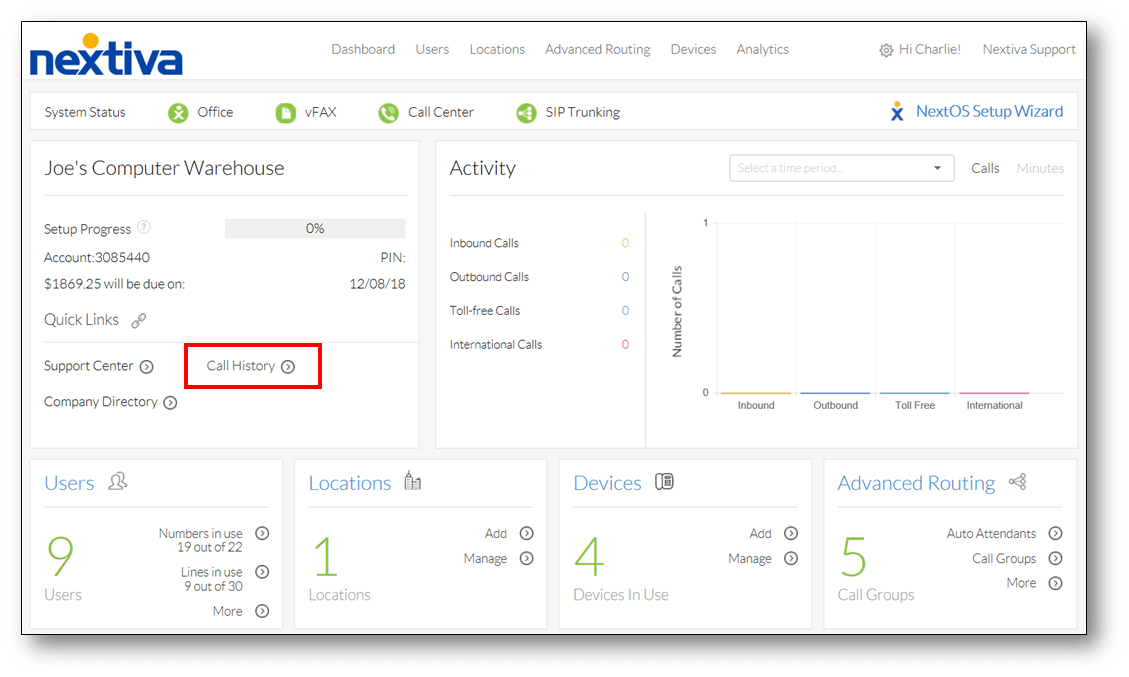 Nextiva is one of the most reliable cloud software available for call centers. In 2019 and 2020, there were zero outages of the software.
It has features like IVR, ACD, call queuing. It can also help you with advanced features like virtual agents.
Some of the salient features :
Call recording and rating
Mobile and desktop apps
Call forwarding
Real time call routing
Zero down time
11. Bitrix24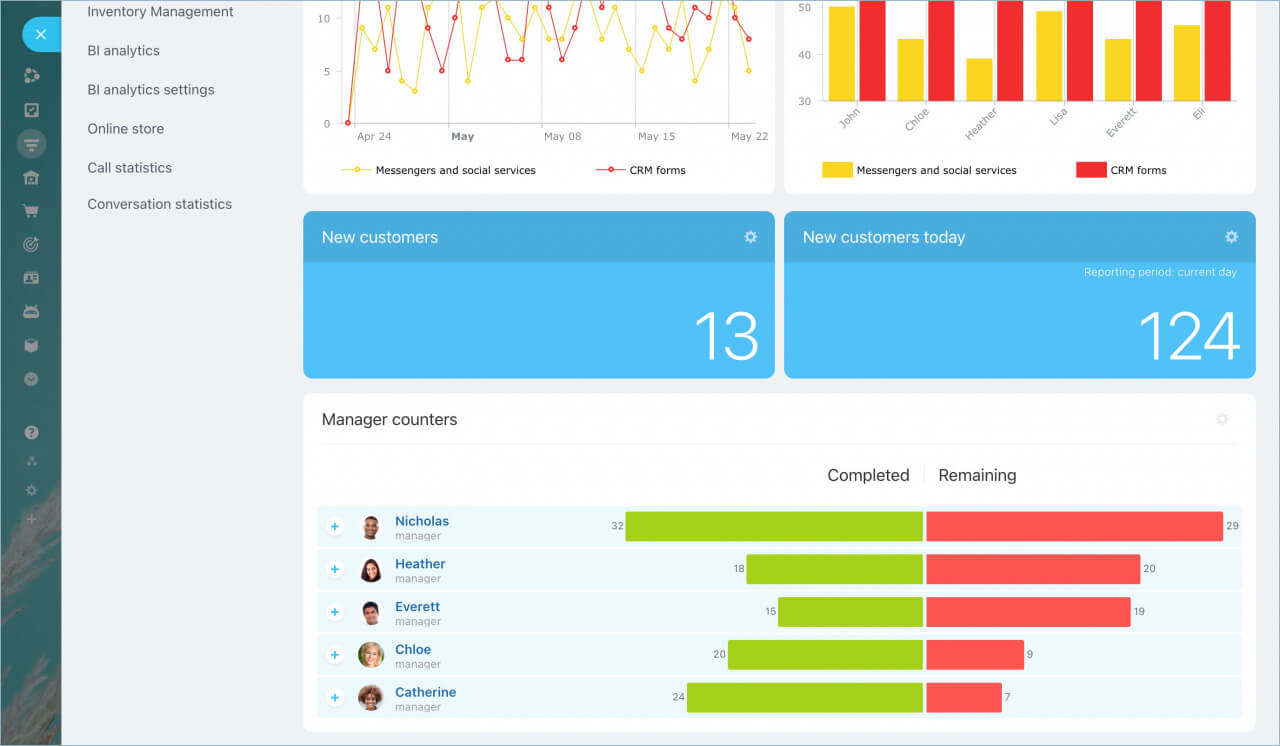 Bitrix24 differentiates itself from others by including CRM features in its call center solution. It comes with inbuilt CRM features like pipeline management, sales reports, and sales automation.
It comes up with a desktop and a mobile app and works on facebook, messenger, instagram, Skype, Viber, Telegram and more.
Following are its key features:
On premise and on cloud options
CRM support
Omnichannel availability
---
12. Dialpad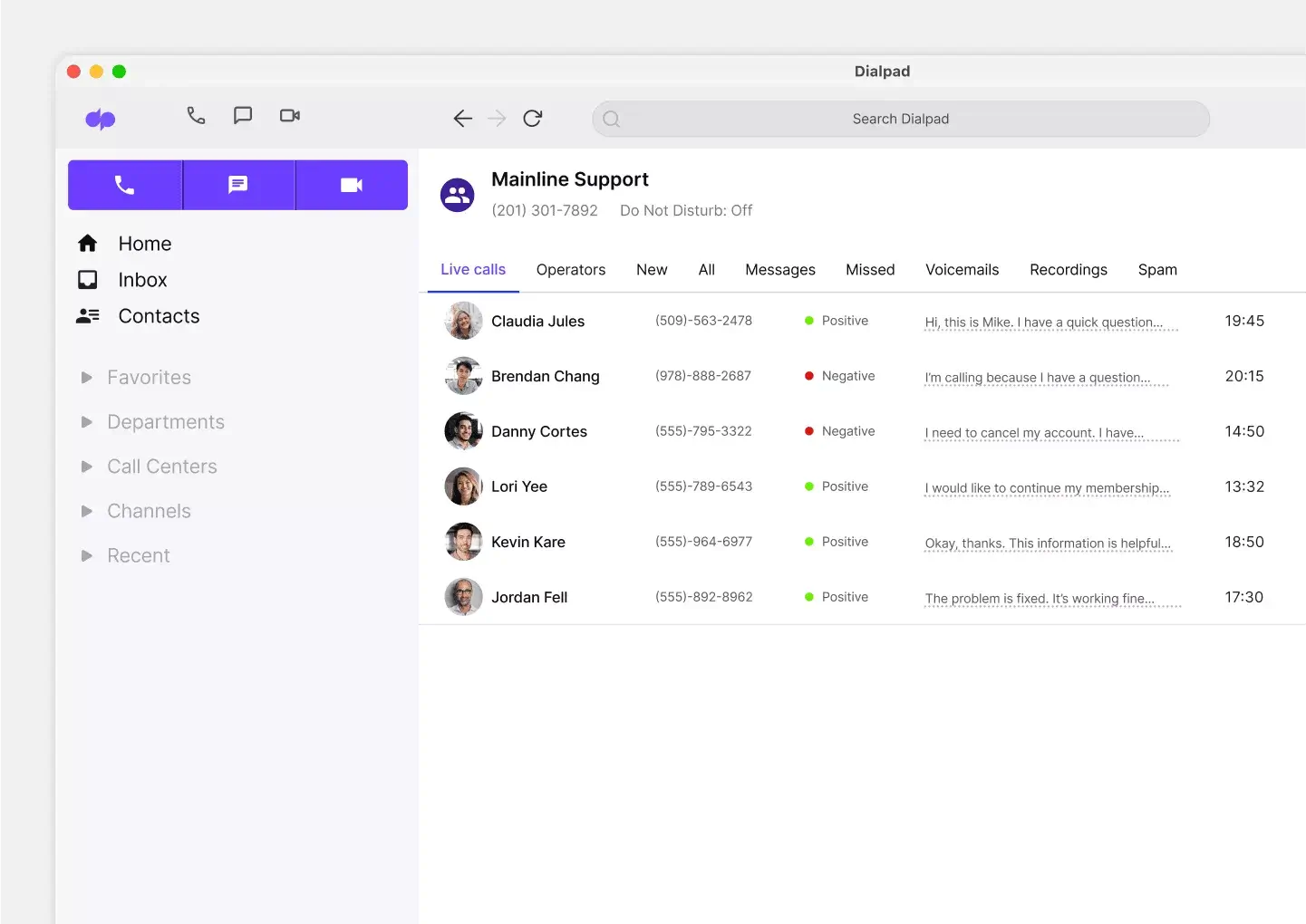 Dialpad is ideal for SMBs and mid market businesses.
It is easy to install, expand and scale. One can add users in just a few clicks in very less time.
It also comes with a chrome extension which enables basic functionality inside the browser making it a click and call play.
It comes with very good reporting and call routing functionality.
A few of its key features are:
Plug and play install
Call routing and assignment
Chrome extension
Voice intelligence
Sentiment analysis
13. Dixa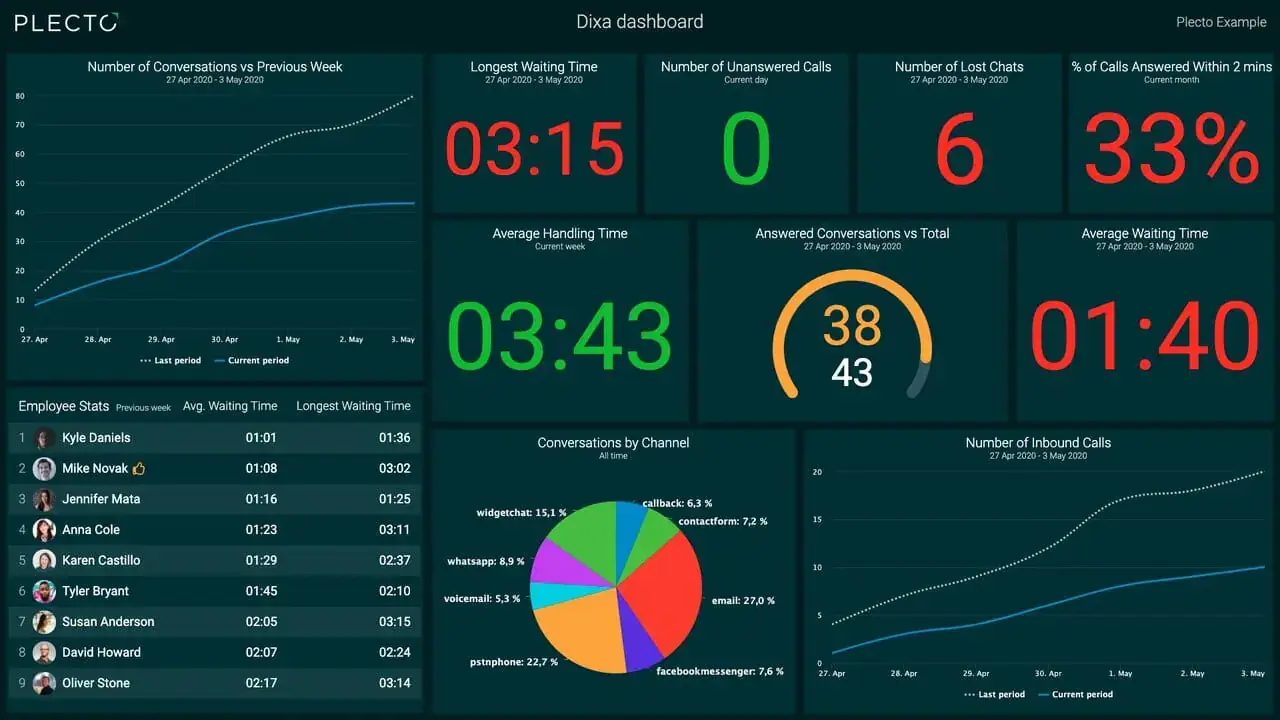 Unlike other options, Dixa is a browser based cloud software.
It is easy to set up and use and their pricing model allows you to pay as you go.
One can upsize or downsize the teams as and when required without any additional costs.
It makes it very friendly for small and medium sized businesses.
It comes with capabilities like call recording, call barging, and very solid customer support.
Its key features are:
Omnichannel functionalities
APIs for easy integration with CRMs, and other software
Call barging, routing
---
C. 10 Call center software features
With changing customer demands, call center needs have changed and are transitioning even further.
If you are setting up your call center, choosing the right software for your business becomes paramount.
You should consider the following features while selecting a software solution:
1. Interactive Voice Response (IVR)
Interactive voice response or IVR has become a standard feature to handle inbound calls.
IVR can help with query resolution without talking to an actual human or can help you route the customer to the right agent. 
IVR brings automation to your call center, collects a lot of data and manages the call volume for your call center
2. Omnichannel
Today's call centers support their customers on multiple channels.
So if you are choosing a call center software, keep in mind the channels you want to incorporate in your strategy.
Most of the software can enable you to boost call center efficiency.
This feature also helps you utilize your agents for multiple tasks as well as collect the complete information of your customers at a single place, thus providing an impeccable customer experience.
3. Call routing
To provide a great customer service, your calls should be routed to the right person or agent.
Modern-day call center software can help you in connecting the calls to the right agent.
This can be done by auto-routing or by IVR options. When choosing software, you should look at call routing features
4. CRM integration
CRM should be the single source of truth for your organization.
Your call center software should provide seamless integration with your CRM so that the agent understands the information and context of the call and also enrich the existing profile with additional information. 
5. Call recording
Call recordings are important for training purposes as well as for audits and regulatory compliance. Furthermore, it can help to get back to the difficult calls and resolve the issues at a later point in time.
Call recordings features are available today with most modern-day call center solutions
6. Cloud-based calling
With work from home becoming a new normal, a call center can't solely depend on on-premise tools. Cloud-based calling solutions are easy to deploy, can be used from anywhere, and are easily scalable.
Thus, this feature becomes a must-have while looking for a calling solution for your contact center.
7. Dialer
In a contact center, there could be teams making outgoing calls.
If you have such a need, you require a solution that can provide an autodialer, and ease to auto-call the people as and when required.
Most of the modern-day solutions can provide you with the outgoing call function but you have to check various features your software is providing to enable the same.
8. Call scripting
 In a large call center, usually, there are teams handling similar kinds of issues.
And software these days can help you with providing a call script feature.
Some software can provide a fixed script whereas there can be software that can provide suggestions based on the keywords spoken by the customer.
This is a fairly useful feature when you are handling calls at scale.
9. Reporting and Analytics tools
It is said that what can't be measured, can't be improved.
Since your calling function has lot of input variables, you would need to measure them to drive success.
When choosing a software, look for the reporting and analytics module these software. Ideally, they should give you easy access to the following reports:
Agent utilization ratio
Agent idle time
Average customer queue rate
Cost per contact
Hit rate (for outbound calls)
Call transfer rate
10. Supervisory control
You would require a call supervisor, a quality control team, and a training team to run your contact center, apart from the agent team.
It becomes important to understand if your software provides access to various teams and what kind of information is available for these teams. Also, it should be important to understand how these software deal with escalations and handle customer complaints.
Apart from individual accounts, modern-day software provide the following supervisory control features as well:
Call barging and whispering
Team messaging
Gamification
Work optimization 
---
Now, that we know what are the key features which you should be looking for in a call center software, we are listing the top 13
call center software to make a choice.
---
D. 8 Benefits of using a call center solution
Following are the benefits that companies get by implementing call center software in their business:
1. Improved efficiency
Companies handle more calls in less time, by routing calls to the most appropriate agent, automating repetitive tasks, and providing real-time data on call volume and agent availability.
2. Increased customer satisfaction
Call center software provides customers with faster, more personalised service, through features such as interactive voice response (IVR) systems and call routing based on customer history.
3. Better data and analytics
Call center software provides companies with detailed data on call volume, call duration, customer demographics, and other key metrics, which can be used to identify areas for improvement and make more informed decisions.
4. Better management
Managers monitor and optimise the performance of their call center call with real-time data on agent performance, call volume, and other key metrics.
5. Cost savings
Call center software helps to reduce labour costs and improve efficiency, which can lead to significant cost savings over time.
6. Scalability
Call center software is easily scaled up or down to meet the changing needs of a business, which makes it easier for companies to handle increased call volume during peak seasons or high-growth periods.
7. Flexibility
Call center software can be accessed from anywhere and on any device, which enables companies to manage their agents from multiple locations, and allows employees to work remotely.
8. Record Keeping and Compliance
Call center software provides the ability to record and store calls, which can be used for compliance and training purposes.
---
E. How to choose a call center software for your team?
Choosing the best call center software for your team can be a challenging task.
Considering the following factors, you can make an informed decision that will best meet your team's needs.
1. Consider your team's specific needs
Think about the specific features and functionalities that your team requires, such as call routing, automatic call distribution, voice prompts, interactive voice response (IVR), call recording, and reporting and analytics.
2. Look for scalability
Choose a software that can easily be scaled up or down to meet the changing needs of your team and your business.
3. Evaluate the user interface 
Make sure the software has an easy-to-use interface that your team will be able to navigate with minimal training.
4. Check for integration
Look for a software that can integrate with other systems and tools that your team is already using, such as CRM and Help-desk systems.
5. Look for Reporting and analytics
The software should have advanced reporting and analytics capabilities that allow you to monitor and measure your team's performance.
6. Check for Security and compliance
Make sure the software is compliant with relevant regulations and industry standards, and has adequate security measures in place to protect your data.
7. Consider the cost
Compare the costs of different software options and choose one that fits your budget.
8. Check for support 
Look for software that comes with a reliable and responsive customer support team that can help you with any issues or questions you may have.
9. Test before you buy
Before making a final decision, it's a good idea to test the software with a small group of users to make sure it meets your team's needs and is easy to use. 
---
 Conclusion
There are many options available in the market for your call center needs.
It is always advisable to understand and pen down your needs and create a cost benefit analysis of various shortlisted options to make a wise decision.
Don't be enamored by the shiny features marketed by these software. You have to evaluate your specific use cases, and understand if a particular feature is required by you and if it is worth paying a price for that.
You need to understand that selecting a software is an important decision as it is not often easy to shift to other software as it entails integration costs, training costs and change management costs.
Thus, make a very informed decision while selecting a call center software for your business.
---
FAQs
1. What software do call centers use? 
Call center commonly use software such as Automatic Call Distributors (ACD), Computer Telephony Integration (CTI), Customer Relationship Management (CRM) and analytics software.
---
2. What is a CRM in a call center?
 CRM (Customer Relationship Management) software in call centers is used to manage interactions with customers, including calls, emails, and chats, and to store customer information.
---
3. What is the best CRM for a call center? 
Popular CRM options for call centers include Salesforce, Zendesk, Freshdesk, and Five9. The best CRM will depend on specific needs and budget.
Tushar Jain is the CEO and Founder of Enthu.ai. In his free time he loves to read and write about new duo of artificial intelligence and customer experience.