Even in today's digital world, customers prefer to talk to customer support on phone rather than talk to agents on live chat.
This is due to the fact that talking directly on the phone builds confidence and trust between the customer and agents.
Nowadays, call centers not only require well-trained agents and managers but also the best phone system in place to offer a good customer experience.
Phone systems have also evolved from being just physical lines to becoming full fledged VoIP solutions offering myriad of features like call routing and logging, desktop interface, multi-channel communications, quality monitoring, IVR, barging; and so on.
Let's look at the 9 best call center phone systems that can be a game-changer for your call center.
Top 9 Leading Call Center Phone Systems
1. Avaya
Pricing: Variable
Free plan available: No
Strengths: Friendly user-interface, integrations, call connectivity, dial system
Areas of improvement: Pricing, onboarding process, personalization options
G2 Ratings: 4.1 out of 5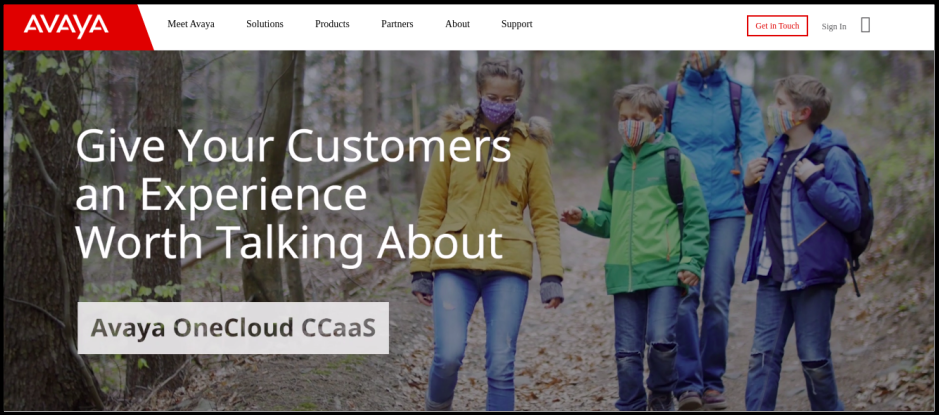 Avaya Inc. is an American-based multinational company that specializes in business communications solutions services, such as unified communications, contact center solutions, etc., for midsize to large companies. 
It is a huge operation, with over 1 million active customers being served around the world.
Being a global leader in contact center services, Avaya provides many solutions such as Avaya Aura Contact Center and Avaya Aura Call Center Elite.
2. Mitel
Pricing: Starting from $20.99
Free plan available: No
Strengths: Simple to install, great mobile application, powerful admin features, user friendly
Areas of improvement: Not economical for small sized business, technical support, call quality
G2 Ratings: 3.9 out of 5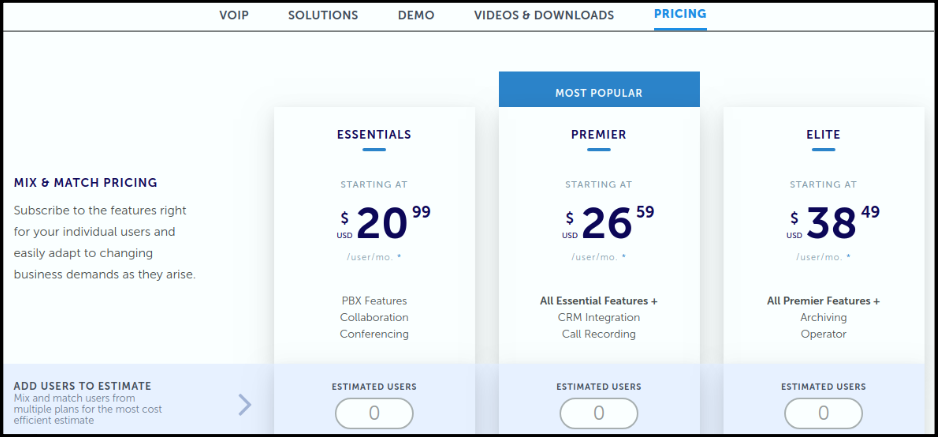 Trusted by over 70 million business users over 100 countries, Mitel is definitely a force to reckon with in the telecommunication sector.
Mitel is a global telecommunication company with headquarters in Canada. It started as a producer of TDM PBX systems and applications, and now focuses entirely on VoIP products.
Mitel offers a comprehensive range of phone systems that provides call center services, unified communications and cloud communications. 
Mitel offers MiVoice Business Call Service, which is an on-site communication solution. With the help of this product, the business communication becomes efficient through mobility, team collaboration, video conferencing, and exceptional customer experience delivery.
3. Nextiva
Pricing: Starting from $18.95/user/month
Free plan available: Y
Strengths: Onboarding process, powerful phone functions, easy to use, call quality
Areas of improvement: Tech support, porting process
G2 Ratings: 4.5 out of 5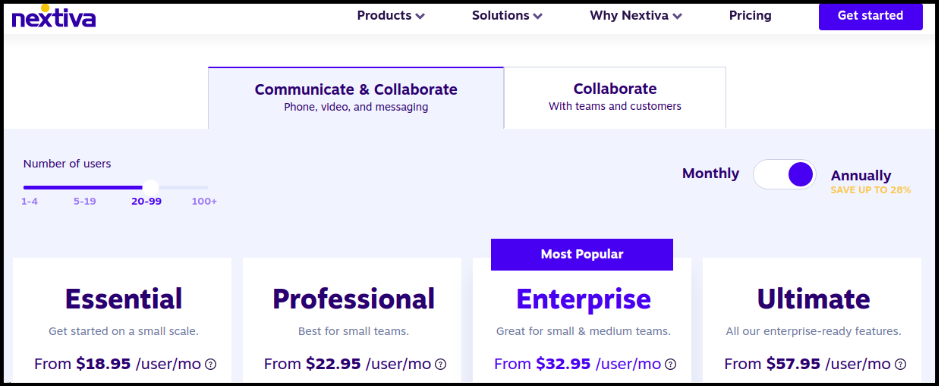 Nextiva Inc. empowers businesses with an easy-to use call center solution. The company boasts of more than 100,000 customers.
Its call center solutions offer features, such as IVR, call queuing, automatic call distribution, call monitoring, and remote or mobile agents.
You can also optimize agent call flow, automate interactions and provide best experience to the caller.
4. RingCentral
Pricing: Starting from $19.99/user/month
Free plan available: Y
Strengths: Cost effective, Integrations with most CRM tools, friendly admin web interface
Areas of improvement: Complicated to set up, customer support, call quality
G2 Ratings: 3.8 out of 5

RingCentral is a cloud-based contact center service solution that provides a unified approach in handling business communications.
The software is a single, easy-to-use platform that works on any device and it can be used for voice, video meetings, contact center, team messaging and collaboration.
It easily integrates with business apps such as Microsoft, google, Salesforce, etc. Also, it provides you with numerous connectivity options.
RingCentral comes with features such as multi channel communications, call management, granular call routing, IVR, etc.
5. TalkDesk
Pricing: Starting from $65/seat/month
Free plan available: N
Strengths: Dashboards, call quality, customizable, onboarding process
Areas of improvement: Reporting, connectivity, recurring technical issues
G2 Ratings: 4.4 out of 5

TalkDesk is a call center solution that helps enterprises to provide the best experience for the customers while reducing customer support costs.
It uses IVR, automated call distribution and skills-based routing that routes calls to agents who are best to handle them.
Besides workforce management and customer engagement, TalkDesk also provides industry-specific security features such as HIPAA compliance for healthcare-related organizations.
6. CloudTalk
Pricing: Starting from $20/user/month
Free plan available: Y
Strengths: User friendly, quick to set up, integrations with most CRM tools, customer support
Areas of improvement: Integration with SalesForce, call connectivity
G2 Ratings: 4.4 out of 5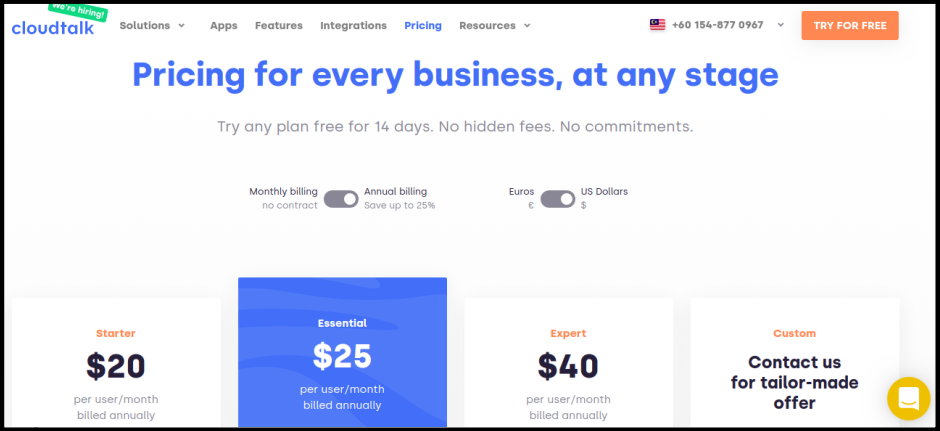 Cloudtalk is a smart cloud-based call center software that helps you manage inbound/outbound calls, anticipate customer's requirements and increase resolution efficiency.
CloudTalk's key features are automated call distribution, call center analytics, interactive voice response (IVR), interaction recording, etc. 
With CloudTalk's smart Interactive Voice Response, routing calls to the right person or department becomes easy.
The software integrates seamlessly with your existing helpdesk, e-commerce or CRM solutions.
7. FreshCaller
Pricing: Starting from $0/agent/month
Per min charges: View here
Free plan available: Y
Strengths: Easy to use, customer support, mobile app
Areas of improvement: Call quality, complex interface
G2 Ratings: 4.1 out of 5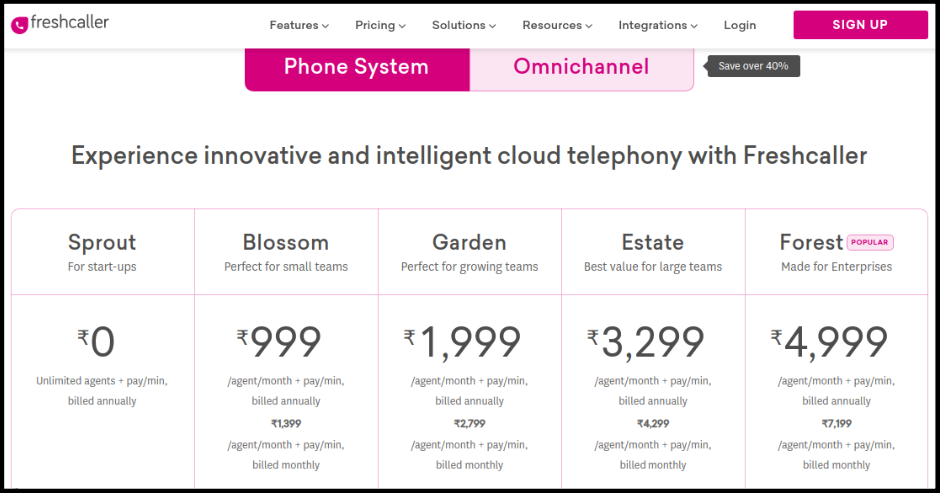 FreshCaller is a cloud-based modern phone system by FreshWorks. It is an easy-to-use business solution for any organisation, irrespective of its size.
FreshCaller provides you with numerous features such as call queuing, call recording, call notes, service level monitoring, smart escalations, IVRs, etc.
FreshCaller requires zero phone hardware, and is easy to set-up. Also, with its user interface, most users will use it efficiently, once they get used to it.
FreshCaller also comes with a mobile app that allows customer support and agents to handle calls on-the-go.
8. Five9
Pricing: Variable
Free plan available: N
Strengths: Easy to use, customer support, user interface, recording features
Areas of improvement: Support for multiple languages, connection issues
G2 Ratings: 3.9 out of 5

Five9 is an all-in-one call center solution that transforms contact centers into customer engagement centers of excellence.
The software comes with features such as interactive voice response(IVR), real-time reporting, workforce management, quality monitoring, predictive dialing, CRM integrations, etc..
The solutions provided are useful to run effective inbound, outbound, and omnichannel contact centers.
Five9 gives agents the power and flexibility to work from anywhere. Also, it is reliable, affordable, secure, compliant and scalable.
9. CallHippo
Pricing: Starting from $14/user/month
Per minute charges: Incoming/Ooutgoing call charges
Free plan available: N
Strengths: Customer service, Cost effective, Voice quality
Areas of improvement: User Interface, Technical issues
G2 Ratings: 4.1 out of 5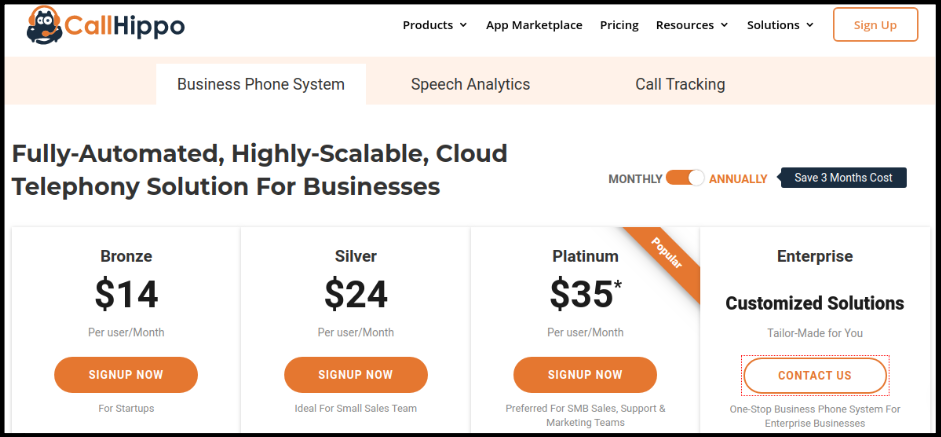 CallHippo's business phone system is one of the most comprehensive solutions for your business communication needs.
With features like Power Dialer,  Automatic call distribution, Smart Switch, Call Barging, etc., it ensures effective conversation with customers.
It provides support 24/7 and is accessible by desktop and mobile-app.
CallHippo integrates with  Slack, Zapier, Pipedrive, Enthu.AI, Zendesk, Intercom, Groove, Freshdesk, Zoho and 100+ such 3rd party software applications.