Even in today's digital world, customers prefer to talk to customer support on phone rather than talk to agents on live chat.
Talking directly on the phone builds confidence and trust between the customer and agents.
Offering voice support becomes critical especially when urgency is there e.g. booking an appointment, reporting a wrong financial transaction, modifying a travel plan; and so on.
As a result, call centers today not only require well-trained agents but also the best call center phone system in place to offer a good customer experience.
Phone systems have also evolved from being just physical lines to becoming full-fledged VoIP solutions offering a myriad of features like call routing and logging, desktop interface, multi-channel communications, quality monitoring, IVR, barging; and so on.
Let's look at some of the best call center phone systems that can be a game-changer for your business operations.
---
---
---
A. Meaning of call center phone systems
A call center phone system is a type of communication system that is used by businesses and organizations to manage and route incoming and outgoing telephone calls. These facilitates customer service and sales operations. 
Call center phone system systems typically include a variety of features such as automatic call distribution, call routing, voicemail, and caller ID, as well as the ability to track and monitor call volume and call times. 
Advanced call center phone systems also include features such as call recording, call scripting, and real-time analytics.
---
B. Types of call center phone systems
There are several different types of call center phone systems available, each designed to meet the specific needs of different types of businesses
1. On-Premises Call Center Phone Systems
These are call center phone systems that are installed and operated on a business's own premise. They usually require a dedicated server, and IT staff to maintain it. They offer more customization options and control over the system, but also require more upfront and ongoing investment.
2. Cloud-Based Call Center Phone Systems
These are call center phone systems that are hosted in the cloud, and accessed over the internet. They are operated and maintained by a third-party provider, and require no hardware or IT staff to maintain. They are more cost-effective and easy to set up, but also offer less customization options and control over the system.
3. Hybrid Call Center Phone Systems
As the name suggests, these are a combination of both on-premises and cloud-based systems. These allow businesses to keep some of the control and customization options of an on-premises system, while also taking advantage of the cost-effectiveness and ease of setup of a cloud-based system.
---
C. Importance of contact center software:
Call center phone  are essential for businesses and organizations that rely on telephone communication to interact with customers, clients, or other external parties. They play a crucial role in managing, and improving customer service.
Here are some of the key importance of call center phone systems:
1. Improved Customer Service
Call center phone systems provide businesses with the ability to handle high volumes of calls in a timely and efficient manner. This helps to improve the customer experience by reducing wait times and ensuring that calls are directed to the appropriate agent or representative.
2. Increased Efficiency
Call center phone systems can help to improve the efficiency of customer service operations by automating the call distribution process. Which reduces the need for manual call routing and helps to ensure that calls are directed to the next available agent.
3. Advanced analytics
Call centre phone systems deliver organisations with extensive call data and statistics, such as call volume, wait times, call durations, and other critical performance indicators. This data is utilised to improve the overall functioning of the call centre and identify areas for improvement.
4. Call Recording and Scripting 
Advanced call center phone systems allow businesses to record and store calls for quality assurance and training purposes. Call scripting enables agents to follow predefined scripts to ensure consistency and efficiency in their interactions with customers.
5. Cost-effective solution
 Call center phone systems provide a cost-effective solution for managing high volumes of calls, as they can handle multiple calls simultaneously and automatically route calls to the next available agent. This reduces labour costs and improves the overall efficiency of the call center.
---
D. Top 15 Leading Call Center Phone Systems
1. Aircall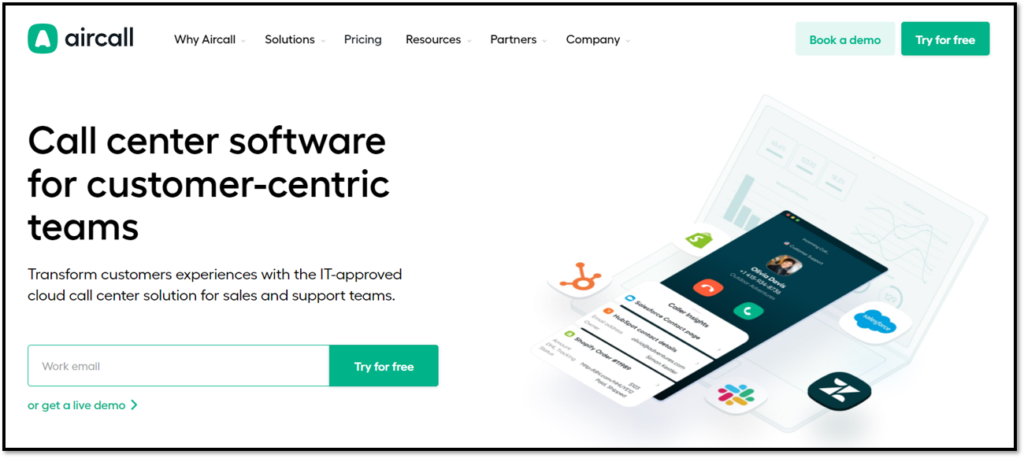 With more than 7000+ companies using using Aircall for their voice operations, it is one of the most reputed brands in the telephony industry today.
Particularly suited for the call center industry, Aircall supports both inbound and outbound processes for sales and support teams.
Aircall offers the best in class voice quality, coupled with an easy to use and configure interface that supports both small and large calling teams alike.
One can choose numbers from 100+ countries and can instantly scale their voice teams using Aircall.
All these customers are super ecstatic about Aircall's voice quality, ease of scaling and customer support.
The fact that none of our customers has ever switched from Aircall to another VoIP provider talks a lot about the quality of the product and the support that Aircall offers.
---
2. Kixie

Kixie is a reliable sales engagement platform featuring automated calling and texting for HubSpot, Salesforce, Pipedrive, Zoho, and other leading CRMs.
An intelligent queue informs agents when to make a call or send a text.
The platform connects agents to prospects naturally by name, detailed analytics show exactly how effectively calls are made, there's never a lost connection, and everything runs on autopilot.
---
3. CallHippo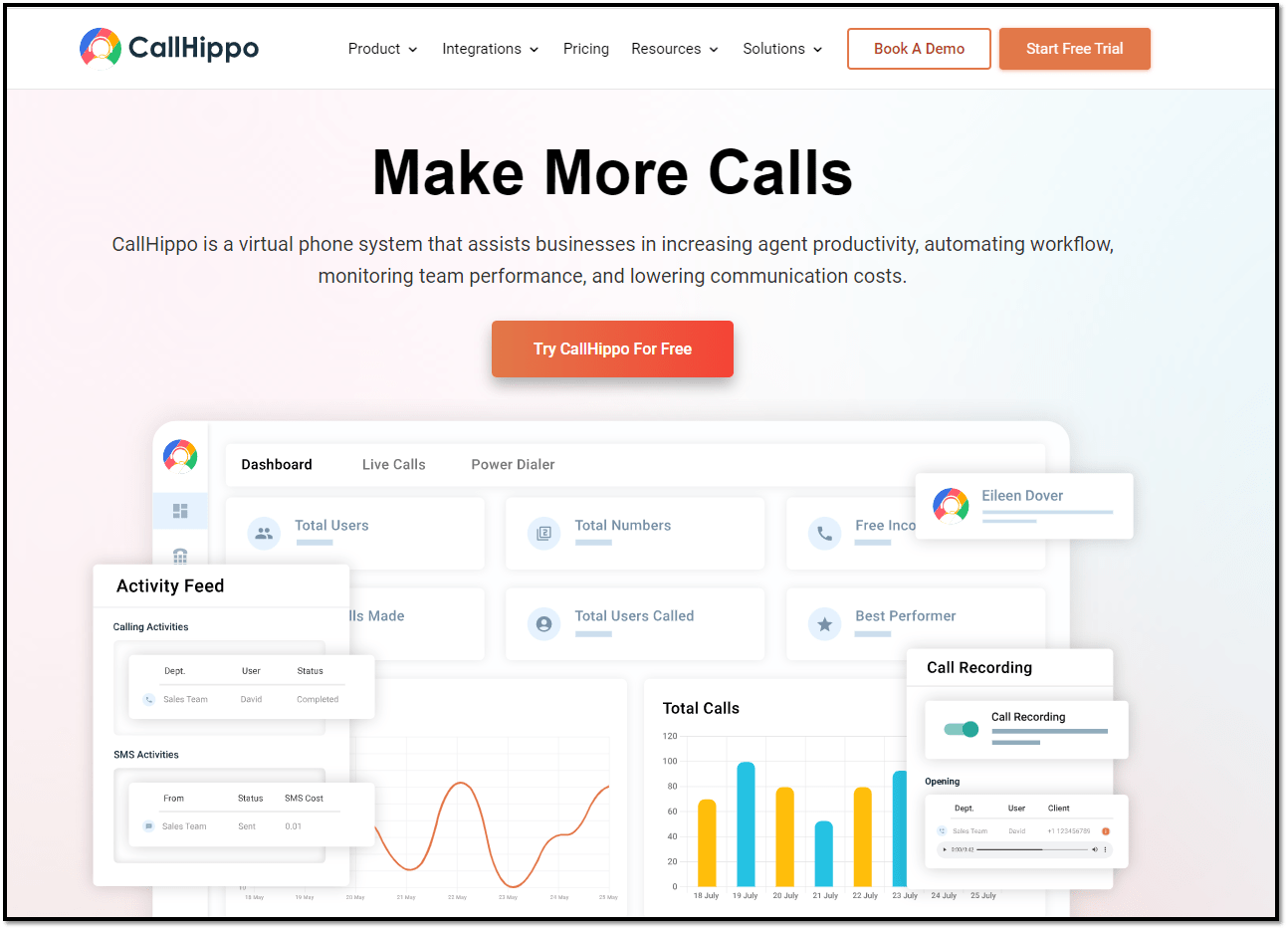 CallHippo's business phone system is one of the most comprehensive solutions for your business communication needs.
With features like Power Dialer,  Automatic call distribution, Smart Switch, Call Barging, etc., it ensures effective conversation with customers.
It provides support 24/7 and is accessible by desktop and mobile app.
CallHippo integrates with  Slack, Zapier, Pipedrive, Enthu.AI, Zendesk, Intercom, Groove, Freshdesk, Zoho, and 100+ such 3rd party software applications.
---
4. Freshdesk Contact Center (earlier FreshCaller)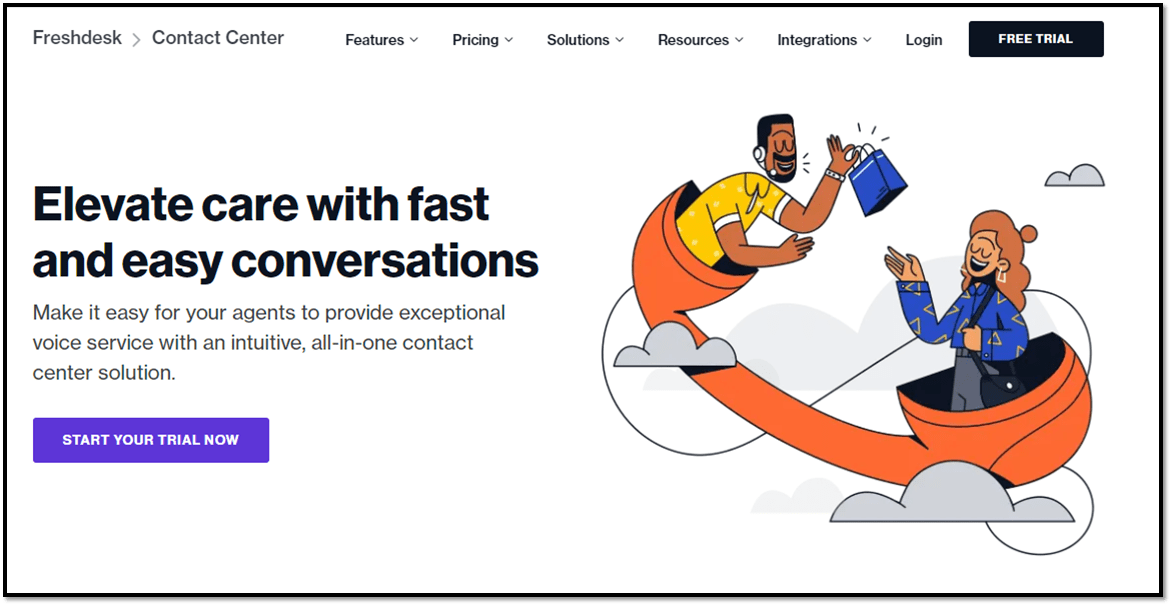 Freshdesk is a cloud-based modern phone system by FreshWorks. It is an easy-to-use business solution for any organization, irrespective of their size.
Freshdesk provides you with numerous features such as call queuing, call recording, call notes, service-level monitoring, smart escalations, IVRs, etc.
Freshdesk requires zero phone hardware and is easy to set up. Also, with its user interface, most users will use it efficiently, once they get used to it.
It also comes with a mobile app that allows customer support and agents to handle calls on the go.
---
5. Grasshopper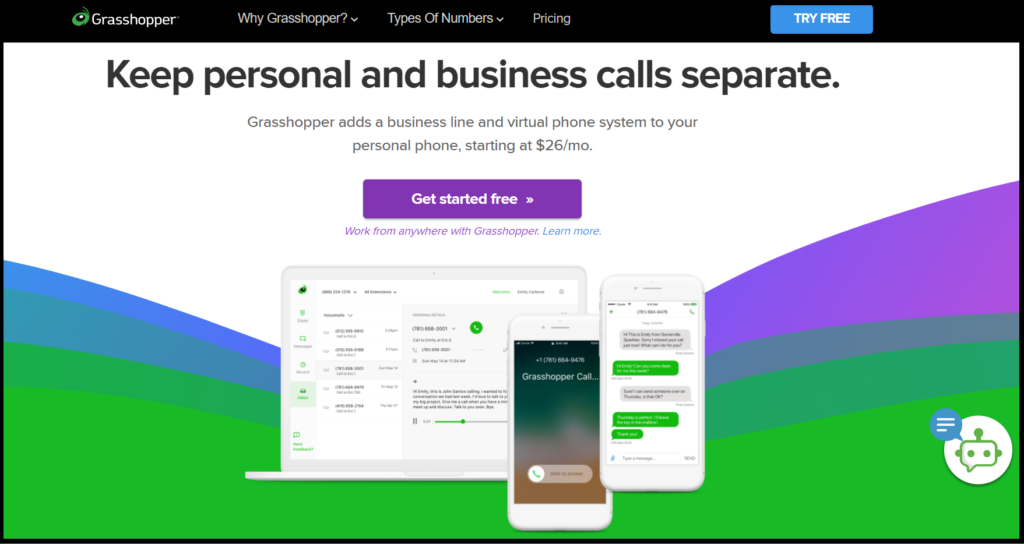 Grasshopper is a virtual phone system for entrepreneurs and small businesses.
From their mobile-friendly dashboard and desktop app, you start a business location and begin receiving calls just minutes after creating your account!
You don't need to buy expensive equipment or even have a dedicated home office.
Grasshopper allows you to manage all of your business calls from wherever you are, saving you time and money in the process.
---
6. CloudTalk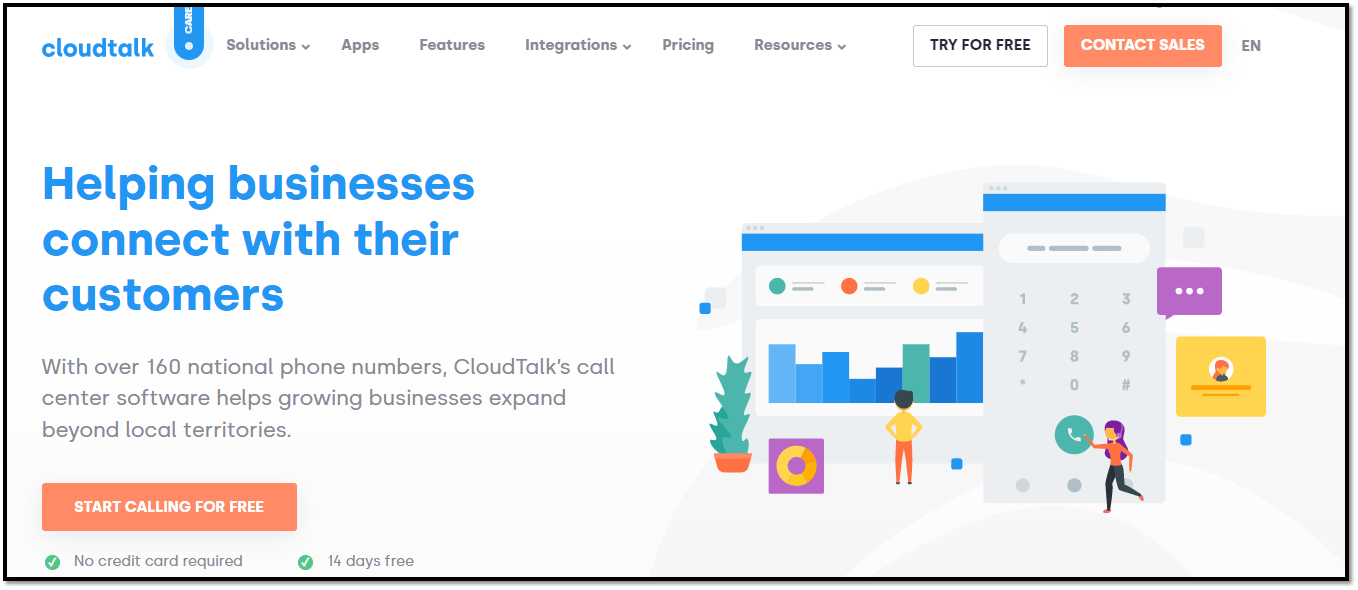 Cloudtalk is a smart cloud-based call center software that helps you manage inbound/outbound calls, anticipate customer's requirements, and increase resolution efficiency.
CloudTalk's key features are automated call distribution, call center analytics, interactive voice response (IVR), interaction recording, etc. 
With CloudTalk's smart Interactive Voice Response, routing calls to the right person or department becomes easy.
The software integrates seamlessly with your existing helpdesk, e-commerce, or CRM solutions.
---
7. Go To Connect

GoToConnect is a provider of Unified Communications (UC) solutions that bring together a VoIP phone system with Advanced Collaborative technology, including web and audio conferencing as well as highly scalable Contact Center services.
With high-quality voice and IP telephony features at an affordable price, GoToConnect allows you to improve your business productivity and efficiency by staying connected through a number of communication channels.
It's one of the most affordable solutions for international calls
---
8. Avaya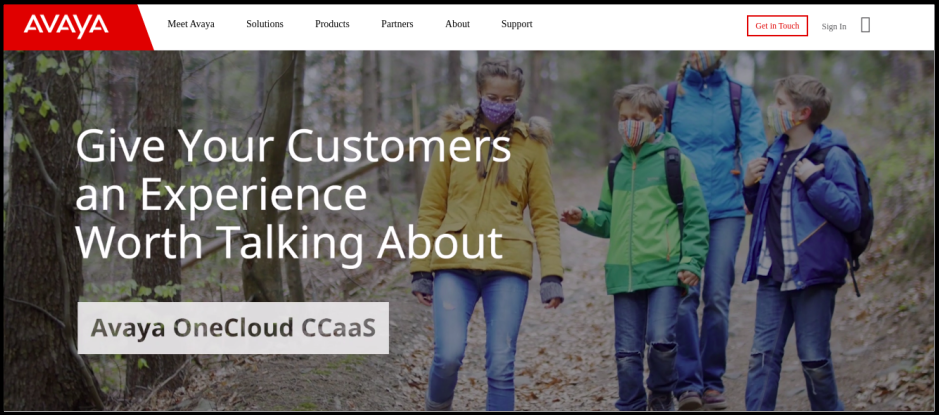 Avaya Inc. is an American-based multinational company that specializes in business communications solutions services, such as unified communications, contact center solutions, etc., for midsize to large companies. 
It is a huge operation, with over 1 million active customers being served around the world.
Being a global leader in contact center services, Avaya provides many solutions such as Avaya Aura Contact Center and Avaya Aura Call Center Elite.
---
9. Nextiva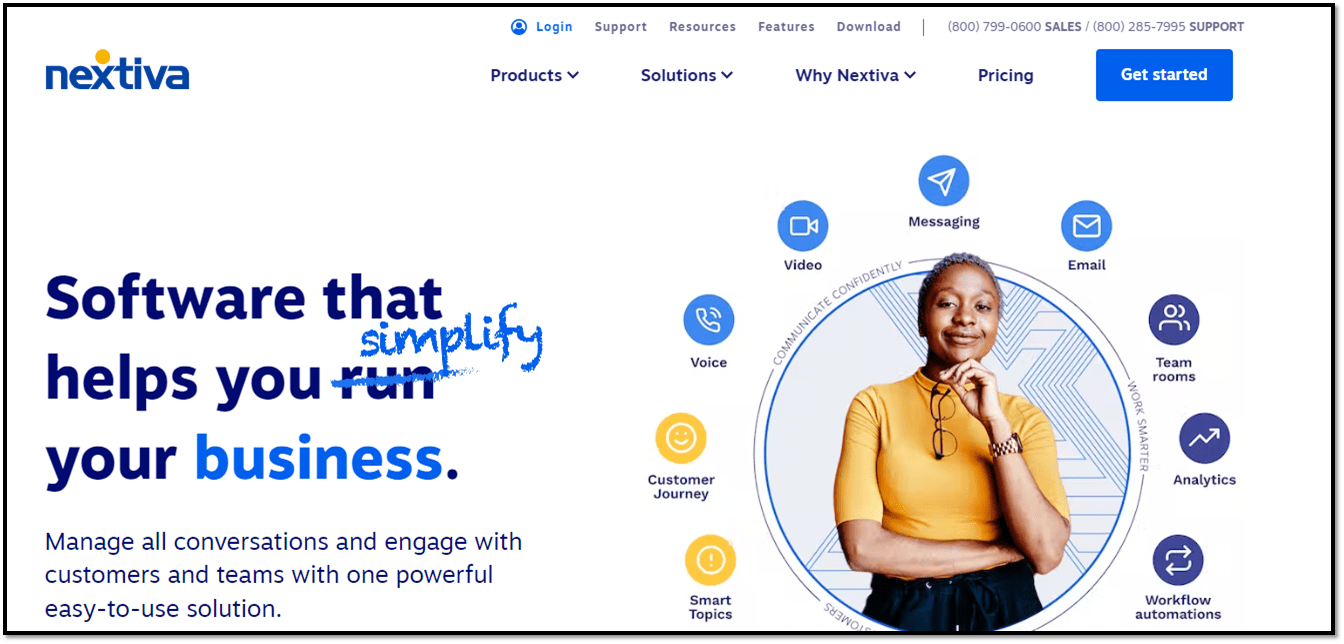 Nextiva Inc. empowers businesses with an easy-to-use call center solution. The company boasts of more than 100,000 customers.
Its call center solutions offer features, such as IVR, call queuing, automatic call distribution, call monitoring, and remote or mobile agents.
You can also optimize agent call flow, automate interactions and provide the best experience to the caller.
---
10. TalkDesk

TalkDesk is a call center solution that helps enterprises to provide the best experience for the customers while reducing customer support costs.
It uses IVR, automated call distribution, and skills-based routing that routes calls to agents who are best to handle them.
Besides workforce management and customer engagement, TalkDesk also provides industry-specific security features such as HIPAA compliance for healthcare-related organizations.
However, TalkDesk is more focussed towards the needs of an enterprise, and it feature set and pricing reflects the same.
---
11. Mitel

Trusted by over 70 million business users in over 100 countries, Mitel is definitely a force to reckon with in the telecommunication sector.
Mitel is a global telecommunication company with headquarters in Canada. It started as a producer of TDM PBX systems and applications, and now focuses entirely on VoIP products.
Mitel offers a comprehensive range of phone systems that provides call center services, unified communications, and cloud communications. 
Mitel offers MiVoice Business Call Service, which is an on-site communication solution. With the help of this product, business communication becomes efficient through mobility, team collaboration, video conferencing, and exceptional customer experience delivery.
---
12. RingCentral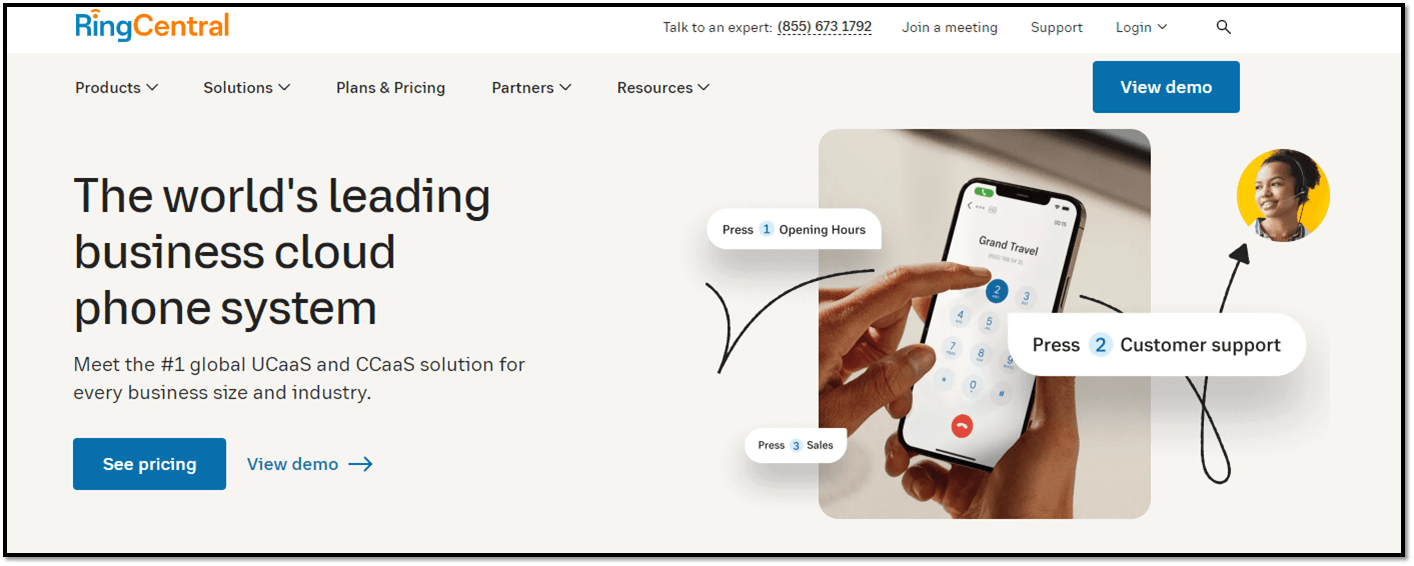 RingCentral is a cloud-based contact center service solution that provides a unified approach to handling business communications.
The software is a single, easy-to-use platform that works on any device and it can be used for voice, video meetings, contact center, team messaging, and collaboration.
It easily integrates with business apps such as Microsoft, Google, Salesforce, etc. Also, it provides you with numerous connectivity options.
RingCentral comes with features such as multi-channel communications, call management, granular call routing, IVR, etc.
---
13. Five9

Five9 is an all-in-one call center solution that transforms contact centers into customer engagement centers of excellence.
The software comes with features such as interactive voice response(IVR), real-time reporting, workforce management, quality monitoring, predictive dialing, CRM integrations, etc…
The solutions provided are useful to run effective inbound, outbound, and omnichannel contact centers.
Five9 gives agents the power and flexibility to work from anywhere. Also, it is reliable, affordable, secure, compliant, and scalable.
---
14. Dailpad Talk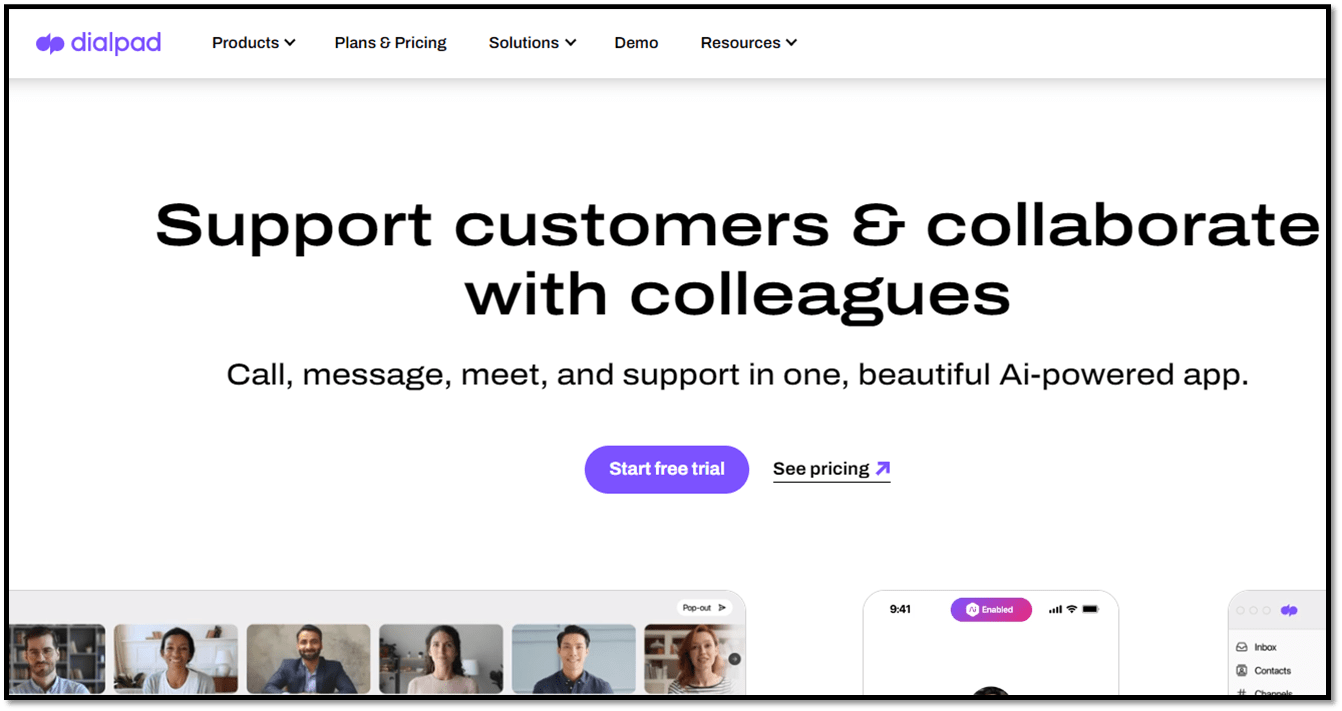 Dialpad Talk is a cloud-based business phone system that uses Voice over Internet Protocol (VoIP) technology to provide phone services over the internet.
It allows users to make and receive calls, send and receive faxes, and send and receive text messages using their computer or mobile device.
In addition to the standard phone system features, Dialpad Talk also offers advanced features such as call analytics, auto-attendant, and IVR (Interactive Voice Response) system, which allows callers to navigate through a menu of options and reach the correct department or person.
---
15. Twilio Flex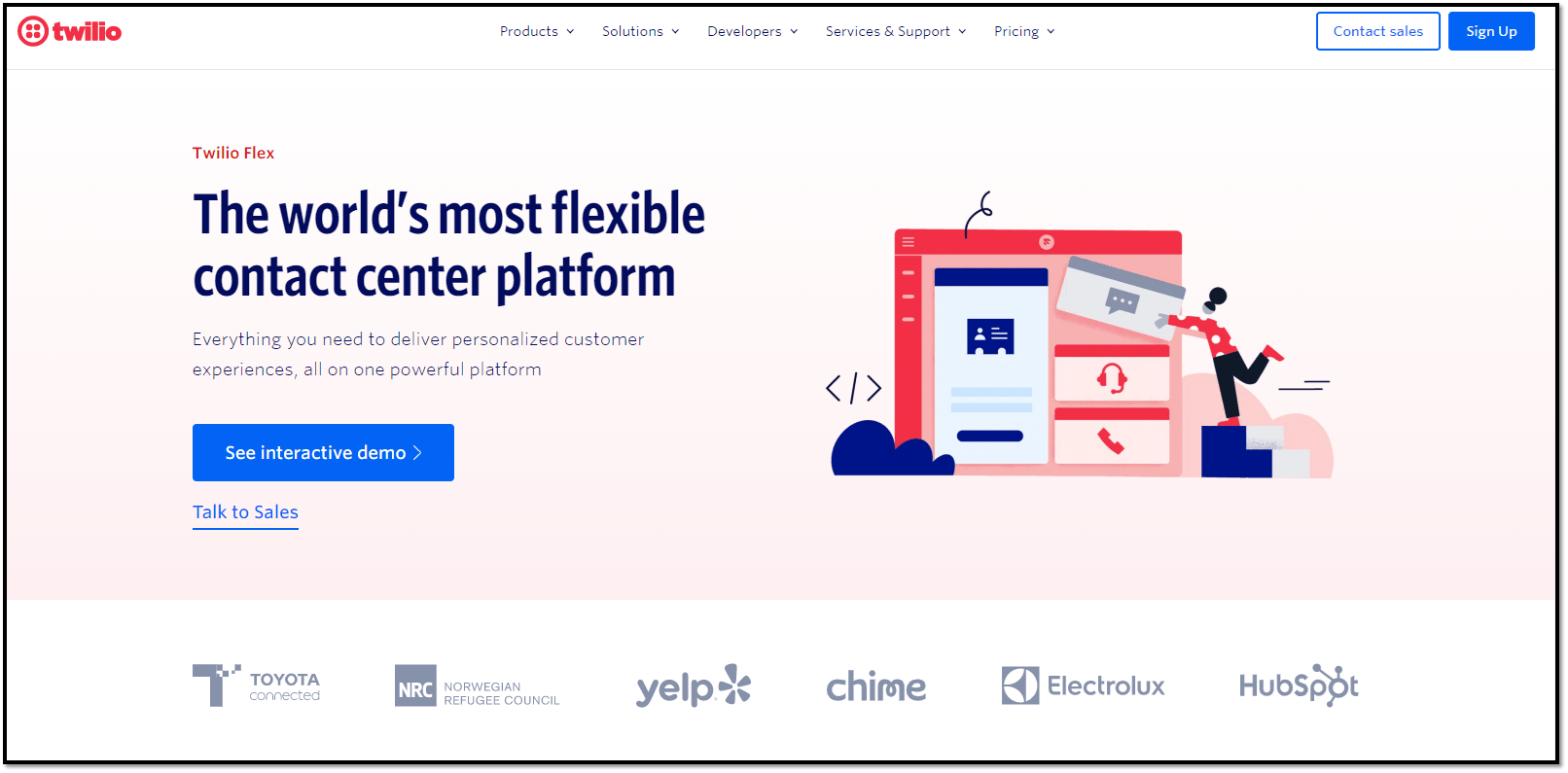 Twilio Flex is a fully programmable cloud contact center platform that allows businesses to create, manage, and scale their own contact center operations.
It is built on top of Twilio's communication infrastructure and it enables developers to customize every aspect of the customer engagement experience.
Twilio Flex can be used by businesses of all sizes, and it is available on a pay-as-you-go pricing model, which means that businesses only pay for the resources they use.
---
E. How to choose a call center phone software?
Choosing a call center phone system can be a complex and time-consuming process, as there are many different options available, each with their own unique features and capabilities. Here are some key considerations to take into account when choosing a call center phone system:
1. Business Needs
 The first step in choosing a call center phone system is to identify the specific needs of your business. Consider factors such as the volume of calls you expect to handle, the types of calls you will receive, and the number of agents or representatives you will need to support.
2. Features
 Consider the specific features you require, such as automatic call distribution, call routing, voicemail, and caller ID. Also consider advanced features such as call recording, call scripting, and real-time analytics, which can be used to improve the efficiency and effectiveness of customer service operations.
3. Scalability of a call center software
Choose a call center phone system that is easily scalable to accommodate future growth or changes in your business.
4. Integration
Consider how well the call center phone system can be integrated with other existing systems, speech analytics software and applications, such as CRM, helpdesk, and business intelligence software.
5. Provider
Consider the reputation and experience of the provider, their customer support and their technical expertise.
6. Cost
 It is important to consider the cost of the call center phone system, including the initial cost, ongoing costs, and any additional costs for additional features or support.
7. Remote working
With the growth of technology and the present global scenario, many organisations are shifting to a remote working model; consider a call center phone system that allows your workers to work remotely.
8. Security
As the call center phone system will be handling sensitive customer data, it is important to ensure that the system has adequate security measures in place to protect this data.
---
F. 8 Standard Call Center Software Features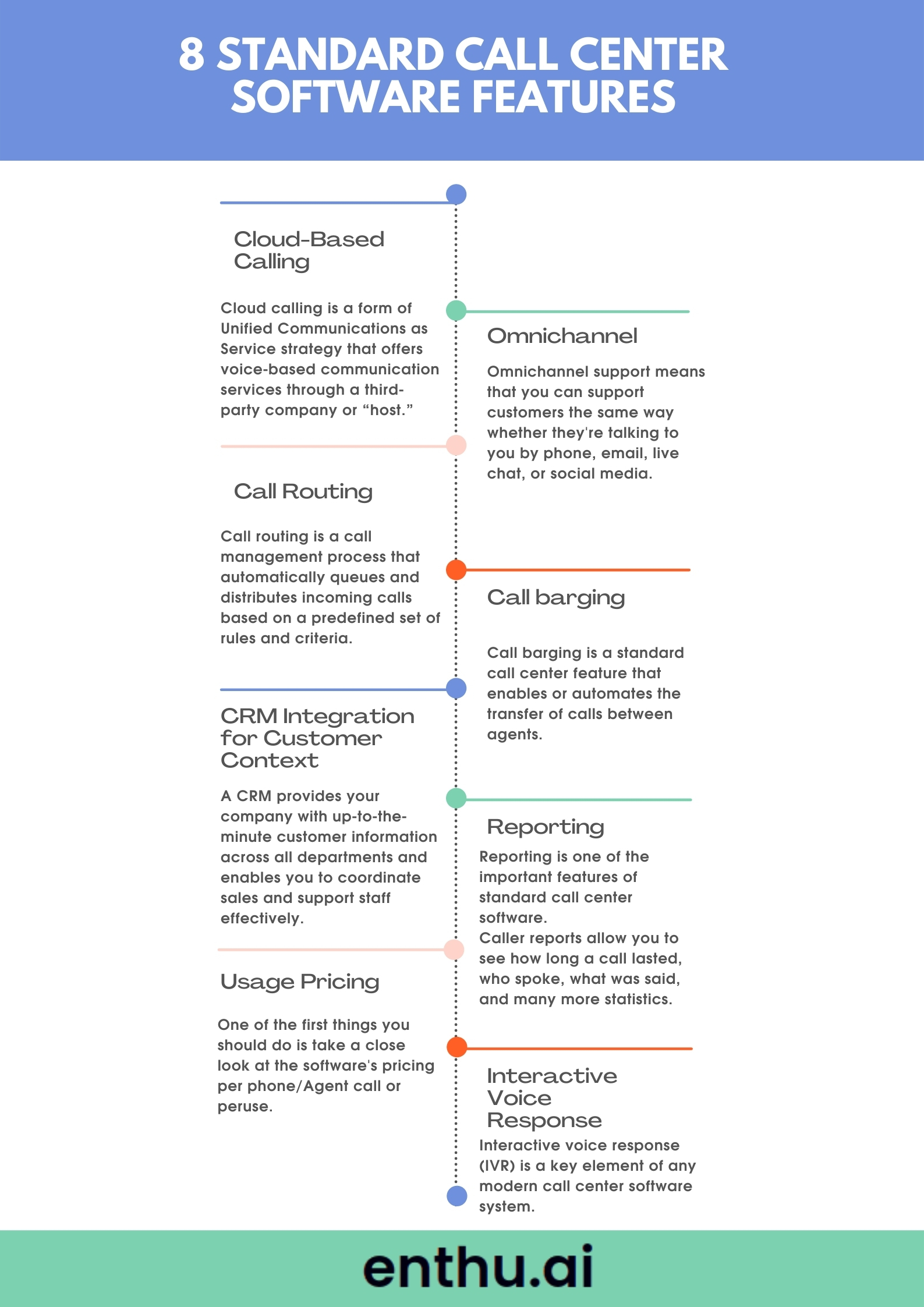 There are some standard call center software features you should look for when selecting the software.
These functions will save you time and keep your frustration level down.
As well as saving time, these features will also ensure that your agents respond professionally to calls.
A well-developed call center system will have many standard features, including:
1. Cloud-Based Calling
A lot of call centers today are using cloud-based management systems.
These allow users to complete various tasks, such as making outbound calls from their desks or tracking the time they spend on the phone and other activities.
Other people may want to record all important calls for future reference or streamline inbound calls with an IVR system.
This is made easier with a cloud-based solution since there's no need to install extra hardware like VoIP boxes.
For all those who don't understand what cloud-based calling is, it is a phone or telephone service that operates over the internet using the same Voice over Internet Protocol (VoIP) technology.
A cloud-based service typically has its own server that your company pays to use instead of paying a third-party provider.
This can be much cheaper than leasing landlines and phones from a telecommunications provider.
2. Omnichannel
At the end of the day, any BPO wants to standardize its call center technology, software upselling & enterprise CRM to deal with single-core processes rather than multiple and doesn't want to take the pain of updating them from time to time.
It also offers an integrated or single-user experience for its customer, which will provide a client migration experience that is smooth and seamless.
Omnichannel support means that you can support customers the same way whether they're talking to you by phone, email, live chat, or social media.
If your call center software can't integrate with other channels (like LiveChat, for example), then it's not omnichannel.
3. Call Routing
Routing calls can be complicated, and it's easy to get caught up in the complexity and lose a sense of how it will actually work on the phone.
All businesses who rely on having clients via the phone will probably need call routing software Features.
Lots of companies have used various types of automated call distribution and call management to handle their client calling requirements.
While choosing a call center solution, you need to take into account several factors such as the system's ability to connect calls inbound, outbound, and among multiple call center users; ability to route a call based on the caller's record, business rules, time of day or day of the week.
All though it's one of the most important features of the call center phone system.
4. Call barging
Call barging is a standard call center feature that enables or automates the transfer of calls between agents.
The call could be transferred to the agent handling the most calls or one with the least number of calls.
Call barging is an essential part of many software call tracking solutions or rota-based call system architectures.
If your customer service software doesn't provide call barging options, then read the next section in this article on what features you should look for in your call tracking solution.
5. CRM Integration for Customer Context
There is no doubt about the importance of the CRM tool in the call center phone system.
It helps in creating a centralized database that can access all customer information and data.
A CRM provides your company with up-to-the-minute customer information across all departments and enables you to coordinate sales and support staff effectively.
With integrated CRM, your cms and voicemail system work together, delivering customer information to agents in real-time – it's amazing how seamless this can make operations run.
6. Reporting
There are so many features available that are not really needed, and on the opposite end of the spectrum, features that could help you save significant money and time.
One of those features can be reporting-related. Reporting is one of the important features of standard call center software.
Caller reports allow you to see how long a call lasted, who spoke, what was said, and many more statistics.
You can easily export this data into a spreadsheet and use it for analysis.
All the other types of call reports can be used for training purposes.
Even though the report user interface is simple, all the necessary information is clearly displayed, and there are even call diagrams in some programs.
7. Usage Pricing
One of the first things you should do is take a close look at the software's pricing per Agent/phone call or peruse.
Depending on how your chosen software assigns your phone numbers, you might be charged more than expected for each minute on the phone.
Before committing to any new phone lines, confirm what's included in the package and how much each call and minute will cost.
8. Interactive Voice Response
Interactive voice response (IVR) is a key element of any modern call center software system.
Interactive Voice Response services are there to aid users in completing their tasks, and they give you the possibility to smoothly run customer interaction within your company.
If you have a call center or a customer service department, you will definitely need an IVR service to boost up your efficiency.
You won't always be able to provide your customers with a perfect service right away since it will take time. Still, modern technology can provide the best solutions for both supporting your customers and improving your business overall.
---
G. FAQs
1. What systems do call centers use?
Call centers use a variety of systems including phone systems, customer relationship management (CRM) software, and computer telephony integration (CTI) software to manage and route calls, track customer interactions, and store customer information.
2. What are the  types of call centers?
 There are four main types of call centers: inbound, outbound, blended, and virtual. Inbound centres handle incoming calls, outbound centres make outgoing calls, blended centres handle both, and virtual centers rely on remote agents.
3. What is call center software?
Call center software refers to a variety of computer programs and technologies used to manage and optimise call centre operations.
It typically includes features such as call routing, call tracking, call logging, and customer relationship management (CRM) capabilities.
---
H. Conclusion
Choosing the right Call Center Phone System is certainly not a decision that should be made hastily.
Such a decision should be based on your needs and also on the quality of services that will be offered by the provider. 
Now that you have all the information about the best call center phone systems out there in the market, you can make a better decision.
From the above reviews and comparison, you can also see that there are a lot more details that we discussed.
Still, if you have any questions feel free to drop them in the comment box.