Every business success depends largely on customer interactions. How a contact center responds to the queries and grievances of customers is crucial. That's why it's essential to monitor every call quality. Call center quality monitoring software can help streamline the process.    
Let's talk about call quality monitoring and call center efficiency – and our top picks for the software to use for this purpose. 
---
In this guide, you'll find:
What is call quality monitoring?
Importance of call quality monitoring
Benefits of call quality monitoring
Top call center quality monitoring software
Call center monitoring best practices
How to select a call quality monitoring software?
---
A. What is call quality monitoring?
In call centers, call quality monitoring means listening to and assessing customer conversations.  It also includes the steps to improve call handling and customer service. The goal is to implement changes based on these. Call quality monitoring is followed by training the call center agents. This can help the department to evolve.          
Call quality monitoring involves call listening to analyze customer-agent interactions and capture feedback. This includes recording their opinions and answers. Communications can be on calls, emails, social media, survey forms, etc. 
---
B. Importance of call quality monitoring
Call center quality monitoring involves the analysis of calls. It helps spot problems and fix them. Good customer interactions can earn the loyalty of customers and fetch revenue. But poor customer care can drive away 96% of customers.   
Once the problems are determined, a customer care team can set new SMART goals. Then, it can work on improving processes instead of just focusing on employees. A team to monitor calls can help. But it's crucial to use the cutting-edge technology in call monitoring software.  
---
C. Benefits of call quality monitoring
There are many benefits of quality monitoring, which includes:
1. Improved customer satisfaction
Quality monitoring identifies issues or trends in customer interactions that may be causing frustration or dissatisfaction. This helps call centers to address these issues and improve customer satisfaction and net promoter score.
2. Enhanced agent performance
Quality monitoring  helps call center managers identify areas where agents need additional training or support. This can lead to improved agent performance and increased efficiency.
3. Increased efficiency
By identifying and addressing issues that are causing delays or inefficiencies in the call center, a quality monitoring program can help to streamline processes and improve overall efficiency.
4. Reducing customer churn
By ensuring that calls are of a high quality, quality monitoring can help to reduce customer churn.
5. Cost savings
 By improving the quality of calls, quality monitoring can help to reduce the cost of customer service.
6. Improved compliance
Call centres may use quality monitoring to assure that the agents are following business norms and standards, along with business policies and procedures.
7. Enhanced call center performance
By continuously monitoring and improving the quality of customer interactions, call centers can improve their overall performance and achieve better results.
8. Improved data quality
Quality monitoring can help to improve the quality of data collected from call centre interactions, which can be used for further analysis.
---
D. Top call center quality monitoring software
Fortunately for call centers and managers, automating call quality monitoring is now possible. All they need is the help of modern software. Here's a list of the best contact center quality monitoring software. The tools can improve your contact center through systematic feedback collection and recording.        
1.  Enthu.AI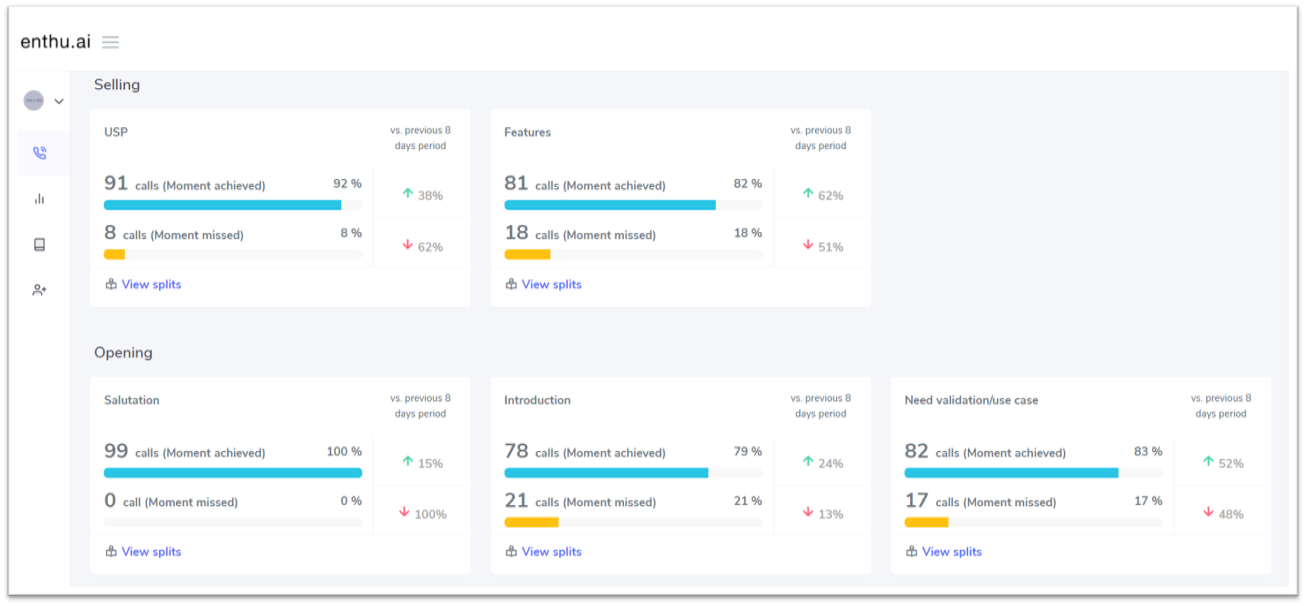 Enthu.AI offers call center quality assurance  end-to-end solutions. It makes the monitoring process and quality assurance fast. It is more focused on providing results of high-quality outcomes. So it doesn't involve wasting time listening to every single conversation.  
Pros:
Call transcripts:

Provides easy and fast call transcripts.

Price:

It's not too expensive to set up and use.

Customer support:

Enthu.AI has helpful customer support that quickly fixes problems.
Cons:
Software Integration:

It can be a little challenging to make it work with softwares like Hubspot CRM.

Interface:

There should be more improvement in the UI/UX design.

Learning curve:

Initially users may find it a little hard.
The software is capable of auto-surfacing calls that require urgent attention.
It also helps skim through calls to find the essential ones instead of random sampling.
It enables the creation of customized QA hypotheses and feedback forms. It also has a wide range of features to enhance your team's performance.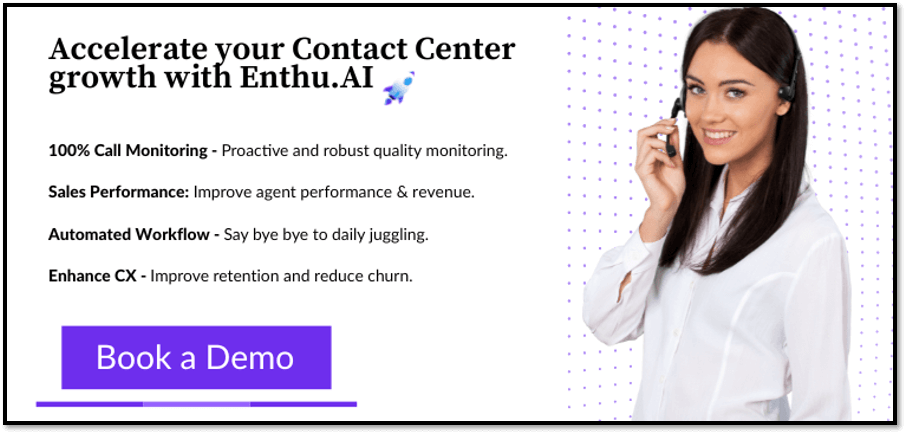 ---
2. Calabrio ONE
As a cloud-powered platform, Calabrio ONE offers a user-friendly interface. Contact center agents can record and track the journey of each customer. Agents can capture and fetch interactions across various channels. It drives informative and predictive analytics driven by Machine Learning and Artificial Intelligence. 
Based on these, the team and the management can make actionable plans. 
It has features like evaluation forms, scorecards, and performance reports.
These can engage the agents and play an essential role in evaluation.
Accordingly, they can be trained to follow the necessary steps. These can lead to specific business goals.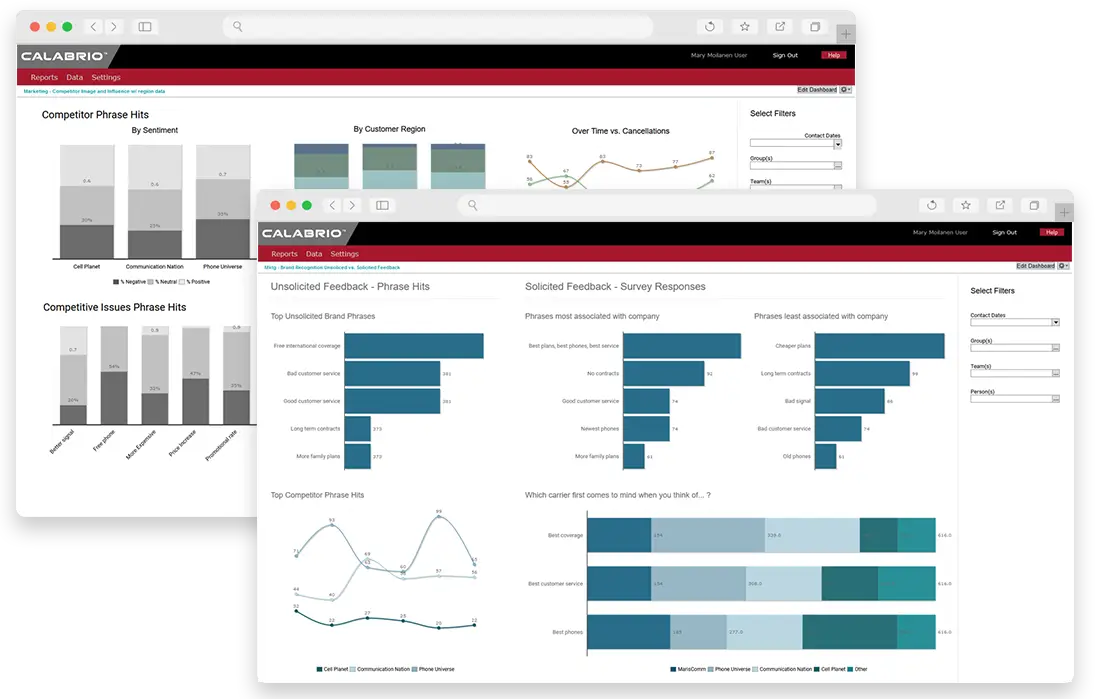 Pros:
User interface:

It has a simple user interface to track customer details.

Reliability:

Strong AI/ML driven for effective evaluation and analysis.

Customer engagement:

It generates detailed performance reports.
Cons:
Customer support:

It takes a long time to reach out to the agents to resolve the problems.

Learning curve:

It is difficult to get used to the application.

Installation and maintenance:

It is difficult to set up and maintain the application.
---
3.  Playvox
Playvox is a call quality monitoring and management platform. It's designed to simplify quality assurance. It has features like employee scheduling, performance tracking, interaction screening, and workflow automation. It can help transform customer service by motivating agents and streamlining agent training.
It measures only relevant interactions. This speeds up the process of gathering customer feedback by .
It eliminates manual processes of making spreadsheets or auditing. This gives team leaders the chance to meet customer expectations.
It builds a healthy digital environment through chats, social media, etc.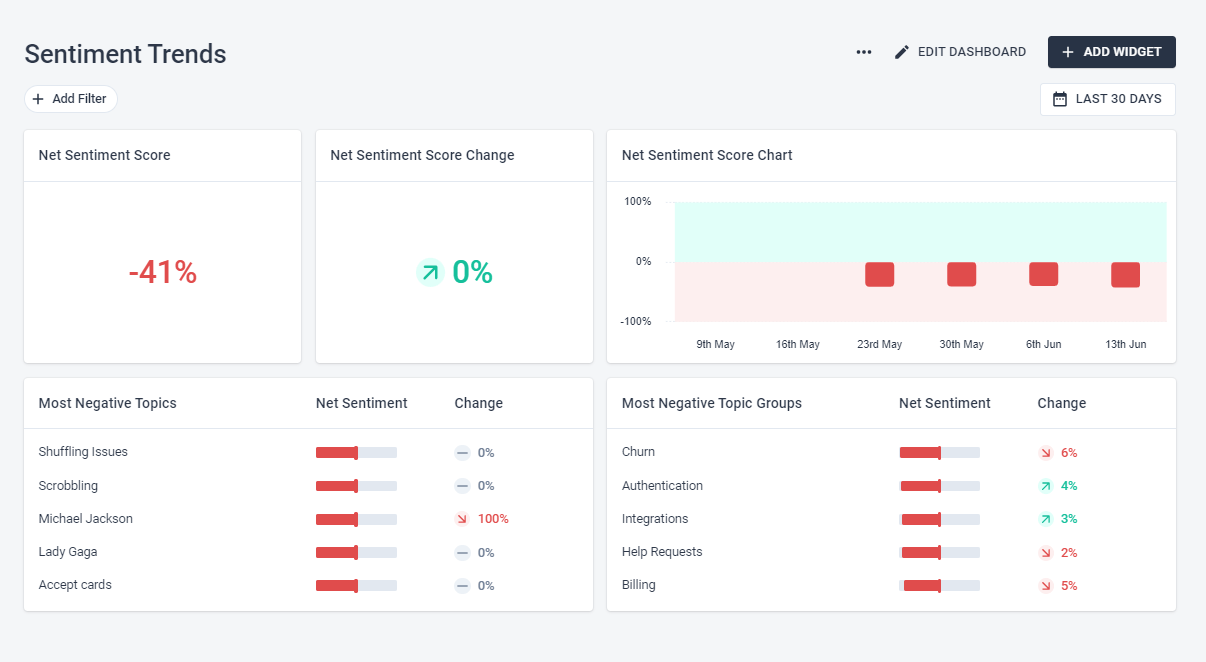 Pros:
Automation:

Automation of workflow quality enhancement and interaction filtering.

KPI's:

It provides KPI-based coaching and recognition.

Customer support:

Immediate reporting and resolution of customer concerns and issues.
Cons: 
Buffering:

The system is quite slow.

Platform dependent:

Mobile application doesn't have all the features. Mobile applications are not responsive.

Complexity: The platform is very complex to use.
---
4. Scorebuddy
Scorebuddy is considered one of the market leaders when it comes to call quality assurance software. It is engineered to save time and improve agent performance. It's a platform that brings together multiple features that can improve customer experiences. Meanwhile, it enhances caller training and learning.  
It is an excellent tool for quality management, supported by advanced AI analytics.
It delivers high-quality customer service and targeted and customized coaching.
The impact is measurable with the help of this tool. It has flexible agent scorecard facilities.
Thanks to them, managing resources becomes easier for an evolving environment.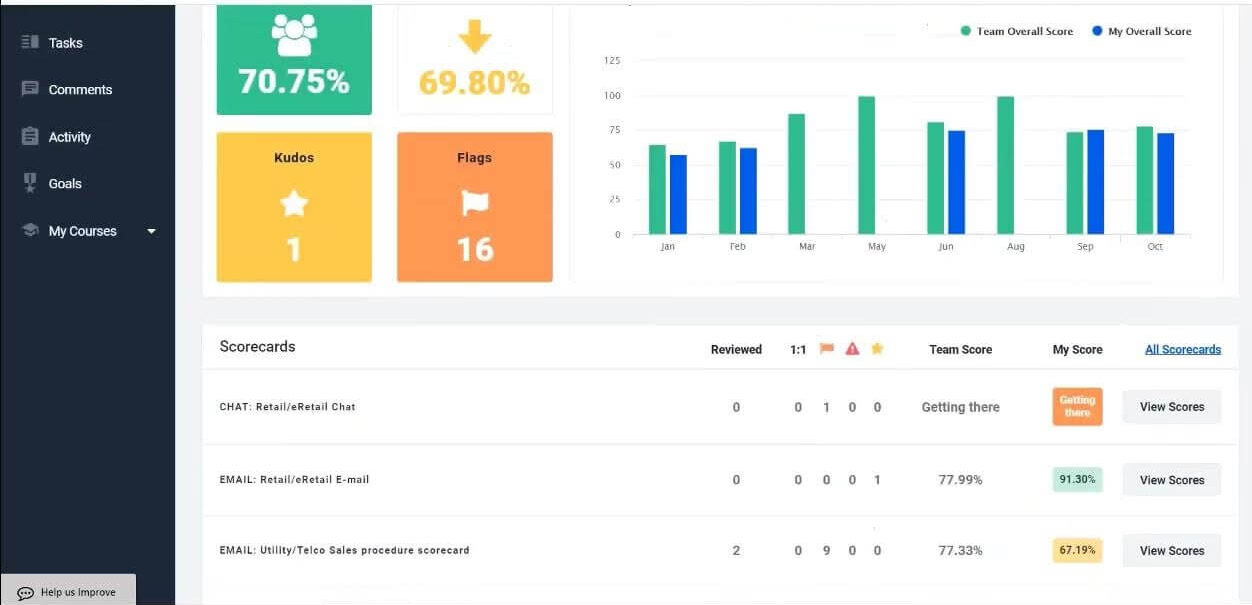 Pros:
Automation:

Provides automated reports about agent performance, call quality, etc.

Advanced data analysis:

It provides critical data analysis and reporting features, such as trend evaluation and predictive insights.

Integration:

The software integrates seamlessly with existing contact center systems, making it easy to use.
Cons:
Call ratings:

Call ratings are not done automatically, you have to do it manually.

Navigation:

It is difficult to navigate through the application.

Poor interface:

Its interface is not user-friendly.
---
5. KlausApp
Klaus is designed with the objective of handling service desk tickets and tackling chats. It enhances the benefits of CSAT solutions to improve response rates and acknowledge written feedback. It further incorporates the ability of IQS. This helps monitor internal quality through team and agent performance tracking. 
Klaus' integration with
Aircall
is one of the key features of this software.
The tool features dashboards and reports. These are helpful in recognizing problems, identifying trends, and analyzing issues.
The platform plays a key role in making actionable decisions based on the above information for one-on-one training.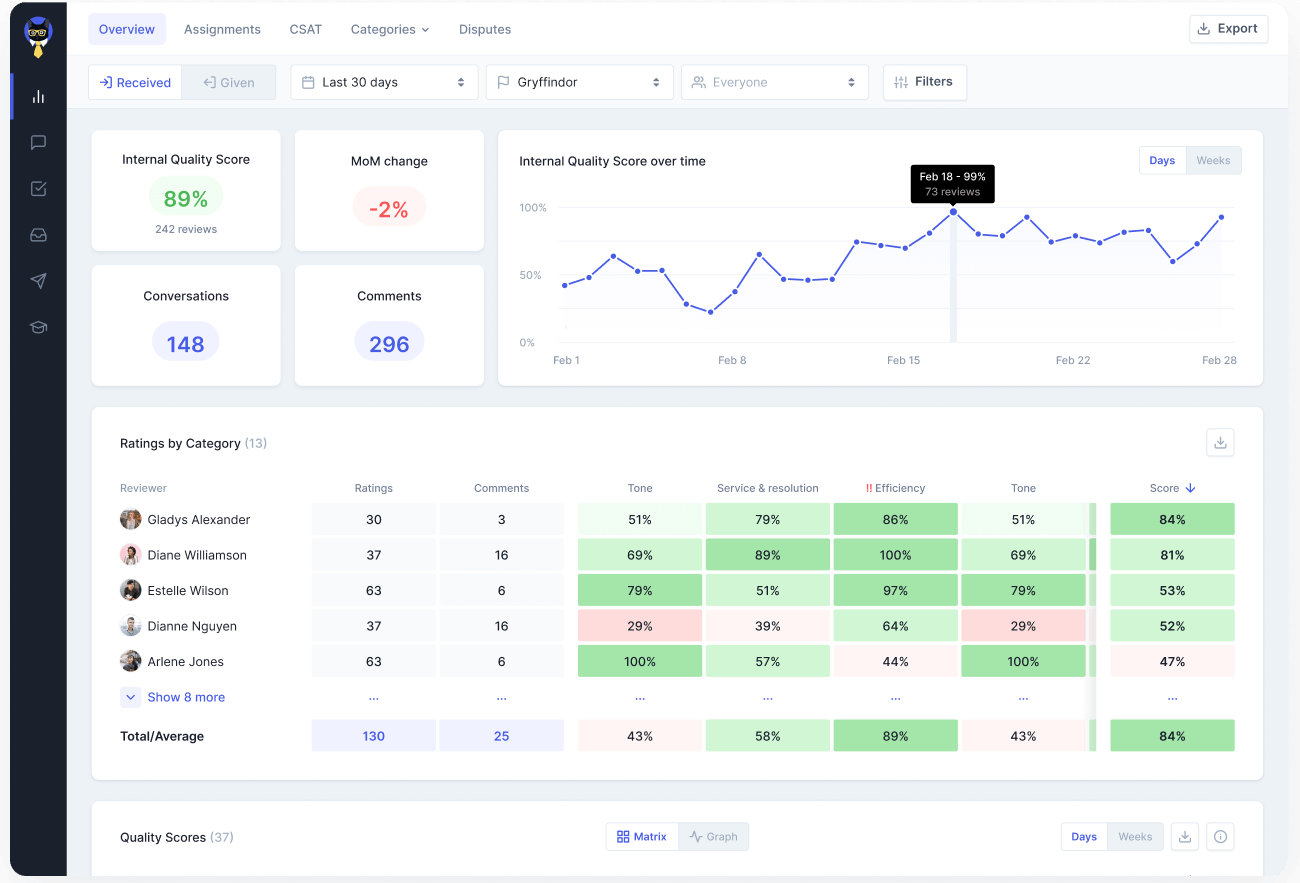 Pros:
User-Friendly Interface:

Klaus has a user-friendly interface that is easy to use and navigate.

Software integration:

It easily integrates with other software tools such as CRM, telephony systems, helpdesk, etc.

Customer support:

It provides instant feedback and coaching to agents, resulting in improved performance.
Cons:
Notifications:

It sends too many emails and pop-up notifications.

Analysis:

The report it produces doesn't have a detailed analysis.

Bugs:

Some new features added to the application have bugs and glitches.
---
6.  Callminer
Callminer is designed with the objective of understanding customers deeply. This helps develop new business values. As a conversation analytics tool, it can drive improved decisions. Thus, it adds to the transformation of the organization. It captures interactions on all channels and extracts usable insights from unstructured data. 
It boosts the business-wide implementation of new actions with the help of conversation analytics.
It is a comprehensive tool for this purpose, using AI and ML to help companies recognize patterns and analyze sentiments. It connects these insights to actions to drive growth.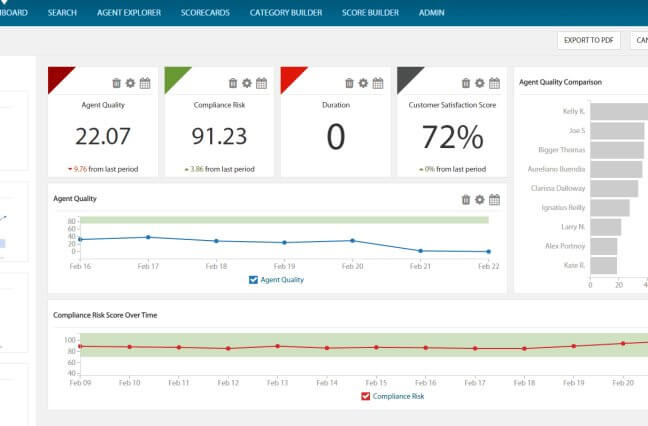 Pros:
Cloud-based:

CallMiner offers cloud-based services that can be deployed effortlessly.

Software integration:

It can integrate with Salesforce and other CRM software.

Customer support:

It provides 24/7 premium quality customer support.
Cons:
Pricing:

It is quite expensive than other

software in the market.

Speech-to-text:

Call transcripts are not 100% accurate.

Learning curve:

It can be a bit challenging for beginners to navigate through the application.
---
7.  Tethr
Tethr is a noteworthy platform for call recording and conversation analytics. The tool provides automated insights derived from such conversations. Then, it structures business intelligence to serve as the base of essential decisions. It is a state-of-the-art platform engineered on the foundation of ML.      
It synthesizes data from voice, chat, and email interactions. Then, it projects essential data on the dashboards without the need for the user to dig for information.
This is a consolidated cloud-based platform. It supports research, analysis, automation, and distribution of data for enhanced call quality.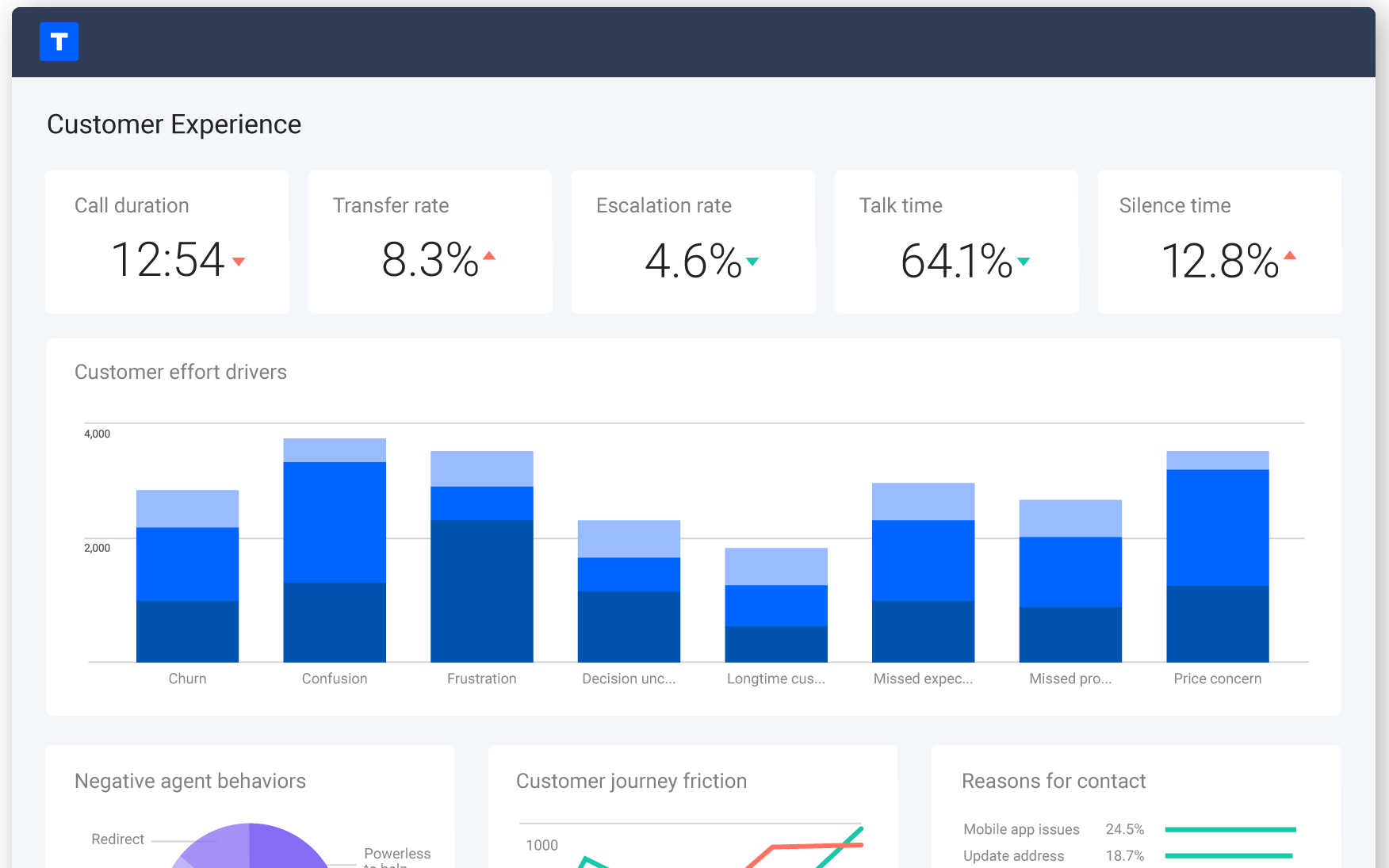 Pros:
Exclusive tools:

The software has different tools that help managers analyze and improve agents performance.

Pricing:

It provides premium service at low cost.

Voice analytics:

It has an exclusive feature of voice analytics which helps to understand patterns and trends in customer behavior.
Cons:
Technical glitches:

Sometimes the application lags and exits on its own.

Inaccuracy:

It is not responsive for different languages as it produces inaccurate transcripts.

Interface:

Its interface is not optimal.
---
8. Observe.ai
Observe.ai curates metrics to help monitor the whole team, as well as the individual agents, with efficacy. It is an essential tool for contact centers, integrating AI into all customer conversations. It tracks interactions and optimizes the performance of agents to retain important customers. 
This platform is known for increasing the visibility of conversations. It also derives business-enhancing data. By doing so, it empowers employees with AI-based evaluations.
Observe.ai is a smart tool equipped with the ability to detect sentiments.
This enables empathetic conversations for improved customer experience.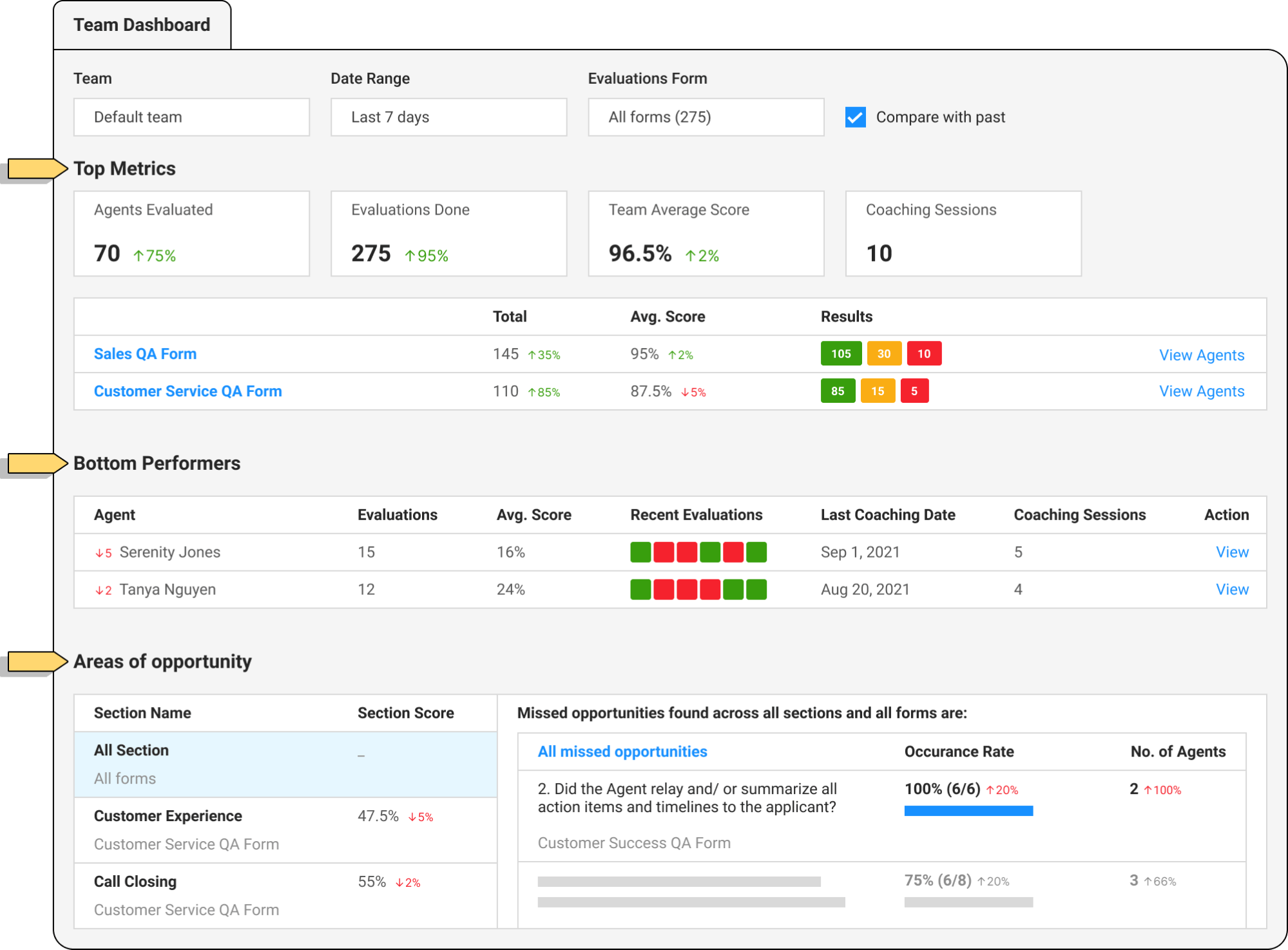 Pros:
User-friendly:

The software is flexible to the user.

Call transcripts:

It is easy to review calls with the help of transcripts.

Quality analysis:

It provides detailed reports by analyzing call transcripts.
Cons:
Language barrier:

It is not flexible for different languages like Spanish.

Inaccuracy:

Call transcriptions are inaccurate.

Customer support:

It takes too long to respond to a call.
---
9. Talkdesk 
Talkdesk is a highly effective platform that offers end-to-end solutions for contact centers. This cloud-based tool enables better performance with the help of a detailed evaluation cycle. It is a highly intuitive platform that can streamline the entire process of call quality management. 
It has a user-friendly interface with various features.
These include call recording, conversation screening, multi-channel transcription, and more.
Its customer touchpoint mapping helps evaluate the customer's journey.
It features time-stamped annotations for agent feedback. Don't miss the AI-based speech analytics and automated scoring.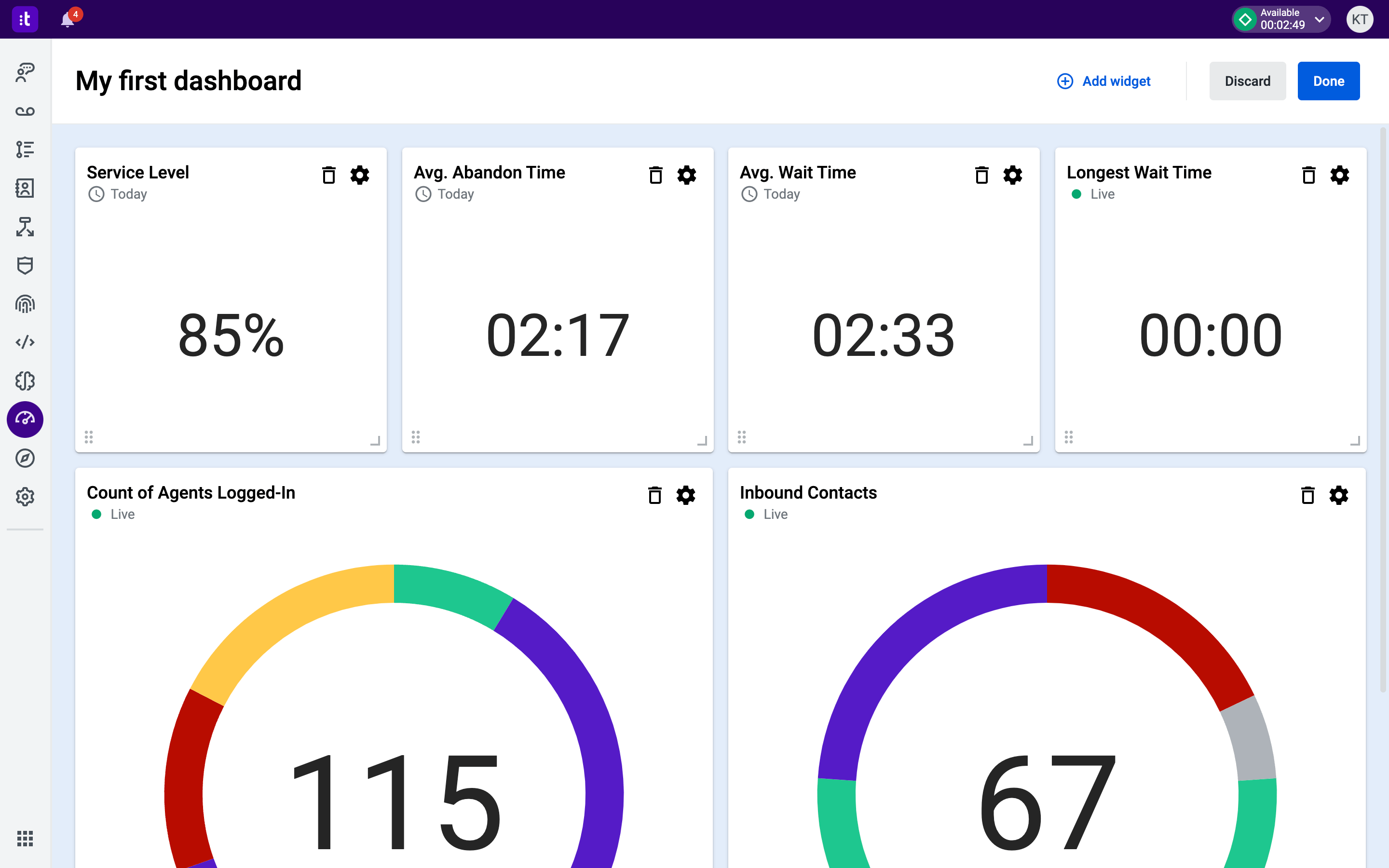 Pros:
Easy to use:

It has a simple and user-friendly interface.

Installation:

Hassle-free installation, easy on-boarding process.

Dependability:

The system is reliable and produces easy reports that users appreciate.
Cons:
Demo:

It doesn't offer a free trial.

Subscription:

The base plan does not offer its services on mobile apps.

Customer support:

Inadequate customer service and lack of assistance.
---
10. EvaluAgent
EvaluAgent is a quality assurance tool that ensures compliance and improves agent performance. It can be a part of the contact center's process of evaluation, training, and engaging the employees. Thus, it can be used to unlock the team's potential to provide an unparalleled customer experience.  
It integrates CRM tools and Learning Management System.
Thus, it provides high-speed innovations in the field of customer care.
It is instrumental in recording and rating interactions by call, chat, and email.
These help categorize and assess the quality of communications and regulatory compliance automatically.
Pros:
Sorting:

It sorts and rates voice calls, chats, and emails on the basis of feedback, complaints, etc.

Feedback:

Allows customers to provide immediate real-time feedback.

Software integration:

Easily integrates with CRM tools like Zendesk, Salesforce, etc.
Cons:
Customer support

: Their customer support is poor, it takes weeks to get a single response.

Reports and analysis:

It produces basic and superficial reports.

Navigation: Application is difficult to use.
---
E. Call centre monitoring best practices
1. Define your goals and KPIs
The first step is to establish clear goals and objectives for the call center monitoring process. 
This will help to ensure that the KPIs are focused on the areas that are most important to the call centre and its customers.
---
2.
Train your staff
It is vital that your staff is properly trained in how to use the call center software and systems that are in place. If they are not properly trained, then they will not be able to make full use of the capabilities of the system, which could, in turn, impact the overall efficiency of the call centre.
---
3. Implement quality assurance measures
By putting quality assurance measures in place, you can help to ensure that the data that is being collected is accurate and that it is being used effectively.
---
4. Use call recording
Call recording is an important part of call centre monitoring, as it allows you to listen back to calls and identify any areas where improvements can be made. It is also a valuable training tool, as it can be used to help new staff members learn about the processes and procedures that are in place.
---
5. Analyse the data
Once you have collected the data, it is important to analyze it and see what trends or patterns emerge. This can help to identify areas where improvements can be made and help to improve the overall performance of the call centre.
---
6. Use data to drive continuous improvement
Quality monitoring should be an ongoing process, and the data collected should be used to identify trends and areas for improvement. This can help call centers to continuously improve the quality of customer interactions.
---
F. How to select a call quality monitoring software?
Now that you are aware of the top call quality monitoring software, it's time for you to understand how to pick the right software for your company. The idea is to pick something that fits your budget and the operations of your business. 
Take the following into account at the time of choosing the software – 
1. Your Organization needs
A business may have an effective process in place. In that case, the implementation of new software would mean it must facilitate the existing process. On the other hand, if a business does not have a successful strategy, the organization will need a new system.
---
2. Cost and budget
Cost is an essential factor when choosing your software. Prices vary based on features. It's easy to get tempted by them while missing your budget. So evaluate the software's pricing structure, scalability, and training costs. Match them with the promised ROI and budget.   
---
3. Software features 
Every call center quality management software should have certain basic features. They help you monitor and analyze all interactions.
The software should be engineered to motivate agents, provide proper supervision and training, and instill competition though features like –  
Real-time call monitoring,
Scorecards,
Call logs and recordings,
Integration with CRM and IVR,
Dashboards and reports,
Auto-recording'
Voice, email, and chat transcription, etc.
---
Final words
Call quality assurance should be the priority of contact center managers. Doing so can improve the overall execution of the call center's and the business' duties. Automating the monitoring process can help enhance quality management programs. 
The right call center quality monitoring software can replace the manual process. It can bring consistency and efficiency. Increased productivity and efficient agent performance can lead to improved customer experience.    
---
FAQs
1. How do you measure quality in a call center?
Quality in a call center can be measured using various metrics and evaluation methods, such as call duration, first call resolution rate, customer satisfaction scores, and compliance with industry regulations and company policies. These metrics can be tracked and analyzed to identify trends and areas for improvement.
2. How do you monitor call center performance?
There are several ways to monitor call center performance:
Track key performance indicators (KPIs)

Use call monitoring software

Conduct customer satisfaction surveys

Review reports and data

Conduct agent evaluations
3. What is QMS in a call centre?
QMS stands for Quality Management System. In a call centre, it refers to the processes and procedures implemented to ensure that customer interactions are handled efficiently and effectively, and that customer satisfaction is consistently met or exceeded.
Tushar Jain is the CEO and Founder of Enthu.ai. In his free time he loves to read and write about new duo of artificial intelligence and customer experience.