Things do not happen by chance.
Call center efficiency is a compound result of focus, strategic delegation, and above all, innate love for work.
In a call center setup, an agent's proficiency requires a deep understanding of the subject matter and other factors.
For example, the psyche of a human, who has to answer back-to-back calls without sounding tired, is an important yet mostly ignored factor.
In this comprehensive post, we discuss the metrics, to-do has, and trends that impact the proficiency of a call center setup.
Read along!
In this guide, you'll find:
Call center operational efficiency meaning
Call center KPIs
Factors impacting call center
Top techniques to improve call center efficiency
A. What is call center efficiency?
Call centre efficiency is the ability of a call centre or customer support operation to maximise productivity and effectiveness while minimising operational costs and the customer wait times.
It assesses how successfully a call centre can manage customer questions, address issues, and give support while utilising its resources efficiently.
Efficient call centres strive to provide high-quality service, meet performance standards, and respond quickly to consumer needs.
Call centre efficiency formula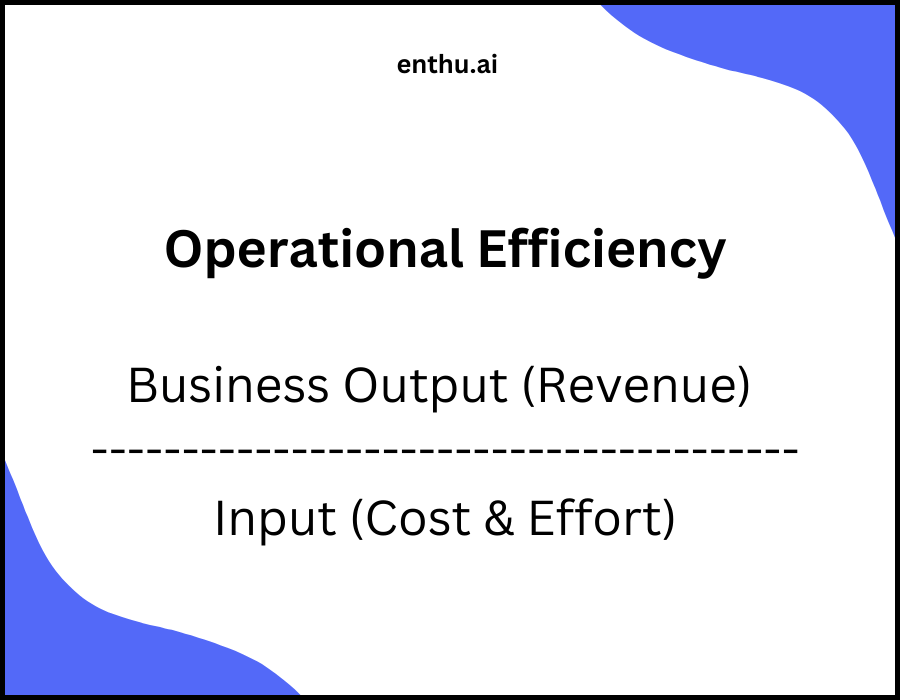 In a survey of 1300 global CEOs, 77% accepted focus on making internal improvements. 
Explore how Enthu.AI helps you improve your call center efficiency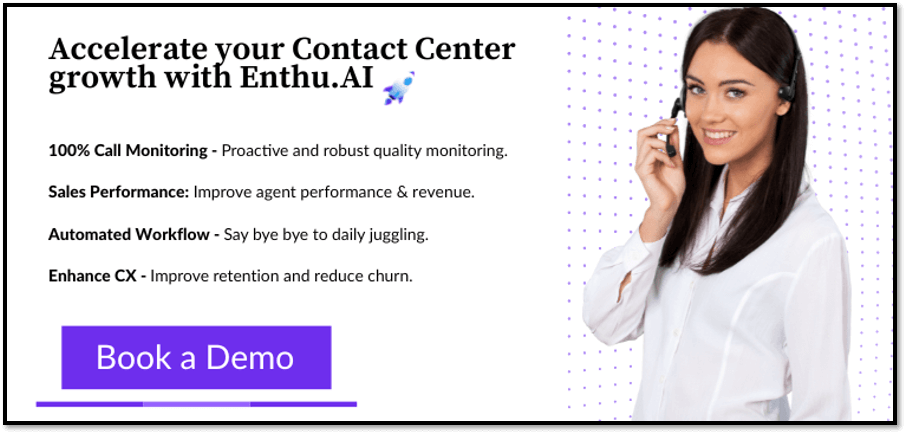 B. Five ways to improve call center efficiency 
1. Plan net promoter score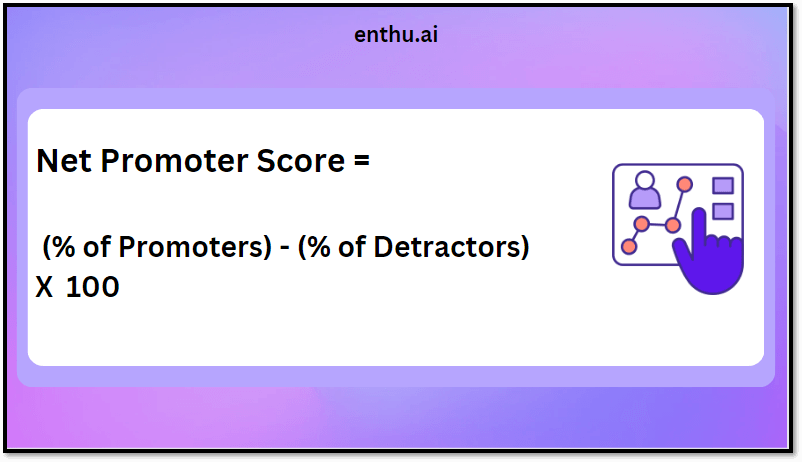 Planning is an essential step for any process and thus in a call center efficiency, NPS is the most significant ingredient which leads to success.
If you are pondering over the organizational matters related to operation, plan, and business tactics, NPS could provide the needed clarity.
A promoter's 9 or 10 score is the ultimate goal that is a must to accomplish. Most often, an organization can surge by 2.5 times in growth and 24 percent in income.
Let us consider the following points for better contact center productivity:
Calibrate call center QA daily and adjust the measures where required.
Pay heed to the customer's call and see what works for the best outcome.
Recognize categories of the customers whether they are passives, detractors, or promoters.
Arrange workshops and training for the present workers. Especially, for the poor performers, and appreciate the great performers.
The goal should be realistic and comprehensive.
Eradicate Silos, as these can be a hindrance in the path of success.
Keep the focus on delivering quality and check upon the assurance framework.
2. Optimizing call center workflows
In a study conducted by Aberdeen, most of the agents outlay 14 percent of the time on acquiring information to assist customers.
They also face roadblocks and struggles, when they have to complete their day-to-day tasks.
Their performance deteriorates due to the negative factors, it is evident from the following instances:
Outdated technology killed the performance of the call center agents by 26 %.
Lack of budget and worn-out technology pulled the leg of the performers by 25 %.
Turnover responsibility, in this, was 25 %
No real-time access to the information was also the culprit for low performance.
The burnout ratio of call center workers is too high to assume and that is 74% of call center agents and out of these 30% are at high risk. So to ignore these facts may be perilous.
To get affirmative results you need to follow the following regime:
Make a chart to get the complete idea of the task in a vivid and precise way. Set accountability and designate the tasks.
Set up primary, secondary, and following priority levels to categorize your customer inquiries. For example, on the bases of first come, first serve, or on the bases of the given task.
Set up the category followed by the appropriate department such as marketing, IT, Sales, etc.
Enable automation and self-service by providing them with perfect solutions for regularly reported problems.
Use various measures to track call center workflow, consistency, and efficiency.
3. Keep your staff motivated and acknowledge them with fair feedback


Empowered employees are devoted to their work and often perform better than others.
They are loyal to the organization and go beyond the call of duty to innovate and helps in reducing customer churn rate.
Agents should learn from each other and work towards their interacting skills while building relationships.
Overall, it builds consistency in narrative and process thereby unifying the voice of the brand across the call center.
Always encourage your agents to share feedback about a particular customer or their overall experience on the floor.
Let them ask questions and clarify their doubts.
After all, they are the first ones to know if something's wrong with the industrial process.
Micro-managing the employees should not be encouraged. Self-evaluation & correction gives them more confidence and judging ability.
Call center managers can ensure floor productivity through the following tips:
The organization must creatively use scorecards for monitoring soft skills, communication skills, and performance outcomes.
Performance with gamification of agent feedback: Do not give agents scorecards without fun activities, as they can directly hurt the low performers.
Develop analytical skills in the agents.
Reward your employees therefore reducing call center attrition
Now that the market has woken up to the undeniable potential of AI, Enthu's conversational intelligence app is just the right fit.
The self-learning application transcribes every call and provides actionable feedback to the agents. It tracks and compares different agent calling sessions and suggests improvements.
---
4. Monitor and improve AHT and other metrics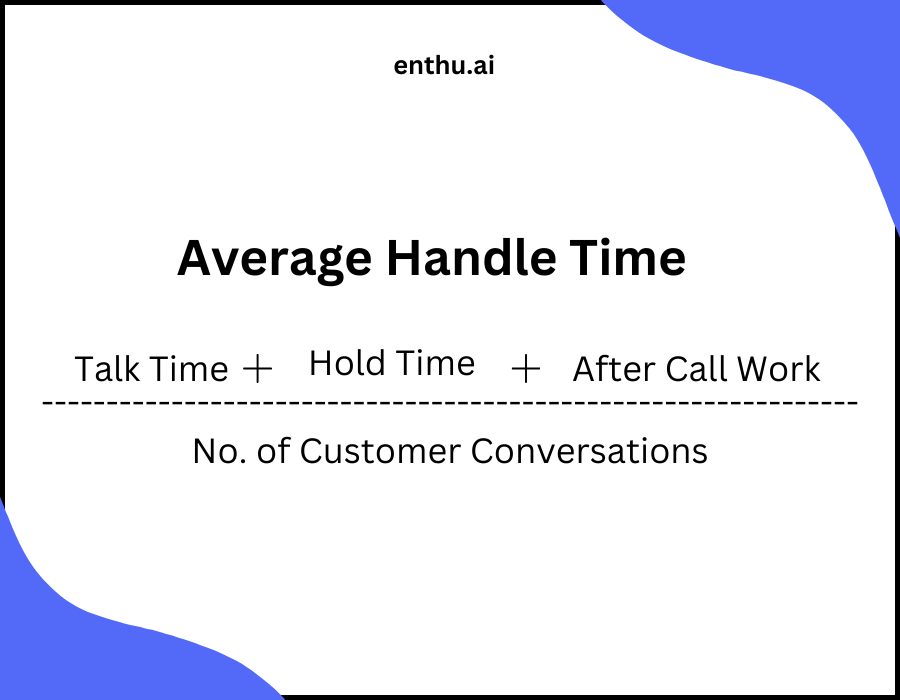 Consider various call center and customer experience metrics. KPIs provide clarity in identifying non-performers and provide them with the required help.
First things first, evaluate the AHT to decipher performance issues.
'Average Handling Time is the average time an agent consumes to resolve customer issues, from the start of a call until it disconnects.
Use quality monitoring tools such as Enthu.AI to track such metrics that helps in the faster evaluation of an agent's caliber to address more calls.
AHT also includes the time duration for which the customer puts the call on hold.
Moreover, the time that an agent spends on after-call tasks such as updating the CRM, making notes, or any other back-end tasks are also covered.
To embrace call center industry standards, always consider AHT as an important differentiator to acknowledge agent performance.
Business-critical metrics, critical customer metrics, and process critical metrics are the terms used in call centers to get to know the following aspects:
Business is performing well or not.
The agent is comprehending the customer's problem or not.
What happens during the interactions?
Apart from AHT, another important metric is the NVA.
The Non-Value Added metric tracks all those conversations or tasks that aren't adding any tangible value to the business and only increases the duration of the call unnecessarily.
For example, an agent's inability to answer a customer's query, wrong information being given, arguments, rudeness, unclear audio, prolonged talks deviating from the core topic, denial of service, incorrect service request and call disconnection are all counted under NVA.
The higher the NVA, the lower the customer satisfaction and the agent's performance.
---
5. Training workshops and learning guidelines
A comprehensive training program will introduce call center employees to the best learning experience.
Before setting up a learning program, we must know that an employee must enjoy the program.
On the other hand, if the activities are monotonous and the outcome is nothing then the whole setup and time consumption will go to waste.
As mentioned previously, Enthu's conversational AI application is enabling call centers to build a smarter workforce.
On similar lines, the application also filters out moments where the agent either fumbled or lacked apt knowledge.
For example, the app captures data around competitor comparison, sales negotiation, legal, & compliance, new issues etc. from hundreds of calls.
Now, such an app is essential because only 65% of the total surveyed companies were able to drive comprehensive programs for call center agents.
Using Enthu call center agent training is bliss for the companies.
The aim of the training program is:
To produce multi-skilled employees before boarding.
Track and score the agent's performance.
Boosting up the morale of employees and letting them stay for longer in the company.
Developing strategies for bridging gaps.
One-on-one engagement in onboard training.
Providing compelling and motivating training.
Recognizing the worth of every employee and awarding them.
Measuring the aptness of improvement documentation.
C. Key metrics to evaluate a call center efficiency
While there are a number of call center metrics to do the math, we consider the following 5 as the most important indicators for call center efficiency.
1. First contact resolution (FCR)
FCR evaluates the ability of an agent to approach and further resolve an issue in the initial call.
---
2. Customer satisfaction (CSAT)
It evaluates a customer's satisfaction level from the business' product, transaction, or even any interaction.
---
3. Customer effort score (CES)
It measures the effort a customer had to put in to seek ultimate solution to the issue/grievance.
---
4. Net promoter score (NPS)
NPS measures the likelihood of a consumer to refer the brand to others based on their satisfaction level.
---
5. Agent utilization rate (AUR)
It measures the productivity of an agent based on the number of hours assigned to them for completing a set of tasks/calls.
---
6. Call abandon rate (CAR)
It measures the total calls unattended or left in between by the agent.
---
D. Factors that impact a call center's potential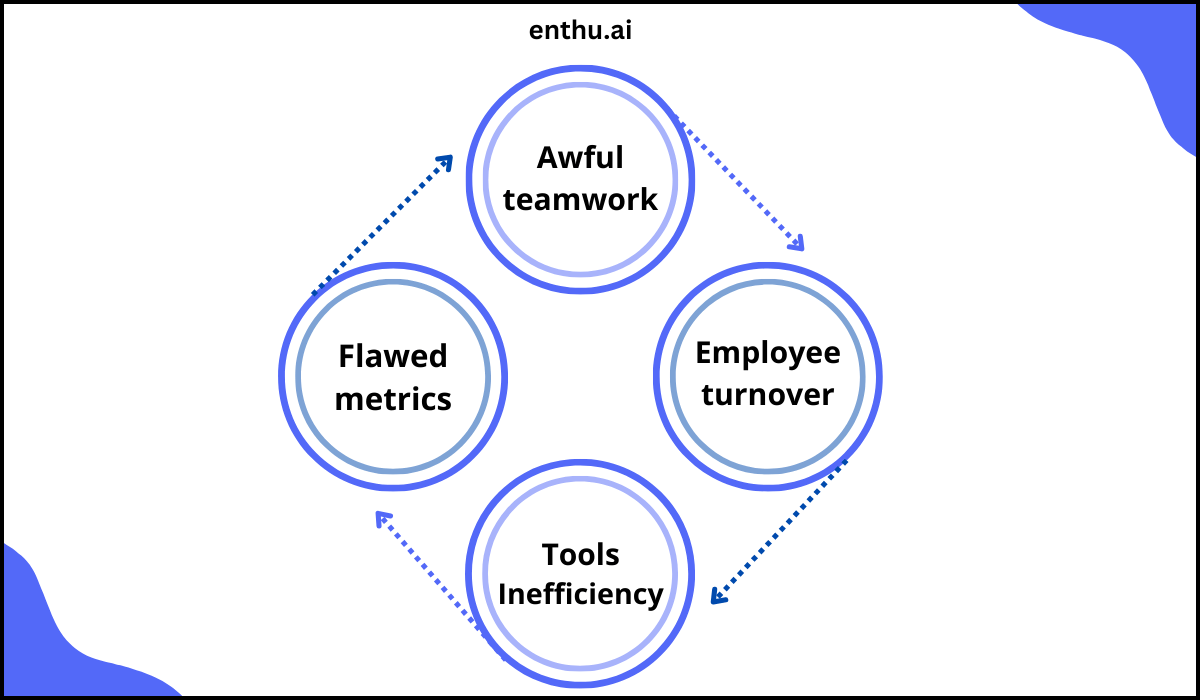 1. Awful teamwork and poor leadership
In some call centers, the agents are not well-connected and are not able to deal with difficult customers. Moreover, leaders have no potential to guide the team well, so progress is impossible.
There is no doubt that a well-knit team is a necessity to make operations smooth and easy.
---
2. Poor employee turnover ratio
Employees are the assets of a company, if the new hires are coming and old ones are leaving then the morale of all the employees will be down.
So a company must boost the morale of employees. The revolving door of new hires is an obstacle to success.
3. Tracking the flawed metrics
Metrics of a call center are an essential calibrating method thus tracking the right metrics is a requisite.
---
4. The inefficiency of the tools
Great processes need greater tools and call center efficiency should move on from outdated solutions.
Update them frequently or replace them with more contemporary conversation intelligence applications like Enthu.AI embrace automation or else watch your competitors scale.
Update these tools from time to time.
---
Conclusion
In this post, we tried to gain a low-level understanding of call center efficiency and the different metrics that impact it.
From embracing automation with speech analytics tools like Enthu, to emphasizing consistent training of employees, there's a lot of ground that call center managers have to cover.
The practice of building a smarter call center may look straightforward at first but requires deep-rooted intelligence to achieve the results.
Needless to say, the era of impatient consumer demands in-the-moment results and applications like Enthu will have an overarching influence.
If you are locking horns with insufficient call center performance, we'd like to engage and identify the lapses.
FAQs
What is efficiency in a call center?
Efficiency in a call center refers to the ability to handle customer inquiries and issues promptly and effectively, minimizing wait times and maximizing productivity.
How do you measure call center efficiency?
Call center efficiency can be measured through metrics such as average handling time, first call resolution rate, customer satisfaction scores, service level agreement compliance, and agent productivity.
Why is efficiency important in a call center?
Efficiency is important in a call center as it directly impacts customer satisfaction, operational costs, and overall productivity. It ensures timely and effective customer service while optimizing resources and meeting business objectives.
Tushar Jain is the CEO and Founder of Enthu.ai. In his free time he loves to read and write about new duo of artificial intelligence and customer experience.