Call center agent training best practices includes:
3. Agents must know the business thoroughly
4.Teach technical skills using demonstration 
5. Make agents learn how to handle calls
6. Take feedback from agents on training sessions
10. Understanding the training needs of each agent
If your call center wants to exceed customer service expectations, continuously agent training and coaching is a recommended best practice.
It's importance can't be ignored because training and coaching has a direct impact not just on the agent performance but also on your customer satisfaction scores.
Customers tend to stick to your company for a long time if they get solutions to their problems in the least possible time.
And this is only possible when you have a skilled agent handling the calls.
In this guide, you'll find:
Meaning and importance of call center agent training
Top 10 best practices of agent training in a call center
A. What is call center agent training?
Call centre agent training is the process of providing individuals with the necessary skills, knowledge, and competencies to appropriately answer customer questions, provide support, and represent the organization for which they work.
The training programme is designed to equip agents to handle a wide range of customer interactions, from problem resolution to product information and support.
Employees are introduced to the company's products, services, and policies during the training. They learn how to communicate effectively, which includes active listening, empathy, and clear articulation.
Agents are also trained on how to use the call center's software and systems, such as customer relationship management (CRM) tools and call logging systems.
B. 10 Call center agent training best practices
1. Introduce the team
First of all, call center agents must know who their superiors are and what role they have in the company.
Roles like call center managing directors, department heads, and agent supervisors must introduce themselves to the agents.
They must tell agents about their role and how agents can contact them. 
By doing so, agents can reach to the concerned person when in need.
2. 

Use of speech analytics
Using speech analytics can help you improve the performance of your agents in a variety of ways.
Speech analytics software like Enthu.AI can analyze every call of the agents and provide feedback on those calls.
You can pinpoint the specific calls with issues and identify trends across the whole contact center calls. 
This information helps to identify opportunities for coaching by using examples of good and bad calls.
Also, you can use this data to refine scripts, determine customer sentiment, predict average call handle time, etc., and a whole lot of other things to train agents and improve call center performance.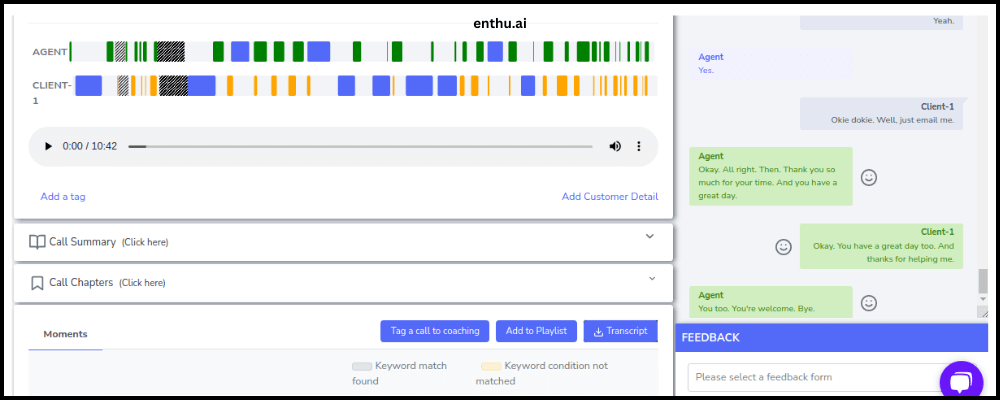 3. Agents must know the business thoroughly
Every agent should have in-depth knowledge about the business, the product, and the call center operations.
It gives them the power to handle customer objections in a better way.
Moreover, understanding the company culture, mission, vision, and core values helps them to interact with the customer in a manner that aligns with business values.
Also, you must understand your customer as well. It will help you improve the quality of services you provide. 
Thus, understanding your business and customer will help you retain them, serve them better, and increase the client base as well.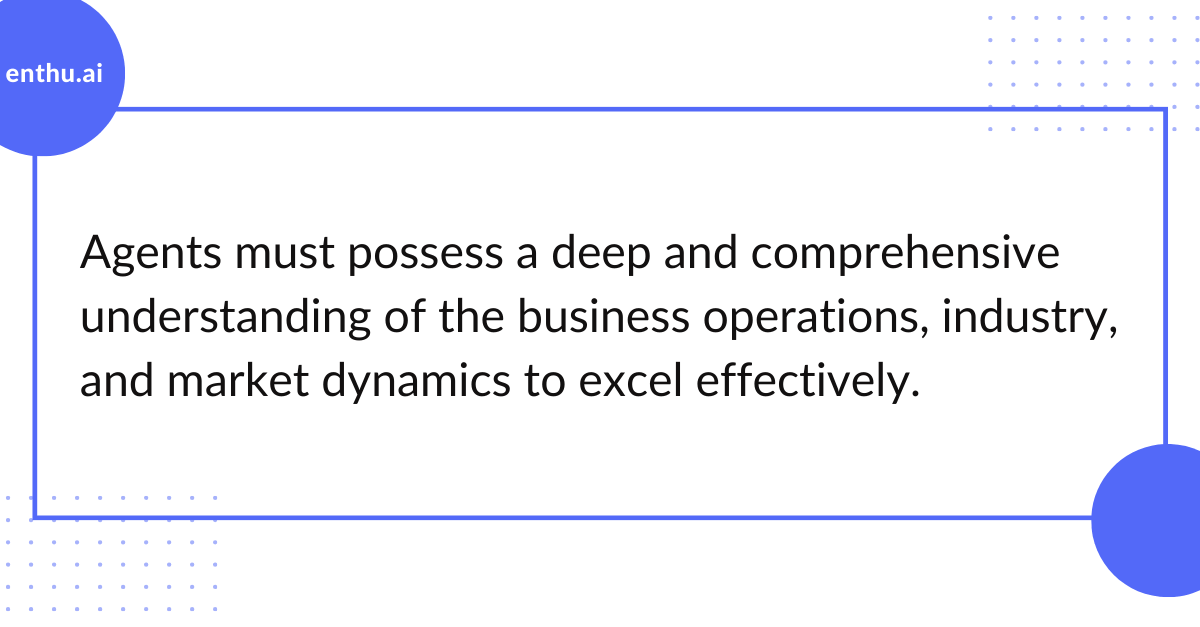 4.

Teach technical skills using demonstration 
It will be a lot easier for agents to learn new tools and equipment if some expert demonstrates the same.
A seasoned employee can show agents how the tool works or complete a task. Then, you can ask an agent to repeat the steps to understand what they have learned.
The demonstration is a great way to teach new software or procedures that are error-prone.
5. Make agents learn how to handle calls
Learning how to handle calls is essential from a call center agent perspective. It's not a one day work but requires agents to be coached continously.
Initially, they can practice how to deal with customers using role plays, realistic simulations, and case studies in a training program.
They can also listen to recordings of real call center interactions of top agents that will help them understand different types of appropriate greetings, transfer techniques, and closing techniques.
But nothing works better than handling real-time calls. 
Handling real-time calls will help agents to get practical experience that is not offered by role-playing.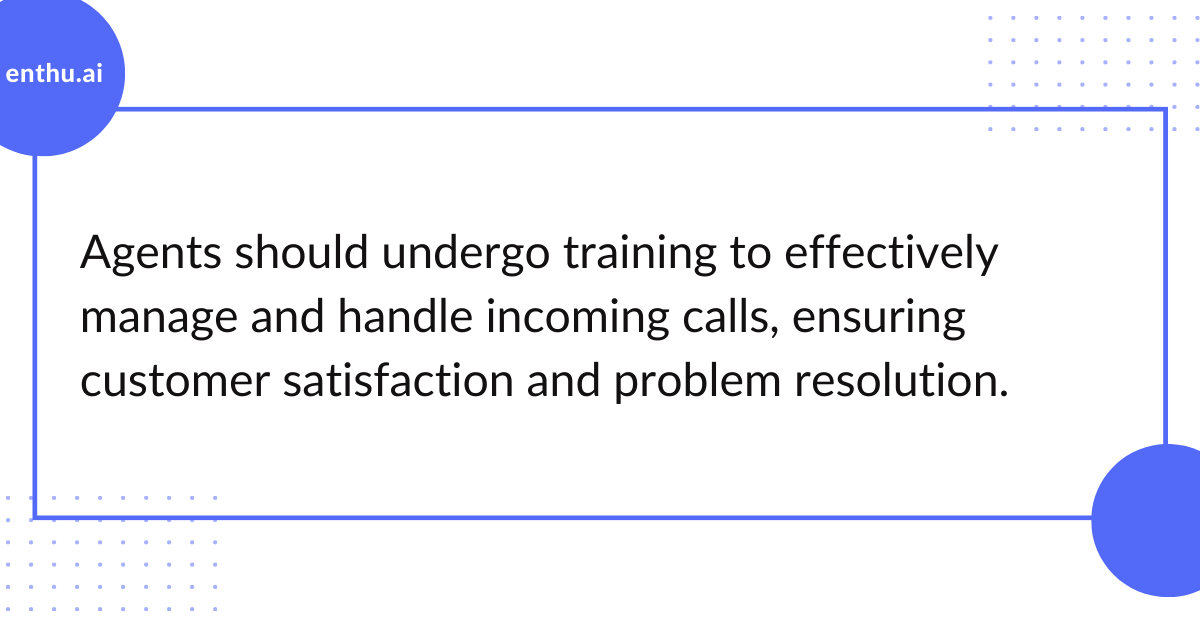 6. 

Take feedback from agents on training sessions
Training sessions are to improve the performance of agents, so isn't it best that they also have a say in what they learn?
You need to take feedback from agents about the training sessions and work on their suggestions.
Working on suggestions is essential because agents are the ones that are in direct contact with the customers, so they know best. 
Also, allow them to ask questions or give suggestions during training sessions as well.
7. Mentored by top performers
Every new hire must pair up with a top performing agent so that they can learn from the best.
Not only this improves the relationship between the employees but, also it encourages the new agents to perform like the top performers.
It also helps new agents to get settled in call center life and a person to go to whenever they have a question.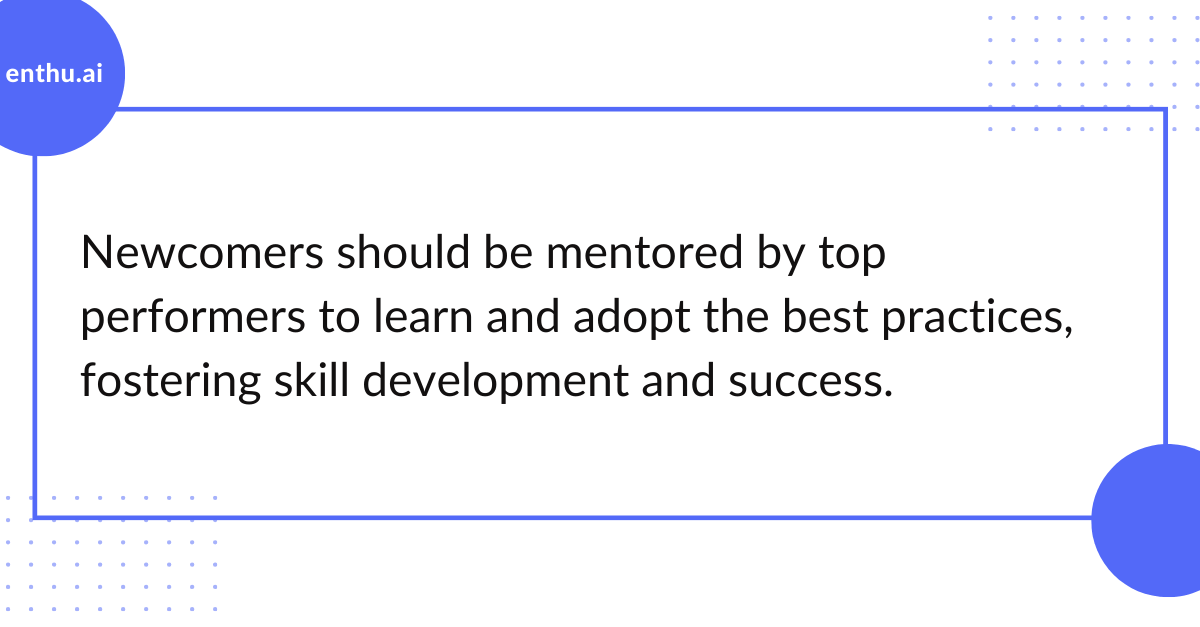 8. 

Empower your agents
A well-trained agent with the right set of tools can make better and individual decisions.
When agents make decisions on their own, it leads to higher customer satisfaction and sometimes ensures single call resolution that results in positive customer experience.
Besides value-driven services, agents must be encouraged to focus on client-brand relationships as well.
9. 

Feedback from managers
Managers or team leaders must listen to the calls of agents and provide feedback.
Managers can tell the agents what they are doing wrong in their calls, personally. 
But if they are doing good, then managers need to praise agents in front of everyone that motivates them to improve their performance even further.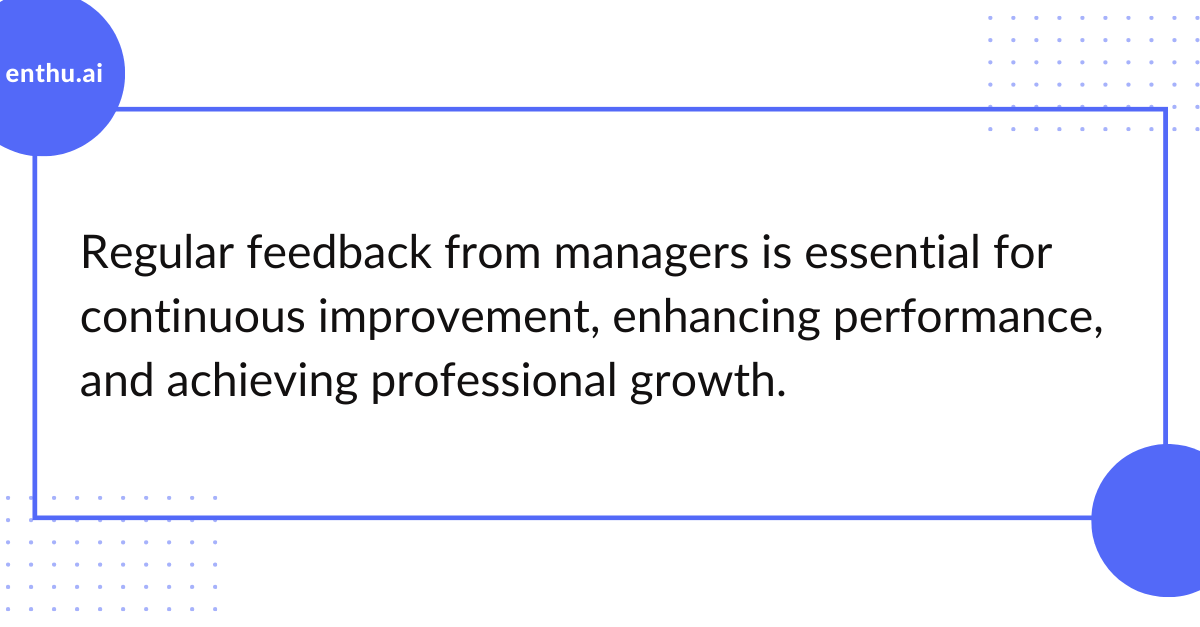 10. Understanding the training needs of each agent
Every agent in an organization is different from the other, i.e., having different personal and professional backgrounds, different skill sets, and knowledge.
Though having diversity is beneficial for a company, at the same time, you have to train these agents based on their individual needs.
That's how they will acquire the necessary skillsets that the customer facing job demands. 
Identify the knowledge or learning gaps wrt each individual and try to adjust training as per the needs.
C. Importance of call center agent training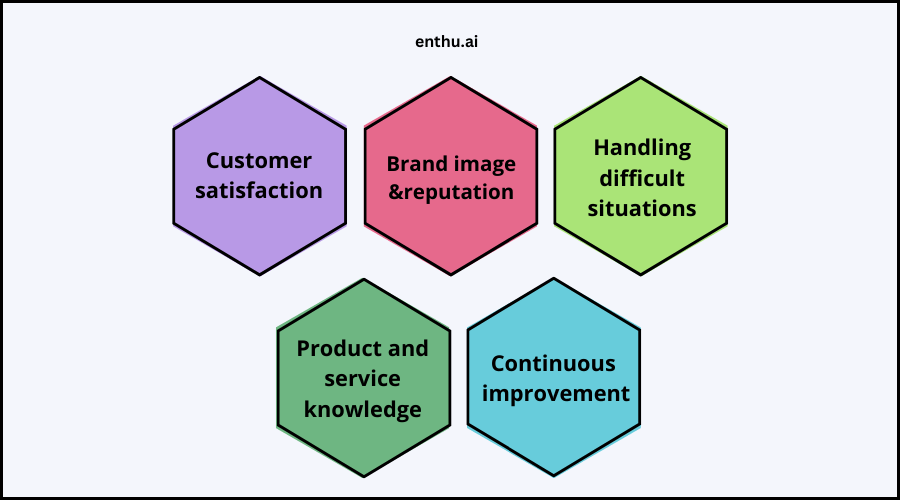 1. Customer satisfaction
Well-trained call centre agent provides exceptional customer service. They understand customer demands, manage queries effectively, and solve issues quickly.
Which leads to higher customer satisfaction, improved customer loyalty, and increased customer retention.
2. Brand image and reputation
Customers frequently make their first contact with call centre agents. The level of their interactions has a direct impact on the brand's image and reputation.
Proper  training ensures that agents understand the brand's values, communication, and customer service expectations.
3. Handling difficult situations
Call centre agents frequently face difficult situations, such as angry or upset customers.
Training provides them with skills for dealing with these situations professionally and peacefully.
They study de-escalation, conflict resolution, and maintaining cool under pressure strategies.
A positive customer experience can be transformed through skillful handling of difficult situations.
4. Product and service knowledge
Call centre agents must be well-versed in the products or services they support. Training ensures that agents are conversant with the features, and applications of the offerings.
This knowledge enables them to provide accurate information, address customer queries, and offer appropriate solutions.
5. Continuous improvement
Call centre agent training should be an ongoing process. It keeps agents up to date on new products, services, policies, and processes.
Regular training sessions, and workshops help agents improve their abilities, rectify weaknesses, and implement best practices.
Below are some best practices that can help you train agents in the best possible way.
Conclusion
Implementing these call center agent training best practices not only helps you with call center quality assurrance but also improves agent performance and  customer satisfaction.
By the way, presentations enhances the effectiveness of call center agent training by providing visual representations of key concepts and processes.
They can simplify complex information, making it easier for agents to understand and retain important information.
Therefore, training call center agents is of utmost importance.
FAQs
How Long Does Call Center Training Take?
The duration of call center training varies depending on the complexity of the job and the organization's specific requirements.
On average, it can range from a few days to several weeks, with ongoing support and development throughout the agent's tenure.
How do I train myself to be a call center agent?
To train yourself as a call center agent: research call center best practices, practice active listening and effective communication, develop product knowledge, and seek opportunities for customer service skill improvement.
What is the best training for call center agents?
The best training for call center agents includes a combination of comprehensive product/service knowledge, effective communication skills, customer service techniques, and practical experience through simulated or real-life scenarios.