Are you into voice operations and looking for the best conversation intelligence software to improve call outcomes?
In this post, I have covered 10 such software that you can use to monitor 100% customer conversations, deliver personalized agent coaching and improve conversation outcomes (including higher sales, improved CSAT & NPS, better customer experience; and so on ). 
---
In this guide, you'll find:
Meaning of conversation intelligence
Benefits of conversational intelligence
Importance of conversation intelligence software
Top 10 conversational intelligence software
Software platform that can help
FAQs   
---
A. What is conversation intelligence?
Conversation intelligence is the process of finding actionable and valuable business insights from conversations that teams are having with prospects and customers.

The data collected from these conversations is used to understand the customers better; and analyse the performance of the agents in-depth.

Conversation intelligence ensures that every call gets analysed without a miss.

In a normal setup, calls are listened randomly, thus leaving behind a substantial value back on the table.

With conversation intelligence tools, 100% of the calls get monitored and analyzed for quality purposes.
B. 6 Benefits of conversation intelligence
Customers are the lifeline of an organisation.

Without adding new customers and retaining the existing ones, you cannot expect an organisation to work and move forward.

So, it becomes important that your customer facing teams (like sales, success, support etc.) are efficient in their conversations.

To ensure that, you need to monitor 100% of the conversations.

But analysing hundreds of calls by a handful of people is next to impossible.

That's where conversation intelligence comes into picture.

Conversation intelligence analyses every call proactively and brings in insights that can help operation managers to understand how the reps are performing.

These insights are then used to identify gaps and agent improvement opportunities.

In short, conversation intelligence brings in the much needed improvements required in customer calls.

Here are the top 6

benefits of conversation intelligence

for voice teams:

1. Conversation intelligence directly impacts revenue by analyzing speech with opportunities.

2. Conversation intelligence ensures 100% call monitoring as against random sampling used by most of the organizations.

3. Conversation intelligence helps you analyse the performance of your agents against the benchmarks you set, at a click of a button.

4. Conversation intelligence helps pin point coaching & training opportunities of your agents. 

5. Conversation intelligence helps you catch costly mistakes well within time (like regulatory and compliance issues).

6. Conversation intelligence drives cost optimization across quality function.
---
C. Importance of conversation intelligence software
1. Improved efficiency
Conversational intelligence software helps contact centers improve their efficiency by providing agents with real-time guidance and information as they interact with customers.
Which  reduces the amount of time agents spend on each interaction, allowing them to handle more calls or chats in a given period of time.
2. Enhanced customer experience
By providing agents with helpful information and guidance as they interact with customers,  intelligence software can help improve the overall customer experience.
This leads to increased customer satisfaction and loyalty, as well as potentially higher levels of revenue for the contact center.
3. Optimized performance
Conversation intelligence software  identify areas for improvement in agent and customer interactions.
By analyzing conversations, the software can provide insights into what works well and what areas may need more attention. This can help contact centers make changes to optimize their performance and better serve their customers.
4. Training and development
Conversation intelligence software can also be used to train and develop contact center agents.
By providing insights into successful interactions, the software can help identify best practices and areas for improvement in agent performance.
5. Quality assurance
Conversational intelligence software can be used to monitor and evaluate the quality of interactions between agents and customers.
This identify areas where they may need to make changes or provide additional training to improve the quality of customer interactions.
---
C. Top 10 conversation intelligence software
1. Enthu.AI
Primary use case: 100% call monitoring, agent evaluation & personlized coaching
Pricing: $45 per agent per month, with custom pricing plans available for enterprise needs (check Enthu.AI pricing page) 
Committment required: Nill (onboard with as many agents or for any time duration, no annual contracts)
Languages supported: English, Spanishbo
G2 reviews : 4.9 out of 5 (link to customer reviews)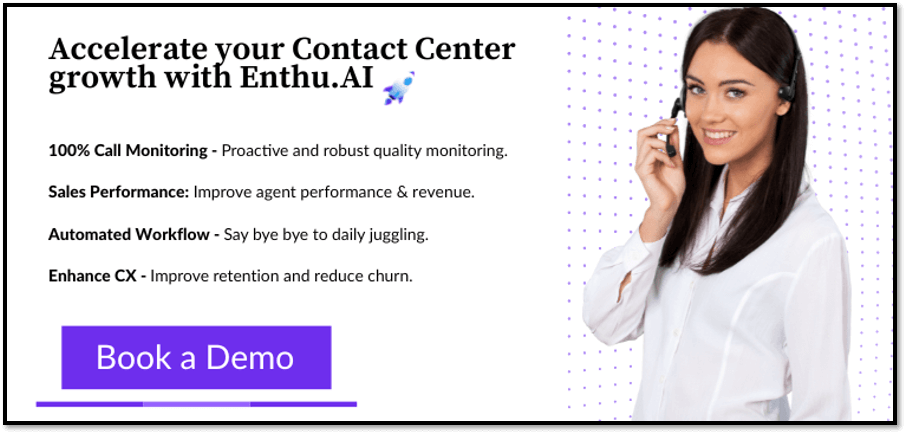 Enthu.AI is one of the top coversation intelligence software available in the market.
Built for contact centers and voice teams, Enthu seamlessly integrates with leading VoIP providers and offers call quality assurance across 100% of your calls.  
Teams can replicate multiple voice processes within Enthu.AI to replicate their calling themes.  
Enthu.AI then offers a scientific approach to agent coaching & training by replacing sample randomness with specific and measurable call moments that are unique to each voice process.
In short, Enthu.AI helps voice teams test call quality hypothesis against actual call data, instead of just randomly listening to the calls. 
Enthu.AI becomes a valuable tool for sales, support and success function to derive meaningful and actionable insights from every single interaction.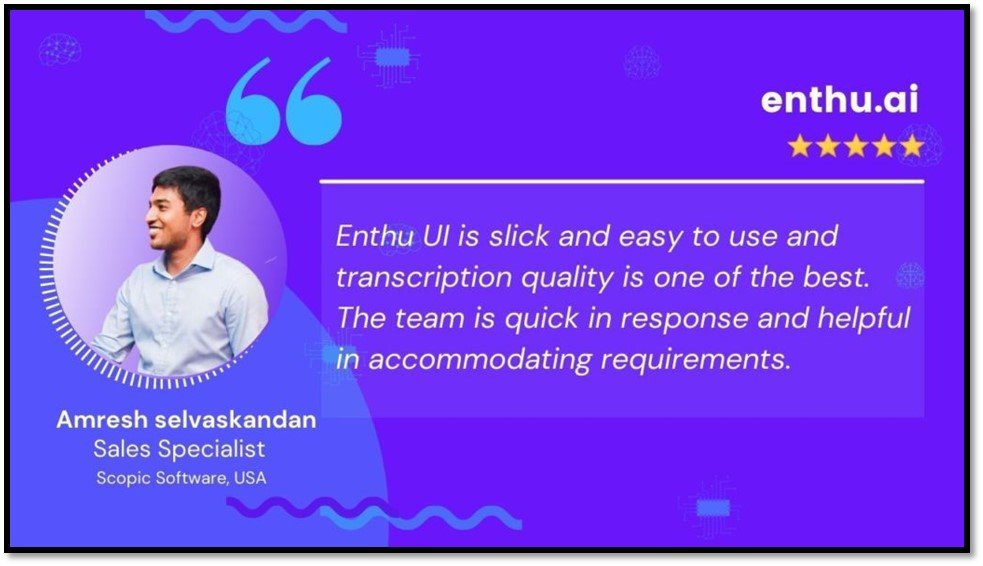 The USP of Enthu.AI is its engagement model that is extremely flexible when compared to the other players: you don't need to commit to an annual plan, and you don't need to commit to a minimum number of agents either.
You can scale as per the business demands, without worrying about contractual obligations.
In short, Enthu.AI is the simplest way to leverage conversation AI for your organization, be it an SMB or an enterprise.
How Jump Contact Center leveraged Enthu.AI to reduce AHT by 40%
---
2. Jiminny
Primary use case: Sales Coaching
Pricing: $100 per agent per month
Committment required: Yes (for minimum number of agents) 
Languages supported: English, Russian, Chinese and most of the European languages 
G2 reviews : 4.7 out of 5 (link to customer reviews)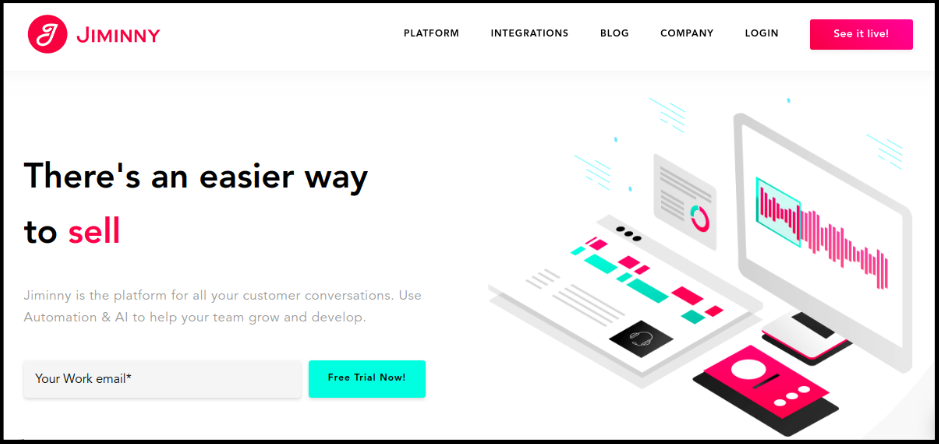 Jiminny is a conversation intelligence software for analysing customer conversations.
It transcribes and analyses all your business calls and meetings in real time and provides you with necessary data points and insights. 
All this information helps make calls more effective.
Also, it automates with the business's CRM software that provides you with in-depth insights on where to coach for the highest impact.
Jiminny has a deep integrations built for HubSpot CRM so that you can track the customer journey throughout the sales cycle and also understand how well your sales team is performing.
A great platform to improve your sales team performance and make them work smart.
---
3. Gong
Primary use case: Revenue Intelligence
Pricing: $1000 per agent per annum
Committment required: Yes (annual committment for min 3 agents) 
G2 reviews : 4.7 out of 5 (link to customer reviews) 
Languages supported: English

One of the pioneers of the industry, Gong is a unicorn with a valuation of over USD 1 bn.
Gong unveils customer reality which in turn enables revenue teams to realize their full potential.
With a heavy focus on revenue intelligence, Gong analyses every customer interaction and then provides you with insights so that you can make informed decisions on how to improve your calls and meetings. 
It empowers revenue teams to make decisions based on data instead of opinions. 
Gong is a priced in the higher range and is best fit for enterprises who have the pockets to afford it. 
---
4. Chorus
Primary use case: Sales Intelligence
Pricing: Custom
Committment required: Yes (for min number of agents) 
Languages supported: English, German, French, Dutch, Spanish, Portugese
G2 reviews : 4.5 out of 5 (link to customer reviews) 
Chorus is part of the Zoominfo group and a major player in the conversation intelligence space, catering to the use case of larger enterprises.
Chorus  tracks, records and analyses calls and video meetings that helps your sales team win more deals. 
This software automatically records all the calls and video meetings of a business and transcribes it accurately in real time. 
All this data is used by the sales team for follow-ups, note taking, onboarding and coaching. 
The AI based insights given by the platform tells you about the deal risks, next steps, talk track adoption, and tells you what works and what doesn't works for a company's sales cycle.
---
5. Observe.ai
Primary use case: Contact center performance
Pricing: Custom (starting at $80 per agent)
Committment required: Yes (for min number of agents) 
Languages supported: English, Spanish
G2 reviews : 4.6 out of 5 (link to customer reviews) 

Observe is an agent enablement platform powered by voice AI. 
This software helps you analyse more calls, evaluate agents and coach teams while having full transparency into customer experience operations. 
With observe.ai, business can look into customer sentiment intelligence and with this data you can turn your agents into top performers.
This tool analyses 100% calls so that you never miss an opportunity or risk.
Next, you can coach teams with targeted coaching and know what training programs drive change and replicate what top supervisors and trainers do best.
---
6. ExecVision
Primary use case: Performance improvement
Pricing: Custom  
Languages supported: English, Japanese, Arabic and major European languages
G2 reviews : 4.6 out of 5 (link to customer reviews)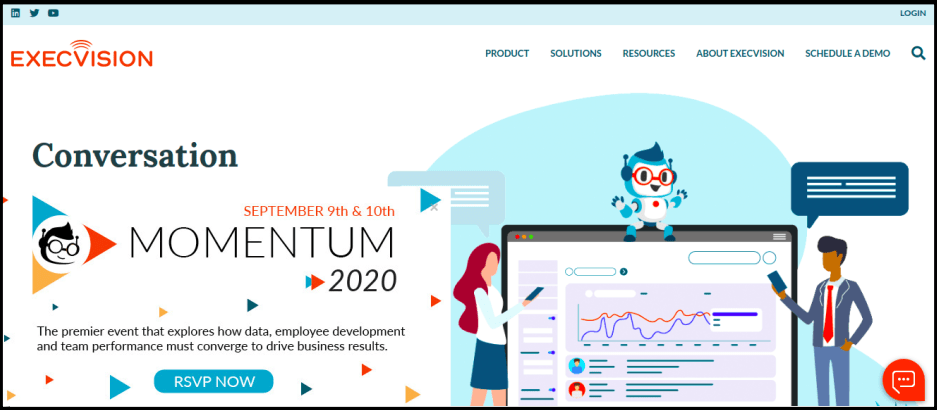 ExecVision believes that insights and data from customer conversations becomes more valuable when you can use this data to improve the performance of marketing, sales, support and product teams.
This company believes in improving performance by changing human behaviors.
It helps you narrow down the Insight-to-Performance gap, thus helping your teams to improve performance based on powerful insights from customer conversations.
This tool is able to achieve reduced onboarding and ramp time, increase in win-rates, lower employee attrition and an increase in cross functional alignment. 
---
7. CallMiner
Primary use case: Enterprise contact centers 
Pricing: Custom, based on minutes of consumption
Languages supported: English, Japanese, Arabic and major European languages
G2 reviews : 4.5 out of 5 (link to customer reviews) 

CallMiner is a SaaS-based and speech intelligence platform for enterprise contact centers. It uses AI and machine learning to drive insights and data from customer interactions.
It tracks, transcribes and analyzes each and every call and meeting with your customers.
On the basis of analysis, it provides highly effective, usable and scalable speech analytics solutions.
All these solutions lead to enhancing customer experience, contact center optimization, sales effectiveness and risk mitigation performance.
---
8. Avoma
Primary use case: Meeting assisstant for sales teams
Pricing: $90 per agent per month (for plan allowing dialer & CRM integration)
Committment required: No 
Languages supported: English
G2 reviews : 4.7 out of 5 (link to customer reviews)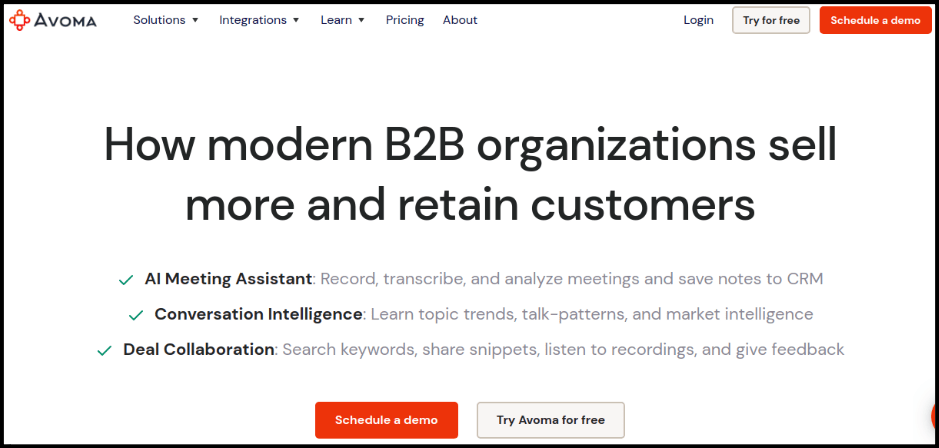 Avoma is an end to end AI meeting assistant that helps customer-facing teams capture important insights before, during and after customer meetings.
It analyzes conversations and based on that provides insights that can help reduce sales cycle and also reach out to more customers.
This tool automatically records all meetings and syncs all the insights directly with your CRM software.
You can review specific calls and meetings by searching directly within transcripts.
---
9. Refract
Primary use case: Revenue intelligence
Pricing: Custom
Commitment required: Details not available 
Languages supported: English
G2 reviews : 4.3 out of 5 (link to customer reviews)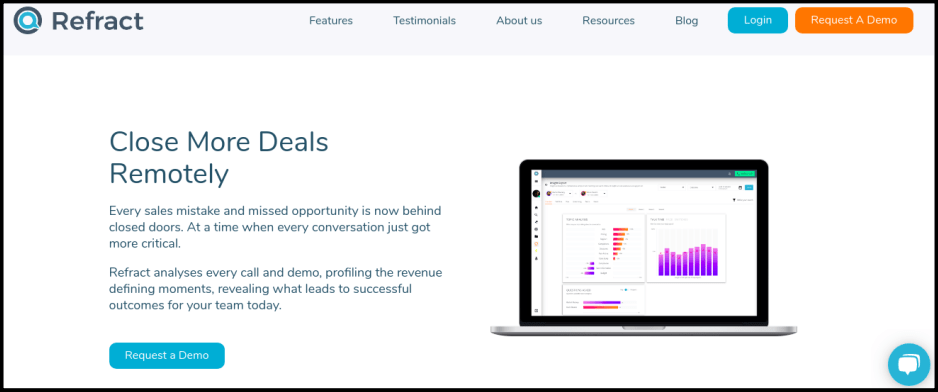 Refract helps sales teams and sales professionals to adapt to the competitive market by providing full detailed analysis on every sales conversation.
The AI analysis of each conversation reveals the points which leads to success. 
Also, it tells what top performers are doing differently for a high rate of successful calls and implements the same learnings across the team.
It is easily integrated with the growing range of CRMs.
Also, it engages sales representatives in self-directed learning by telling in detail what happens on the calls.
---
10. Voyc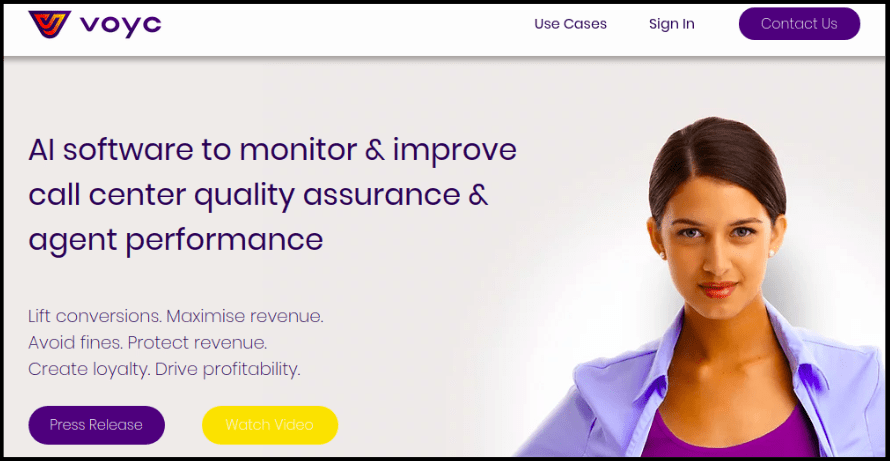 Voyc captures voice or text conversations and feedback from multiple channels.
After that it analyses all these data using machine learning and AI which unveils important insights within this data to you.
Based on this analysis, you will come to know how your customers feel: what they are happy or upset about.
Also, you can set flags and alerts for specific phrases.
It gives a real time view of what's happening and also creates and sends reports to the right people.
---
D. Conversation intelligence software in action
Until recently, voice teams only knew what's happening around their conversations (e.g. first call resolution, average call duration, average wait/wrap up time etc.), not what's happening within the conersations.
Almost always, someone had to either listen to the calls or rely on agents notes to identify what's happening within the call.
Enters call transcription and conversation intelligence tools. They help voice teams derive meaningful insights from your voice calls, without the need to listen to even a single minute.
For example, you want to see how many of your agents are talking about relevant value propositions during the sales process.
With software like Enthu.AI, you can define your custom calling themes and start analying the conversations, as shown below.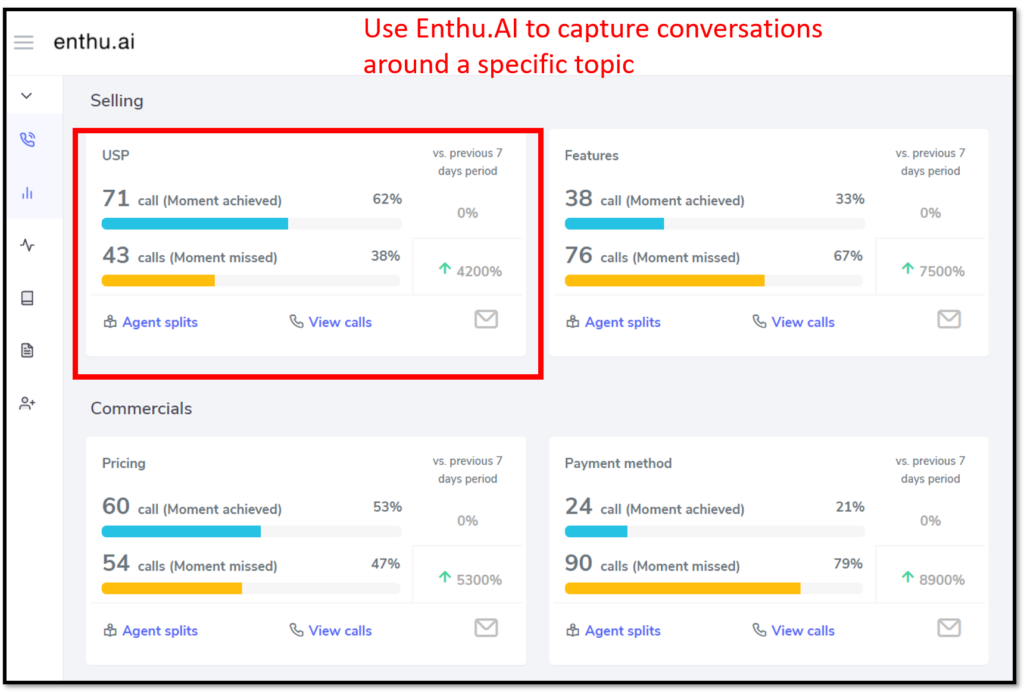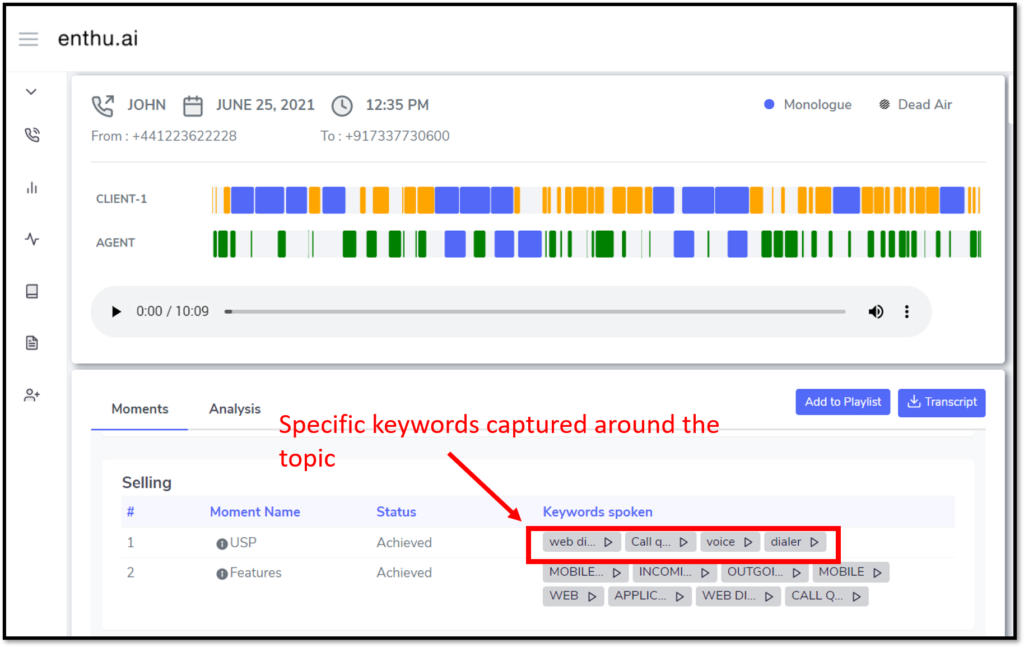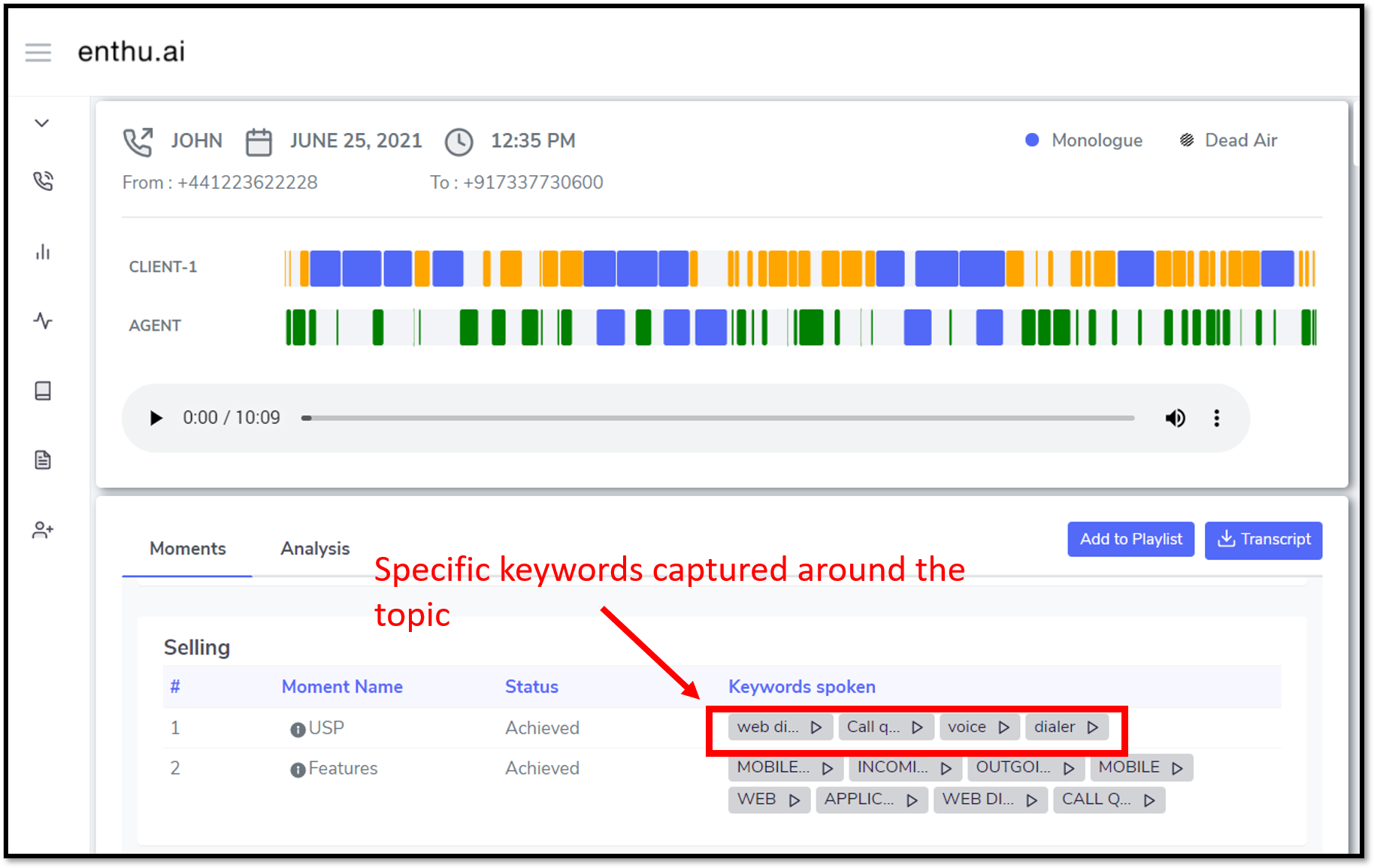 Conclusion
If you are leading a voice team, conversation intelligence software is definitely the need of the hour.
Whether you are into sales, customer service or handling support, there's lot of intelligence that gets generated from the customer conversations. With speech analytics software, you can be assured that you are not losing on important customer insights.
Conversation intelligence is not just about monitoring the calls; it's about learning from them and making the next conversation even better.
The end results include better customer experience and achieved KPIs (including improved revenue performance). But the biggest impact of conversation intelligence results in creation of a rock-solid calling team.
---
FAQs
1. What is conversation intelligence?
Conversation intelligence is the process of deriving actionable insights from conversations of customer facing agents. These insights helps operation managers to improve the effectiveness of these calls.
2. What is a conversation intelligence tool?
A conversation intelligence is a tool that analyse, transcribe and evaluate conversations in sales and customer service in order to improve customer satisfaction and customer experience.
3. Why is conversation intelligence essential?
Conversation intelligence is essential because it results in faster quality assurance, analyses every call, reduces compliance and risk issues, helps to understand winning behaviors , helps to coach reps and saves time and cost.
---