As per a research, 41% of the reps say the phone is their most effective sales tool.
Contrary to a popular belief, 90% of the reps believe cold calling to be very effective.
While there's no doubt that cold calling is still alive (in fact flourishing), it's equally true that how you open a cold call defines your success rate.  That's because when you are on phone, the words you speak make your first impression.
Interestingly, the easiest part of the sales call is the opening.
At this point, you cannot go wrong because nobody has any expectation from you. This is a no risk zone because no quotes have been made, no commitments have been discussed, the reputation of the company is not on the line, etc.
At the same time, it is the most difficult part of the sales cycle. The way you open a call generally defines the progress of the conversation.
Moreover, it is important to qualify your prospect at the earliest. 
If someone is not interested in your proposition, you need to identify this during the initial few seconds. That helps both you and your prospect save their precious time.
If you are new salesman figuring out how to open a sales call like a pro, the following steps will definitely help.
5 steps to open a sales calls successfully 
1. Greet the Person
When you approach someone to sell your product or service, the first thing you should remember is to show respect. 
Do not start with your sales pitch as soon as you begin the conversation. It does not look good and you will lower your chances of converting that sales pitch into a successful sales pitch.
At the start of your conversation, you should greet the other person in the right way, for example, Good Morning Mr. John.
It is important to do so because sales is all about creating a relationship and every relationship is based upon social niceties.
Start your conversation with utmost respect and professionalism.
Because when you are over the phone, the way you talk is the only way you can impress an individual.
How to measure?
If you are the quality manager, you can use Enthu to identify the number of calls where the agents have achieved/missed the salutation, as shown below.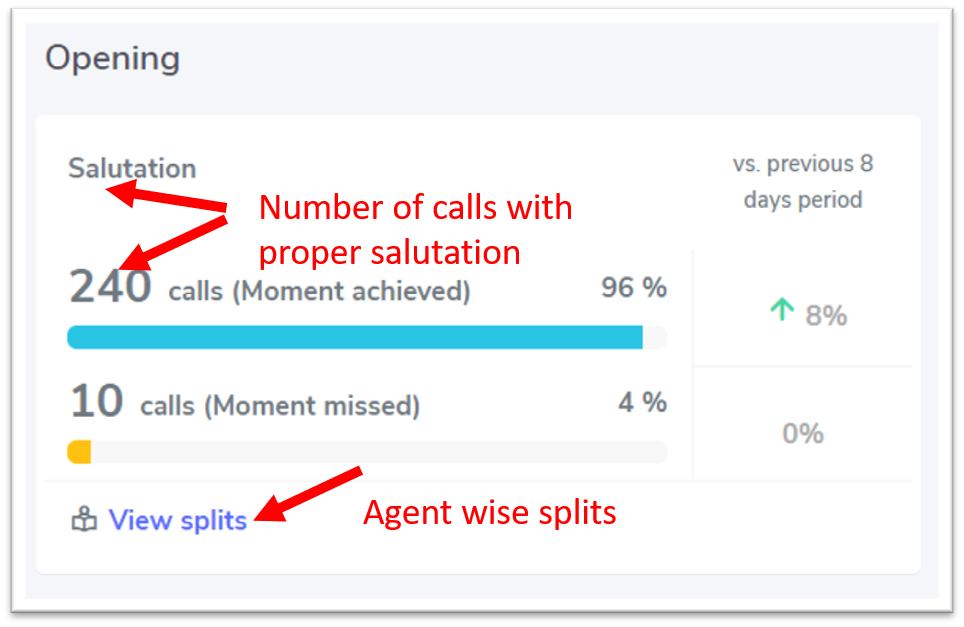 You can also spot the agents that are not making proper salutation, and can deep dive into the calls for coaching and training.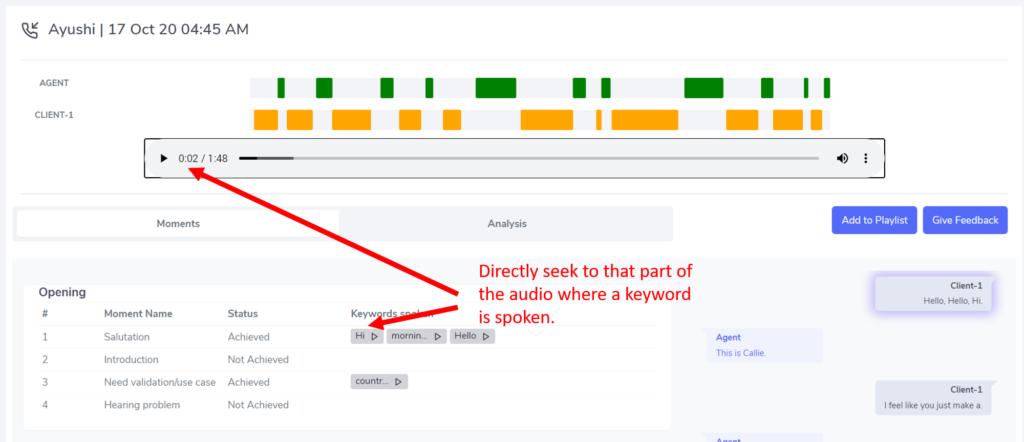 2. Introduce yourself and your business
Now, the next thing for you to do is to introduce yourself and your company, and the purpose for which you are calling.
But when you introduce your company, you should talk more about the benefits that the company provides rather than the features.
For example, here's the introduction that I make:
My name is Tushar Jain, I'm the founder of Enthu. We're a conversation intelligence software that increases QA efficiency for voice operations by 90%.
In the above example, the prospect is generally interested to know more about Enthu and how it can help them increase QA efficiency.
Instead, consider a scenario where I speak as follows: My name is Tushar Jain, I'm the founder of Enthu. We're a conversation intelligence software that transcribes & analyzes calls and provides business insights.
Now, the most common reply to this will be: Thanks but no thanks.
It's full of jargons and doesn't focus on the benefits that the product will bring to the prospect.
In a nutshell, introductions should focus more on the benefits that a customer can extract using your product/service. This gives a direction to the conversation.
How to measure?
Using Enthu, QA teams can analyze the agents who are making the right introductions. They can also bookmark calls that they find to be near perfect, and use it for hearing across the teams.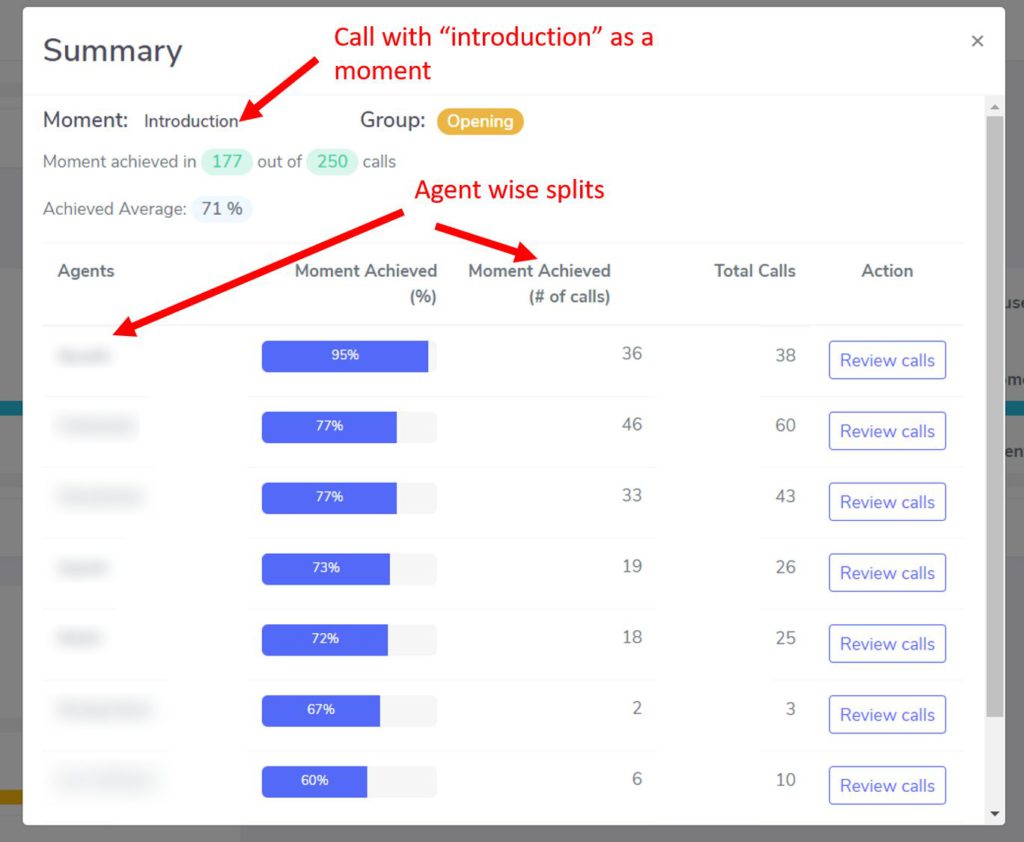 3. Asking the right first questions
After greeting the prospect the right way and introducing yourself & your company, you should focus on the sales questions that will qualify the prospect.
The purpose of these questions should be to understand the motivation that drives the interest in your product or service.
Your questions need to be specific so that you can get definitive answers that help you understand the perspective of the user.
Also, it will help you steer the course of the call, i.e., you will be in control of the conversation. 
Always be informed and ready.
How to measure?
Consider an example where we at Enthu ask our prospects a couple of questions to validate their needs.
We have created a word cloud around those questions, and Enthu's AI automatically detects the calls and the questions we are asking.
We have labelled such questions under "Need validation/use case", as highlighted below.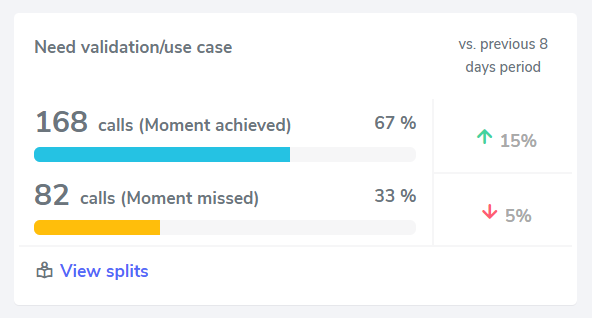 In the same manner, you can create your own custom keyword cloud to identify the calls and the questions that got asked.
4. Giving good first answers 
When the customer asks you questions, you should give a reply in the best possible way.
And you can do that only when you understand the customer and his needs.
The answer that you provide must be brief and to the point and it must talk about the benefits rather than features.
Also, between calls, demos and meetings, you should continue with your research so that you are aware of any new development that might be critical when you speak with the decision maker.
All these activities will help you close the sales faster.
How to measure?
Consider a use case where a sales leader wants his agents to sell on USPs & benefits than on pricing & features. That's how they want the reps to answer user questions and sell the product. 
You can see below how to configure Enthu accordingly and get actionable data.
As you will notice, 185 calls in the selected duration had a mention of a USP, as against 75 calls with a USP missing. More strikingly, the calls with no USP spoken have fallen by 34%, which is an indication that agents have started speaking more about benefits. 

Managers can quickly identify the agents that sell on features vs. those who sell on benefits & USPs.
If an agent is consistently showing the same behavior, he can be coached for improvement. 
5. Thank them for their time
You must always be grateful when someone agrees to talk to you about your product.
By thanking them, you are showing that you value their time.
And when someone gives you their time, you must always respect that and provide them with the solution that can cover up their investment of time.
How to measure?
Phrases like "I appreciate your time" go a long way in establishing your rapport and seriousness.
Your call opening should have expression of thanks. 
Don't Forget
1. To define clear goals
Be clear with what you want to achieve during a sales call.
Keeping the goals in mind, prepare questions that are relevant to your customer's business, pain points, needs, etc. Try to ask only relevant questions so that it feels like a conversation and not an interview.
Every question asked should be towards achieving the goals set by you.
2. To structure your sales call
Prepare a structure of your call, i.e, you must define what to ask and when to ask. It helps you maintain the control of the call.
You must plan in advance on how you would start a meeting so that you can point it to the right direction to achieve your goals.
Next, prepare a list of talking points and questions that would help you understand prospects' concerns and pain points in a better way.
When you prepare well, you tend to get less surprised.
3. To deliver value
Understand that your potential customers are busy in life. They will only entertain you till the time they are receiving some kind of value from the conversation.
So, make prospects realise the value of your product/service right from the start.
Don't play hide and seek.
4. To go with the right attitude
Approach the call with the right attitude.
Right attitude comes when you are informed, you empathise with your customers and are genuinely interested to help customers solve their problems.
When you display such an attitude, prospects feel motivated to take action.
Frequently Asked Questions(FAQs)
#1. What are the steps to open a sales call?
5 Steps to open a sales call are:
Step 1. Greet the person. Social niceties matter.
Step 2. Introduce yourself and your business. Prospects should know whom they are talking to.
Step 3. Asking the right first questions. Try to qualify the person so that no time is wasted.
Step 4. Giving good first answers. Be ready and thorough.
Step 5. Thank them for their time. Show that you appreciate their involvement.
#2. What should be your approach for a sales call?
You must sell yourself first, the value of your product/service second and then the price of the product/service.
Conclusion
Opening a sales call may seem like a trivial thing, but it's extremely important.
When you can't see the person, words are what build your first impression.
You need to ensure you are using the right set of words that stick with the prospect.
What else do you consider while opening a sales call? Do write in the comments below.