Sales function is changing rapidly : from the post COVID situation to incorporating the latest AI/ML technologies, you need to ensure your sales process is up to date, technology stack aligns with the customer's changing behavior and the reps are well equipped to carry out their role.
These latest sales stats will help you do a quick dipstick of your sales function so that you can remain ahead in the game.
Here are the latest sales statistics to sell better:
A. Sales post Covid19 Statistics
1. Uncertainty is everywhere. B2B decision makers are definitely feeling uncertain, with 58% worried about sales and revenue (eMarketer).
2. "No one is buying, but everyone is learning." (Michael Brenner, CEO, Marketing Insider Group)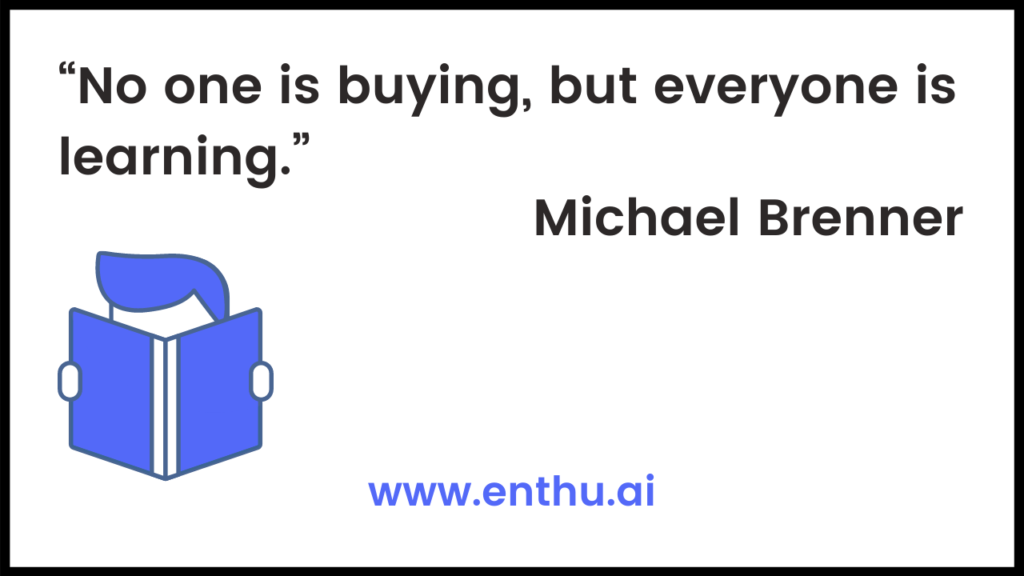 3. 50% of B2B buyers are holding their purchase due to the pandemic (Mckinsey)
4. However, software buying seems to have stabilized by the end of May 2020. 66% decision makers expect no change or increased software spend in the coming months. (TrustRadius)
5. Almost 90% of B2B sales has moved to video conferencing(VC)/phone/web sales model. More than 50% sale leaders believe this is equally or more effective than pre COVID sales models. (Mckinsey)
6. Sales leaders on average rate digital channels approximately twice as important now as they were before. (Mckinsey)
Key takeaway
COVID 19 has definitely changed the way buyers and sellers interact. Digital adoption has become the new normal, with almost all the B2B sales activity moving online.
As a sales leader selling to businesses or consumers, it's time to accept the reality & work towards cementing your sales position in this changed environment.
B. Sales prospecting statistics
7. 42% of the sales reps name prospecting as the most challenging stage of the sales process. (Hubspot)
8. 50% of the sales prospects chased by salespeople are not a good fit. (99Firms)
9. Email is the most important prospecting medium, with 8 out of 10 prospects wanting to get connected on email before talking to the sales rep (Hubspot)
10. 3 out of 4 managers will take action from a cold call or an email alone. (DiscoverOrg)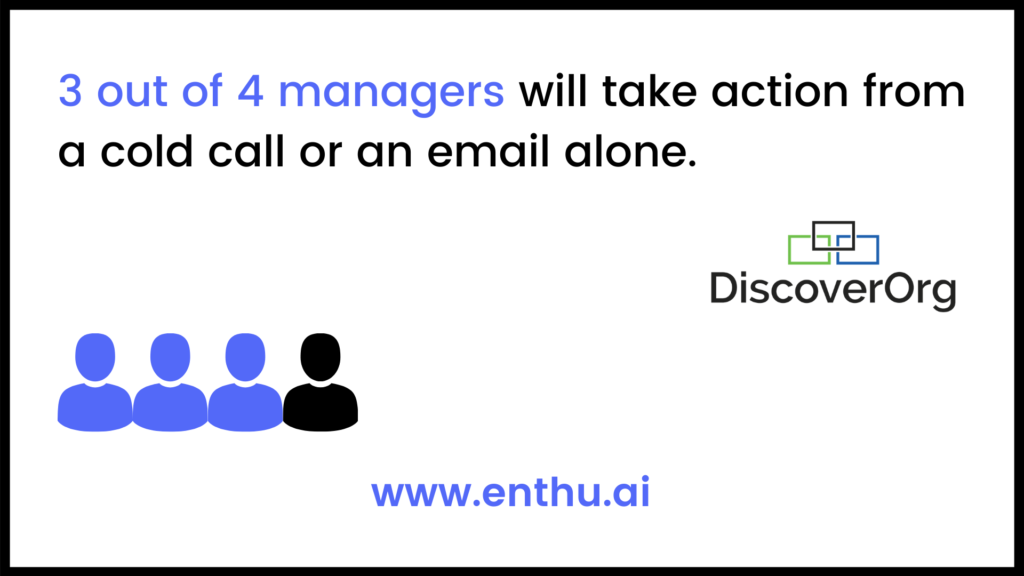 11. An average sales rep makes 52 calls a day. (Bridge Group)
12. Sales reps can boost their chance of success by 74% during prospecting by asking 11 to 14 insightful questions. (Gong)
13. It takes 8 attempts to reach a prospect in 2020, as compared to 4, way back in 2007. (Spotio)
14. Thursday is the best day to reach a prospect, followed by Wednesday. Tuesday is the worst day. (Inside Sales)
15. Responding to an enquiry within 5 minutes increases the chances of qualifying a lead by 21X. Response time above 60 minutes reduces the chance to almost 0. (The Lead Response)
Key takeaway
Prospecting is the most challenging part of the sales process. 
Indepth research and preparation is what makes it a daunting task. But that's also what separates successful salespeople from the average ones.
Sales rockstars spend dedicated time prospecting each week, and are much more committed toward prospecting as part of their daily sales effort.
C. Sales follow up statistics
16. 80% of sales calls go to voicemail, and 90% of first-time voicemails are never returned. (RingLead)
17. Majority of sales rep give up after 2 customer interactions, while 50% of the sales happen after the 5th contact with the prospect (Inside Sales)
18. Only 7% people respond within 5 minutes after a web lead comes in. More than 50% don't respond even within 5 days. (Drift)
19. 60% of the customers say No 4 times before they finally buy. (Invesp)
20. Since 92% customers give up after 4 follow ups, actual sales goes to 8% of the sales reps who keep trying. (Marketing Donut)
Key takeaway
If your sales reps are not following up with the prospects, they are leaving behind a big opportunity untapped.
Research shows that sales is not a one shot game in most of the industries. It's a process, and the reps need to ensure the prospect is moving down the funnel.
As the old saying goes, persistence pays in sales as well.
D. Cold calling statistics
21. 41% of reps say the phone is their most effective sales tool. (Marc Wayshak)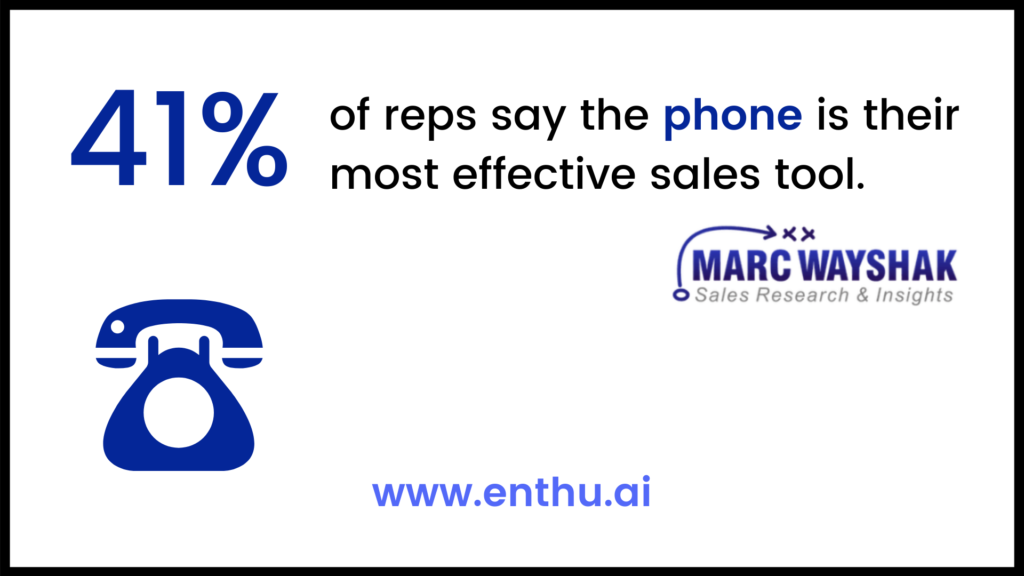 22. 63% of the sales reps find cold calling as the worst part of their job. (Small Biz Genius)
23. Cold calling is effective 90% of the time. (Iron Paper)
24. 42% of sales reps feel they do not have the right information before making a sales call. (Zoom Info)
Key takeaway
Contrary to a popular belief, cold calling is still not dead.
What's dead is the spray and pray method. In the case of B2B selling, you can't just cold call people randomly and expect to close a deal. 
Cold calling has evolved into inside sales where you need to do a thorough prospect research before approaching the person on phone or on LinkedIn. 
Approaching prospects is the next important step where you need to open the sales conversation in the right manner.
However, make sure you have adapted to the better ways of doing a cold outreach.
E. Sales email statistics
25. The most active time for email opening is between 2 PM to 5 PM while the best time to send an email to a prospect is 8 AM and 3 PM. (Hubspot)
26. Only 23.9% of sales emails get opened. (TOPO)
27. 16% of the emails never make it to the inbox. (Email Tool Tester)
28. Apple iPhone (29% opens) and Gmail (27% opens) are the two most popular email clients for reading emails on mobile. (Campaign Monitor)
Key takeaway
Unlike cold calls, sending sales emails is a scalable process. And when done in bulk, it tends to generate some results.
However, in the past couple of years, sales emails have the same journey as that of cold calls. They are considered nothing but spam. 
A better way then is to research your prospect/prospect group real well and write pointed messages with clear CTAs. 
Email still brings the best RoI, provided you are doing it right.
F. Social selling statistics
29. 43% of consumers are more likely to buy a new product when learning about it from friends on social media. (Source – Neilsen)
30. 70% of salespeople leveraging social media networking as part of their sales process outperform their peers who don't (Resourceful Selling)
31. Social sellers create 45% more sales opportunities, and are 51% more likely to hit their sales quota. (SuperOffice)
32. LinkedIn is still the best channel for social selling, with almost 70% plus sales professionals being active there for business purposes. This is followed by 64% sales people being active on Facebook  and 43% on Twitter. (LinkedIn)
33. 53% of customer loyalty is driven by a salesperson's ability to deliver unique insight, easily done through social media. (OptinMonster)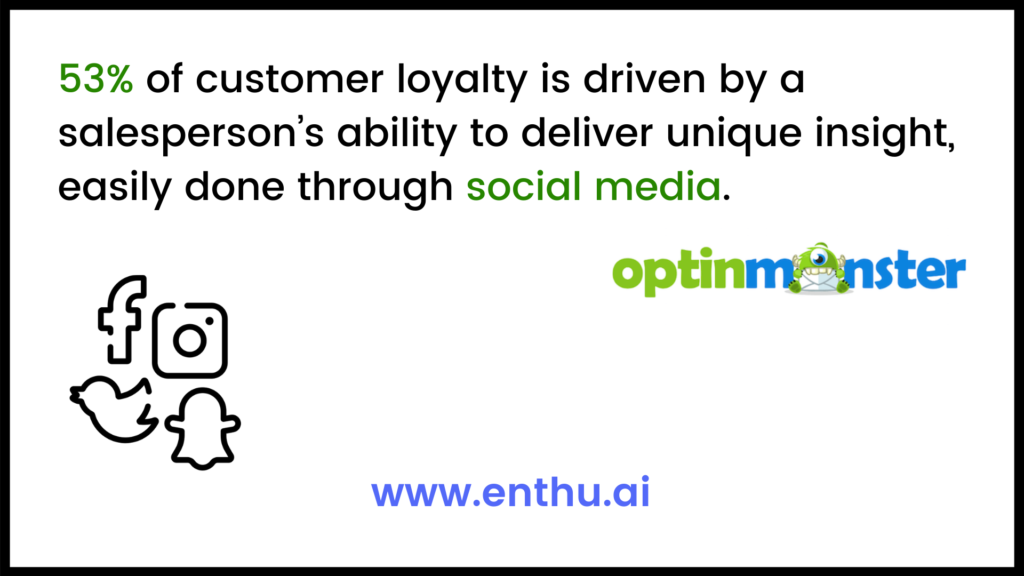 Key takeaway
Social media is an indispensable part of everyone's life.
So is the case for salespeople. Social media serves both as a connecting channel and a networking medium.
You get to know about your prospects & customers, including their preferences, likes and dislikes, personality traits, personal attributes; and so on. So much without even talking to that person.
While social selling is a slow process, it's a highly effective one. It helps you nurture the prospect, build trust with them, at the same time occupy a position in their mind space.
As a 21st century sales rep, your sales effectiveness will always remain low if you are not leveraging social media to its full potential.
G. Sales closure statistics
34. Referrals close the best at 3.6%. This is followed by 1.55% closure from website leads, followed by 1.47% closure rate from social media leads. (Implicist) 
35. 35% of the sales leaders name objection handling as the biggest challenge of their sales team (Hubspot)
36. Competing against low priced incumbents is the biggest sales challenge, faced by more than 45% of the sales people (Richardson)
37. Just 8% of the sales reps close 80% of the sales. (Propeller CRM)
38. Your odds of closing a sale reduces by 17% if you use the word "discount". (Gong)
39. 55% of sales rep say that budget is the most often reason behind falling of a promising deal.
Key takeaway
Closing sales is an art, therefore you see only a handful of salespeople closing most of the sales revenue.
While pricing is often a significant factor for the prospect, it's not the only one. 
The sales rep needs to understand the stated and unstated pain point of the customer and should focus on selling value and not just the price.
H. Sales training statistics
40. In 2019, organizations on an average spend $2,326 (median $1,000) per salesperson yearly on their training. (ATD)
41. Over 50% of sales managers are too busy to train and develop their teams. (Salesforce Training)
42. Online training is the most often used medium for sales, with 87% companies delivering training via online medium. 
43. 26% of reps say their sales training is ineffective. 27% of companies offer no sales onboarding program. (Training Industry)
44. A dedicated sales enablement function improves sales effectiveness by 29%. (BrainShark)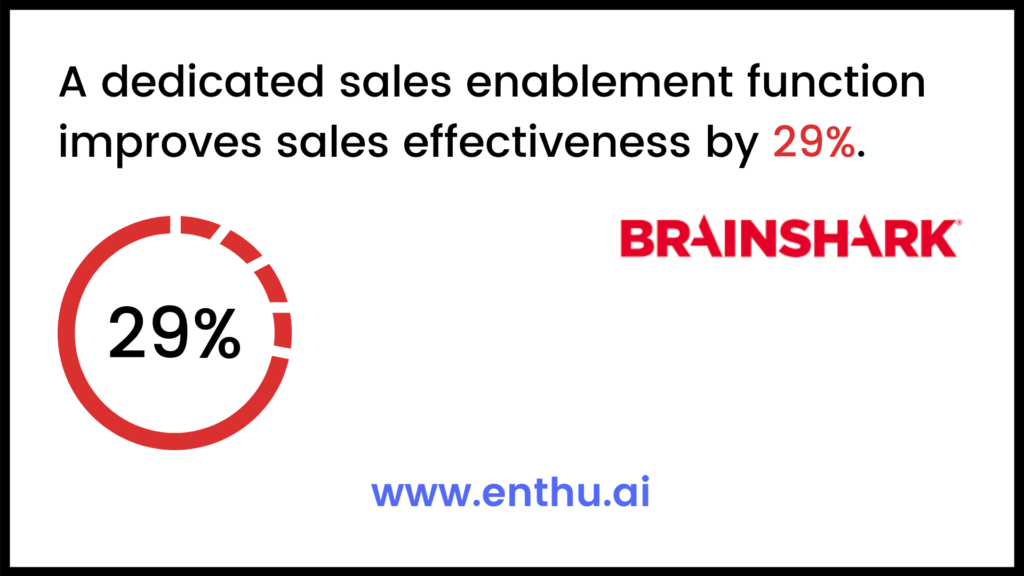 45. An average company spends $10-$15k to hire a sales rep, but less than $2k per annum to train them. (The Brevet Group)
46. Without an ongoing learning or clear reinforcement, 84% of sales training is forgotten within 90 days. (Process)
Key takeaway
You have hired the best salesman, but she can't do much without a proper and ongoing training. 
Selling is harder than what it used to be 10 years back, and you need to ensure your people are equipped with the right tools and knowledge that can help them learn, grow and hit their sales quota.
A  performing sales team can't be built without an investment in training and coaching.
I. Conversation intelligence statistics
47. Companies using AI for sales were able to increase their sales by more than 50%, reduce call time by 60% and cut costs by at least 40%. (Harvard Business Review)
48. While 85% executives agree that incorporating AI will make them more competitive in their respective industry, only 20% have incorporated AI so far. (MIT)
49. 83% of early movers report to have already achieved substantial (30%) to moderate (53%) economic benefits. (Deloitte)
Key takeaway
It's no secret that AI and conversation intelligence is being rapidly incorporated in the day to day lives of tech savvy salespeople. 
These technologies can help them personalize the sales process, execute better sales coaching, improve rep onboarding time and cut costs by as much as 30%. 
Here's a list of best conversation intelligence software available in the market.
J. Just for fun statistics
50. On an average, 25% of data in a sales database is inaccurate.(Internal Results)
51. 64% of the salespeople who fail, do so because they are in the wrong job and not because they can't sell. (Salesforce Training)
Get inspired by the sales stats
No matter how complex or simple your sales process is, you can draw out inspiration from these sales statisticss and improve your sales skills.
These stats help you stay on the course and ensure your sales process is still relevant to the changing business environment.