What is a sales cycle?
Sales is an important aspect of any organization. Without sales, you cannot move forward.
So it is very important that you have a sales process for your sales team to follow.
A sales cycle is a sequence of repeatable steps that a salesperson follows to convert a potential customer into a paying customer.
You can call it the roadmap for the sales reps because it shows them the path to reach their destination.
Also, it is quite similar to the buyer's journey that a customer follows to buy a product.
Why should you have a sales cycle?
As a sales rep, you probably take great pride in your talents to formulate new ideas and tactics.
However, defining the steps of the sales cycle can do wonders for your business.
The reasons for having a sales cycle are:
1. Eliminates unnecessary activities:
With the defined sales process steps, you will know what things are working for you and what is not.
You can adapt the activities that cause prospects to move into the direction of a paying customer and get rid of activities that yield no results.
2. Optimize the team structure:
You can optimize the team structure to support the sales process.
For example, if you know your biggest challenge is the assessment of the needs of the prospect, then you can devote more time to that step.
3. Improves sales:
At times, sales might not go as per your plan. So with the sales cycle in place, you will notice things that are causing sales to suffer.
Based on that, you can work on analyzing those activities and implement actions that are required.
4. Onboarding new staff:
It is easy for you to onboard new staff based on the sales cycle process because of the short term goals and long term goals set by you. 
For example, if you are looking to double your paying customer base in 3 months, then you might need more people at each stage to carry out the amount of work that is required to meet your goal.
5. Moving in the right direction:
Since the sales process is considered a sales rep's roadmap, it will not be wrong to say that it helps sales reps to move in the right direction.
It defines what each step requires of the sales rep, where they are in the process, and what next step they should take.
Steps involved in the sales cycle:
1. Prospecting
2. Contact and qualify
3. Needs Assessment
4. Present your product
5. Handling objections
6. Closing
7. Follow up

1. Prospecting
Prospecting is the first step in the sales process.
At this stage, you began to search for individuals or companies who might be interested in your product or service. 
Also known as lead generation, there are various ways through which you can find leads such as cold calling, social media, online marketing methods, referrals, networking at live events, purchased lists, etc.
Finding leads can be a daunting task. As per HubSpot, 42% of the sales reps name prospecting as the most challenging stage of the sales process.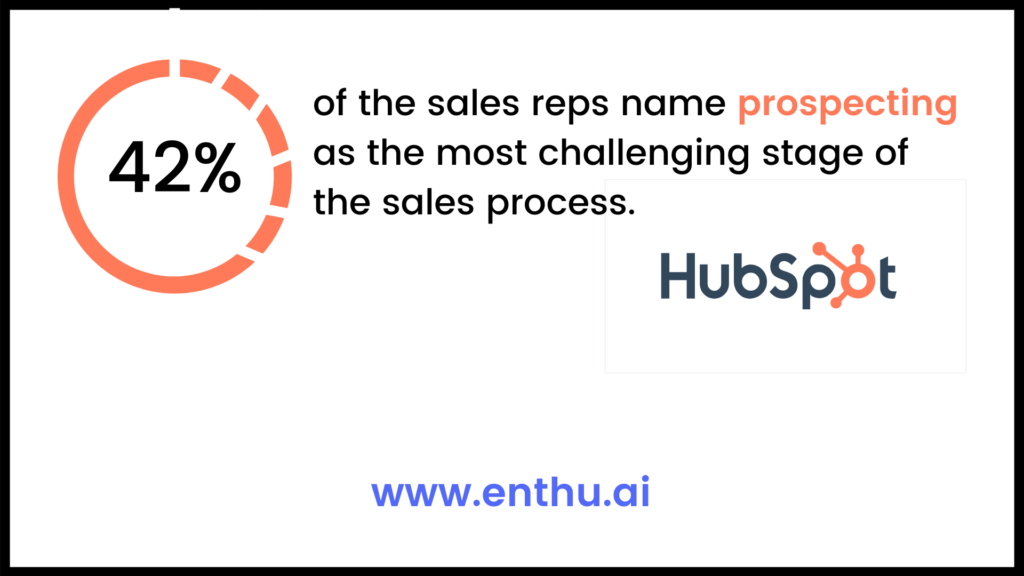 But before you begin any of this, you need to have an Ideal Customer Profile (ICP), i.e, you must know who your ideal customers are.
Based on this, you can begin to target those leads that match the descriptions set by you.
Not only it will reduce your work but also helps you to close a lot of deals.
2. Contact and qualify
At this stage, you need to make an initial contact with the prospects (if you use phone as the medium for reach out, ensure you open your calls in the right way).
This is done so that you can gather information about the target prospect.
To do that, you need to ask questions to your leads on topics related to budget, authority, need, and timeline.
By doing so, you can understand whether a lead qualifies to be your potential customer or not.
If they do not qualify, you can stop wasting any more time on that lead because as per marc wayshak, at least 50% of your prospects are not a good fit for your business.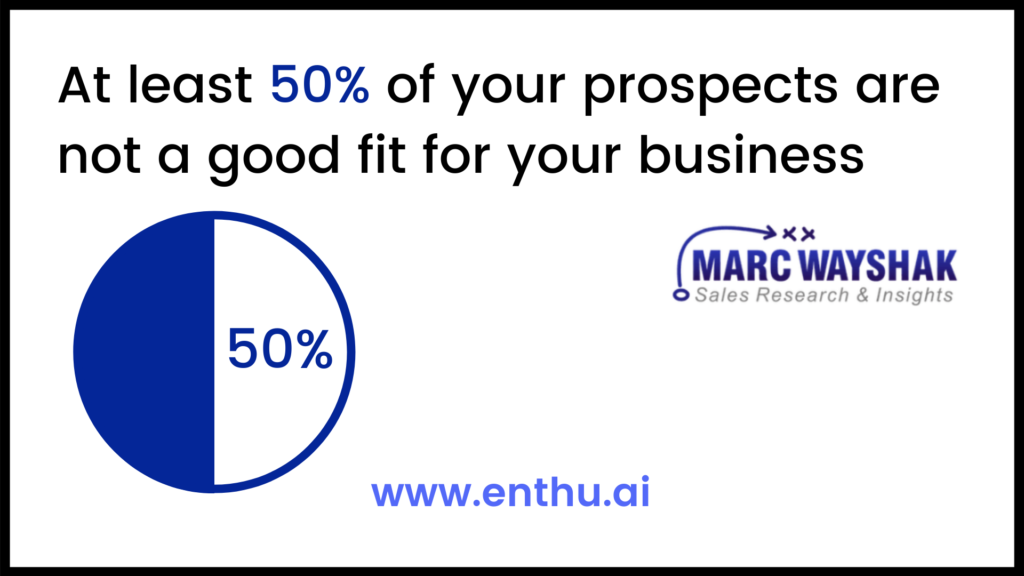 But if one qualifies, then you need to assess the needs of that potential customer.
3. Needs Assessment
Now, you need to assess the needs an individual or company has from your product.
You can start by asking standard questions that can help you to extract important information from the prospect.
During this process, you must let the prospect talk more than you. It is imperative for the success of this step.
Also, do not talk about your product even if you want to.
All you need to do is to understand the challenges and the situations faced by the prospect and how your product can help to overcome the challenges.
Based on this information, you can decide on how to approach the prospect with your product.
4. Present your product
At this point, you need to prepare a formal presentation that talks about your product, i.e, you need to make the prospect realize the value of your product.
To do that, you must focus on those features and benefits that can solve the prospect's problems that you came to know in the previous step.
So you must be very clear in your mind about the challenges faced by the prospect.
Also, you must do some external research about the prospect that can help you with your sales pitch.
You can bring in another executive in your meeting such as a product manager that can tell you the prospect in detail about the product.
It is done so that you can present your product in the best possible way.
5. Handling objections
At this stage, you must listen to any concerns or objections that prospects have regarding your product or proposal.
It is an important step and having objections is expected from the prospects.
You and your team must be able to handle any kind of objection that a prospect has.
If you can satisfy the prospect with your solutions, then you can expect that there is every chance that you will close the deal.
You must prepare yourself in advance to all possible objections that can be raised by prospects like objections related to onboarding, cost, or other parts of the proposed contract.
6. Closing
This is the step where prospects decide whether to purchase the product or stop the process.
This step will be successful only when you have implemented all the previous steps in the right way.
There are hundreds of ways in which you can close a deal but you must remember that it is not a standalone event.
In this step, the sale is completed only when both the parties agree on the terms and price of the contract.
And all the objections have been resolved and the details related to fulfillment, delivery, and any other related action are finalized.
7. Follow up
Once you have a happy customer, you can nurture the relationship further by selling other products that provide value to the customer.
Also, when a customer trusts you he will refer your product to other people who need your product.
As per HBR, more than 90% of B2B buying decisions are made with peer recommendations.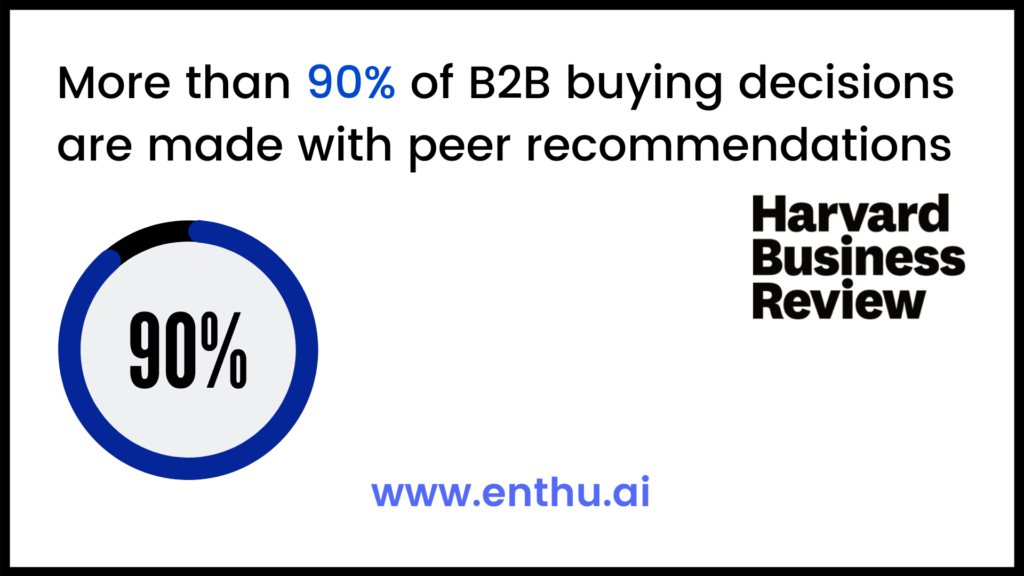 Therefore, you must provide exemplary services to the customers so that they not only recommend your product to other people but also renew the deal once it is over.