The biggest task these days is to manage a sales team.
It is upon you on how they perform in sales calls and meetings. You can either lead them to prosperity or failure.
An effective sales manager is one that hires best people and provide them with the environment that helps them to grow.
Because when you help them to develop their skills, they will reciprocate by improving the sales results of the company.
Also, they feel valued and will be in the company for a long period of time.
So, it becomes important to lead and manage a sales team in the right way.
In this guide, you'll find:
Meaning of sales team
11 ways to manage a sales team.
A. Sales team
A sales team is a group of individuals within an organisation who are responsible for selling its products or services to customers.

The team typically includes sales representatives, sales managers, and other sales management and support staff.

The sales team is responsible for identifying potential customers, developing sales strategies, making sales presentations, negotiating deals, and closing sales.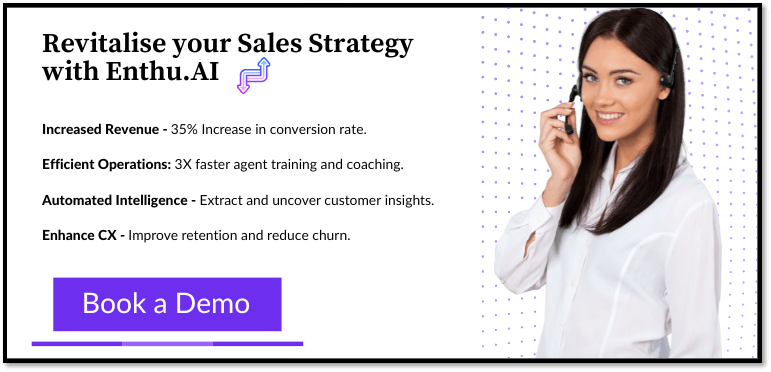 They work closely with other departments, such as marketing and customer service, to ensure that customers receive the best possible experience.

The performance of the sales team is often measured by the revenue they generate for the company.

Here are 11 ways to help you manage a sales team.
B. 11 Ways to manage a sales team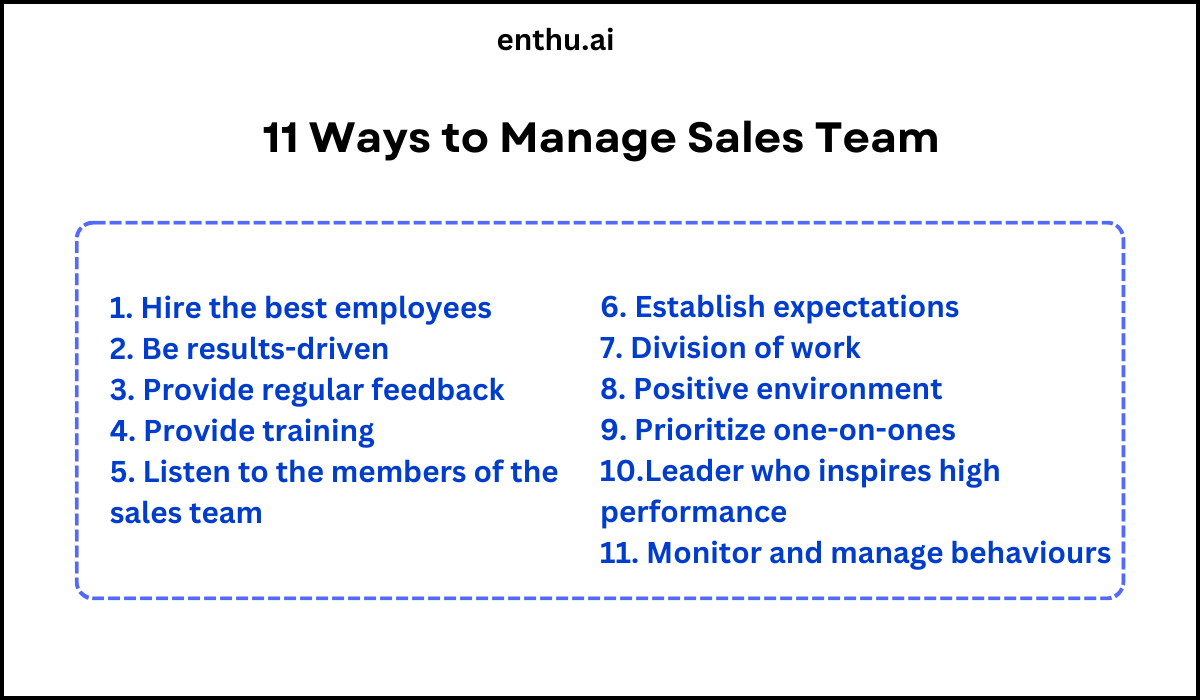 1. Hire the best employees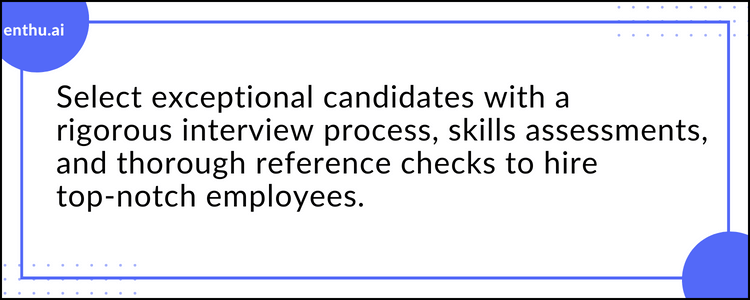 You need to find and hire the best people for the job. 

Because without preparing a good sales team, managing will be a difficult task.

So keep an eye on how they perform in their interviews and do background and reference checks.
2. Be results-driven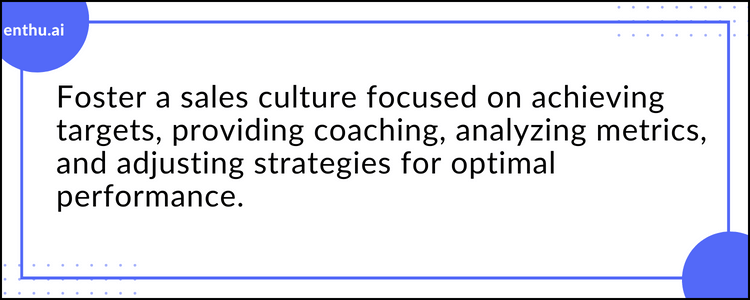 Set goals for your sales team as a whole and sales reps, individually.

Create a transparent environment in which they know what they have to achieve.

Determine what key sales metrics are required for the growth of business and prepare goals around those metrics.

By doing so, you can see improvement in their performance.
3. Provide regular feedback
Providing feedback is essential for the growth of sales reps.

But when you give feedback, you must give positive feedback first and then tell the areas where they can improve.

You have to be very specific with your feedback so that sales reps are clear on the areas they have to improve.
4. Provide training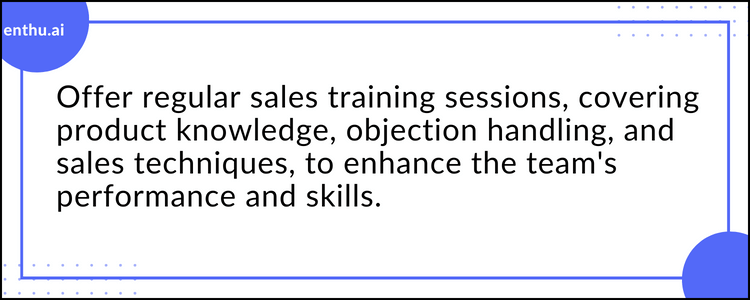 If you want the sales reps to stay in your company for a long time, you need to have a comprehensive training program for the sales reps.

You must have a well-structured onboarding program for the new hires so that they are confident enough to interact with the prospects and the clients.

Regular training will help sales reps to stay updated with product knowledge, competitive intelligence, prospecting, etc.

Training is a great way to improve their performance so that they can close more deals.
5. Listen to the members of the sales team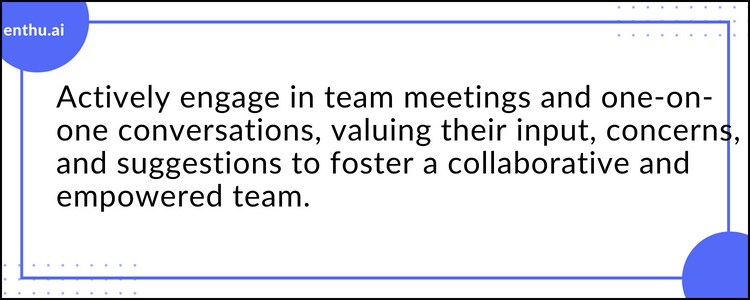 As a leader, you must be open to suggestions from your team members.

You cannot shut them down for presenting new ideas. When you listen to them, they feel respected, and also it boosts them to work harder.

They might have ideas that can boost your sales. So you encourage them to present an idea they have.

If you want them to understand you, you need to understand them as well.
6. Establish compensation expectations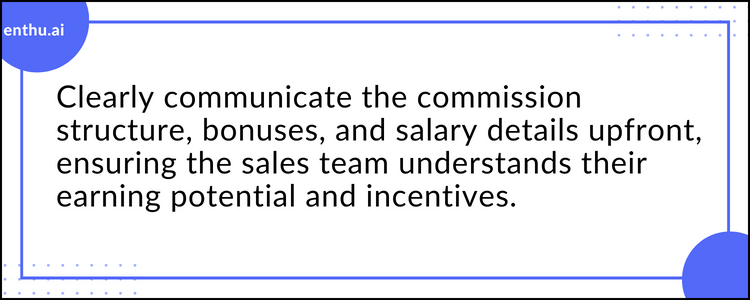 You must tell your sales reps about the compensation structure, i.e., they must know the reward of the hard work they will be doing.

They feel valued and will be encouraged to work harder.

But this must be an ongoing discussion and not the one that sales reps bring up.
7. Division of work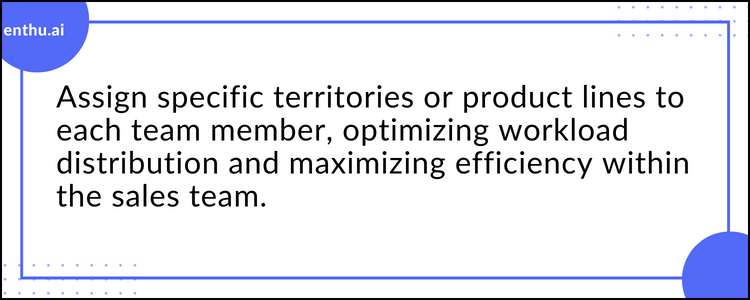 In a sales team, you cannot expect everyone to have the same level of performance.

So, you should divide the work in such a way that everyone gets tasks as per their expertise.

Your high-performing people should look after activities that are less in volume but of the highest importance, like building relationships, securing referrals, partnerships, etc.

Your low-performing people should look after high-volume activities like turning prospects into leads.
8. Positive environment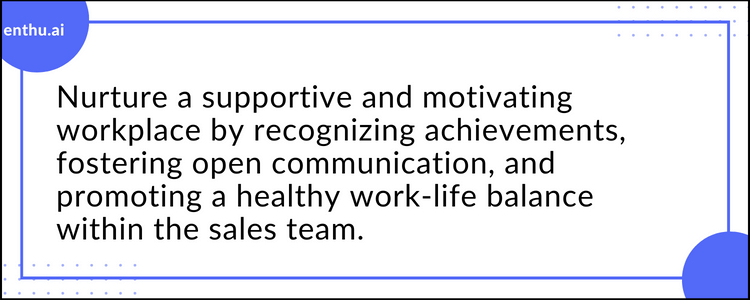 No employee wants to work in an environment that is, filled with negativity.

Employees should feel motivated, empowered, and inspired to work in your company.

When you create a positive environment, you can see a lot of qualified candidates applying for your company.

Also, you can retain a lot of employees with the right environment.
9. Prioritize one-on-ones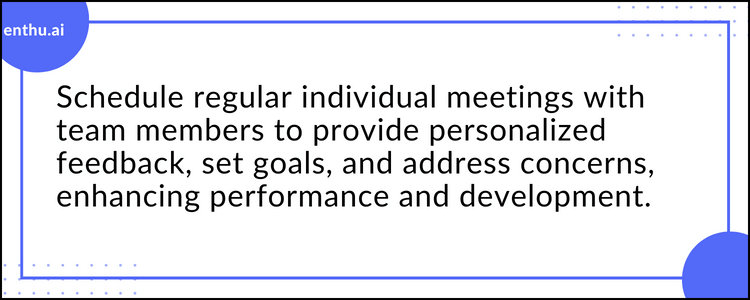 Talk to sales reps one-on-one on priority.

These meetings will help you connect with the sales reps, and you might come across things that they cannot say in front of others.

It gives you insights as well what's working and what's not, both in the sales process and the team management strategy.

You must conduct these meetings more than once a month. 

So, have a proper schedule and invest your time and energy.
10. Be a leader who inspires high-performance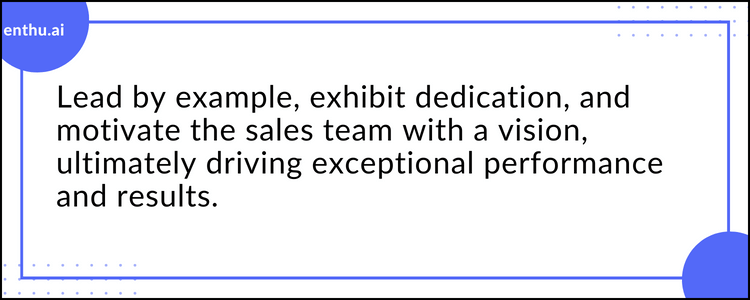 Sales managers should lead by example.

If sales reps are responsible for providing you with results, then you are responsible for helping them in achieving their goal.

Sales reps can learn a lot from sales managers about good business habits and new development strategies.

When a sales team under-perform, it is because you are not able to lead them well.

You need to understand what each rep requires and lead them based on that.
11. Monitor and manage specific behaviours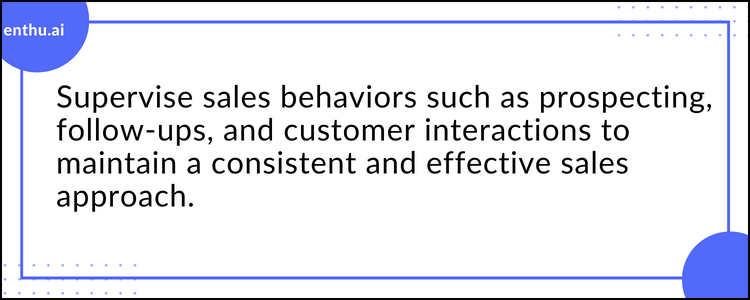 Sales reps might start to adopt a behaviour that is not favorable for sales results without realizing it.

In order to manage a sales team you should listen to their calls or demos once a quarter and tell them about the behaviour that has started to develop.

It will help sales reps to work on that mistake so that their performance does not go down. 
---
C. Conclusion
Managing a sales team is a complex undertaking that calls for a blend of strategic planning, communication, and leadership.

You may optimise your team's performance and achieve remarkable outcomes by putting the methods and ideas covered in this article into practise.

Manage a sales team by promoting a healthy work atmosphere, offering a continuous assistance and training, and establishing a clear expectations.

With effective management, you can unlock the full potential of your sales team and propel your organization towards sustainable growth and success.
D. FAQs
How do you manage a sales team effectively?
To manage a sales team effectively, hire the best employees, provide training, create a positive environment, have clear communication, monitor behaviour and performance.
What is the importance of managing a sales team?
Managing a sales team is crucial as it ensures streamlined operations, maximizes sales performance, drives revenue growth, enhances customer relationships, and promotes overall business success in the competitive marketplace.
What is the key to a successful sales team?
The key to a successful sales team lies in effective leadership, clear communication, a motivated and skilled team, well-defined goals, continuous training, and a supportive and collaborative team culture.