The digital revolution is, shall we say, polarizing.
Some small business owners are all in. They're taking payments online, working with remote teams, and have completely digitized their customer relationship management (CRM) processes. 79% are using digital CRM to manage sales and relationships.
Others are less convinced. Their offices are filled with post-it notes, Rolodexes, and desk planners.
We're going to show you exactly why you should embrace the change and digitize your CRM processes.
In this guide, you'll find:
CRM process leads to better acquisition and retention
A. Digitizing your CRM process leads to better acquisition and retention
There's one really big reason digitizing CRM processes is important: revenue growth.
When your CRM processes are digital, you benefit from two huge improvements that drive revenue growth:
Better acquisition
Better retention
Let's explain.
Digital CRM gives you access to more, higher-quality data and insights on your buyers, so you can target ideal customers from the get-go. Automation and lead nurturing functions make it easier to maintain consistent communications, and the hand-off from sales to customer service is a lot smoother, as both teams have access to all customer data in a centralized location.
If you're better at reaching the right customers and can deliver a high-quality customer experience, you're going to improve new client acquisition rates.
Remember, though, the key term in the acronym CRM is "relationship."
Digital CRM is a must-have for SaaS and subscription businesses, where the brand-buyer relationship is critical to long-term revenue growth. Poor-quality relationship management leads to high churn rates, and sales ends up working to fill a leaky bucket rather than driving revenue growth.
Digitizing CRM processes gives you a few wins here:
Automated nurturing and account management sequences
Faster ticket handling and support response times
Enhanced access to account insights
Smoother transitions when changing account managers
Let's explore seven ways in which digitizing CRM can help you grow revenue through improved acquisition and customer retention.
---
1. Seamless and simplified customer onboarding experience
Customer onboarding is a weak area for many companies, particularly those that use manual processes to manage relationships.
As a buyer, nothing is worse than going through the entire sales process, explaining all of your needs, challenges, and goals, and then having to repeat that information to another representative.
Digital CRMs help solve this challenge by providing a central location for all customer data, communication logs, and conversation notes.
For businesses that operate on a more transactional basis (think B2C brands like Netflix and Spotify), online CRMs make it simple to build automated email onboarding sequences.
For example, the first touchpoint could be a welcome email similar to this one:
You could then schedule a new email that walks new customers through the platform and helps them get the most out of your product, like this: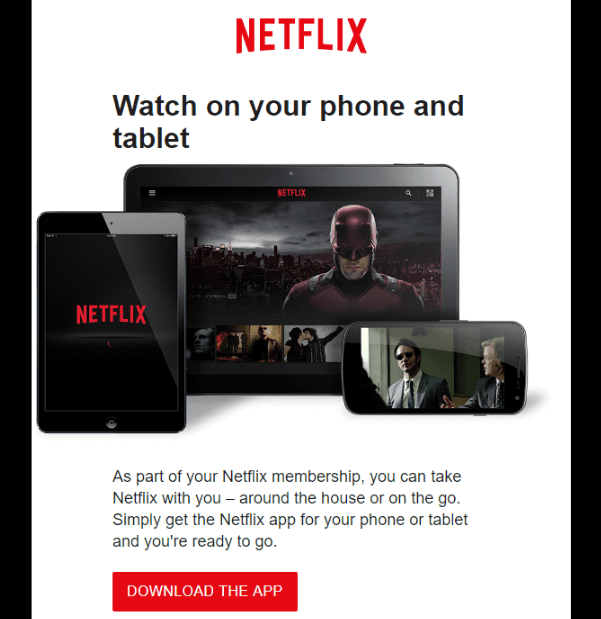 For enterprise-facing companies that focus on one-to-one customer relationships, digital CRMs generally provide a method for scheduling activities and reminders for account managers to hold relationship-building conversations.
---
2. Stronger and faster customer support resolution
Customer service teams will also benefit from the automation functionality of digital CRMs.
Businesses that digitize customer relationship management provide a more cohesive experience, as each time a customer calls in with a new technical issue, their entire history of support tickets and conversations is accessible by the support rep they reach.
Another easy win here is to automate a "thanks for contacting us" email to be sent as soon as a customer lodges a new support ticket.

Image Source
This goes a long way to easing customer concerns, particularly when they're facing a technical issue (generally a difficult time).
Support-focused systems allow for customizable ticket routing rules to enhance the resolution process.
For instance, to improve resolution times, tickets can be automatically routed to the next available agent. To provide a more consistent customer experience, however, all tickets from a given customer can be routed to the same support rep. This way they're receiving assistance from the same person every time.
---
3. Save time with powerful automation features
Digital CRM platforms offer a variety of automation features, many of which can save you hours each day.
Customer service professionals report saving as much as 16 hours a week using automation. For marketers, this figure can be as high as 25 hours!
Acquisition processes can be improved by automating:
Email and social media outreach cadences
Sales activity reminders
Lead nurture sequences for "not right now" prospects
Customer meeting reminders
Contracts and signatures
Automation has a tonne of benefits in the retention department too. Valuable content such as how-to guides can be distributed based on specific triggers. For example, if a customer starts using a new feature, this could trigger an email to be sent with a video walkthrough on how to get the most out of that function.
---
4. Create personalized omnichannel experiences
More and more, customers demand personalized experiences from the brands they shop with. They want to see more than their name being used in email communications.
Today's consumers want:
Personalized product recommendations
Customer services teams to be aware of their history of support
The right content, at the right time
Digital CRMs allow you to design personalized omnichannel experiences by acting as a central data storage point and then connecting with other tools (such as social media scheduling platforms like Later.com) to reach customers where they are.
A simple example is remarketing: a potential customer has been browsing your website, so you automate ads to show up in their social media feed promoting your brand.
Digitized CRM allows us to personalize this experience. We can identify the exact pages they've seen on our site to understand the features that are most important to them, and then promote content that's directly relevant to their needs.
---
5. Leverage reporting and analytics to drive critical business changes
Some traditional businesses struggle to report on the efficacy of their processes and any changes they make to them. Manual reporting and analytics are time-consuming, meaning business owners often ignore them.
These insights can help businesses stay agile. Say you implement a new ticket-handling process. You'll be able to analyze any changes in response times in a matter of days rather than having to wait until the end of the month to produce a report.
Advanced reporting also allows you to identify weak spots in your processes.
Let's say, for instance, your sales pipeline has six stages:
Prospecting
Qualification
Proposal
Negotiation
Closing
Retention
Your CRM reporting dashboard should be able to tell you what your conversion rates are at each point (that is, what percentage of prospects move forward from a given stage to the next).
You can use this data to understand where sales are falling through. For example, if your conversion rate at the negotiation stage is lower than it should be, this is an indicator that your team requires further training and development in this area.
---
6. Ensure you're compliant with current data security requirements
Your customers expect that if you're capturing and storing their information (e.g., their phone number), you're invested in their privacy and data security to keep their identity anonymous.
More than that, certain regions enforce strict data security regulations (e.g., GDPR).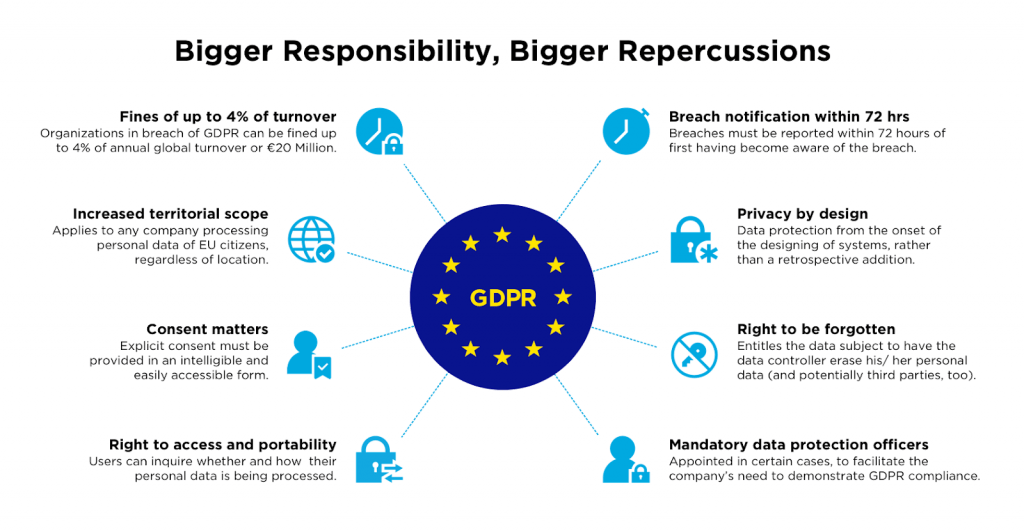 Image Source
Ensuring compliance with these regulations can be a nightmare for small business owners (some of the rules require quite a bit of technical knowledge to understand).
Top digital CRMs take this weight off of your shoulders by ensuring that the customer information you store within them is encrypted, private, and secure from data leaks.
---
7. Unify touch points across multiple channels to understand customer behavior and satisfaction
Your customer relationship management platform is the center of your tech stack. It connects with your website monitoring, email, social media scheduling, and marketing automation tools to push content out but also to bring engagement data in.
Through this process, your CRM becomes the point of truth for understanding the customer journey.
You discover what marketing activities attract the most leads, how prospects are moving through the funnel from awareness of a pain point right through to closing a deal, and which sales activities are most effective at shortening this sales cycle.
Then, when you know what's working well, you can double down on these activities and invest your sales and marketing spend more effectively.
---
B. Final thoughts
It's clear that the state of sales in 2022 and beyond is digital, and customer relationship management is going to continue to be digitized.
Digitized CRM improves customer experiences, provides deep analytics and insights into buyer behavior, and allows sales and service teams to automate repetitive, manual parts of their workday.
Written by
Shaun Shirazian, CPO, Pipedrive
Tushar Jain is the CEO and Founder of Enthu.ai. In his free time he loves to read and write about new duo of artificial intelligence and customer experience.
Subscribe To Our Newsletter
Get updates and learn from the best