Looking for ways to improve your sales knowledge? Then look no further.
We have come up with a comprehensive list of 16 best sales blogs that will not only provide you with knowledge of new sales practices but also give you insights into the sales tips and techniques followed by the top experts.
Combine these best sales blogs with these
10 best sales podcasts
and you don't need anything else for your daily sales snack.
Here's our list of top 16 best sales blogs of 2021 that you should start reading without any delay.
Best Sales Blogs for 2021
1. Heinz Marketing

Founder: Matt Heinz
Heinz Marketing blog is your daily dose of B2B sales and marketing insights. 
The blog post covers a wide range of topics such as ways to engage your prospects, filling your pipeline, creating an effective content strategy, best practices for demand generation, and a lot more.
You can also find unique recurring series such as 'App of the Week', a weekly feature and 'How I Work', a series that talks about how successful B2B leaders stay productive.
---
2. Sales Hacker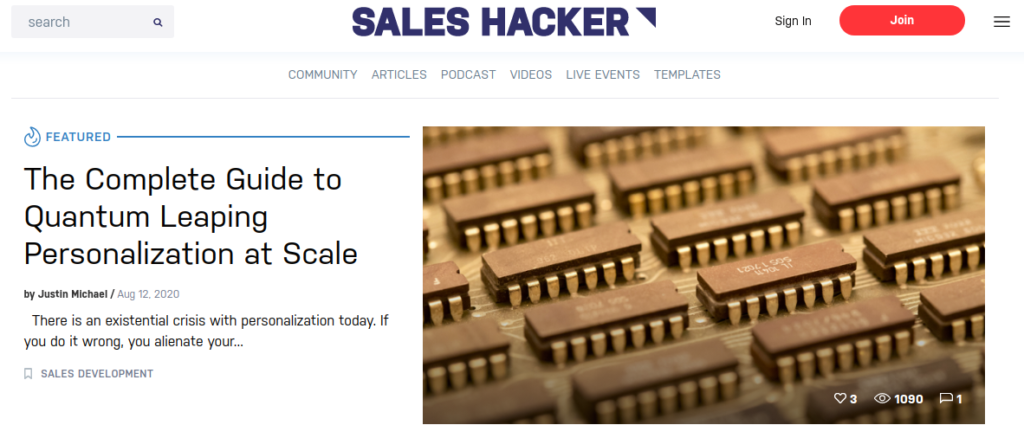 Founder: Max Altschuler
Sales Hacker is a well-diversed blog that posts quality content on a regular basis for every type of sales professional. 
The wide array of topics covered in this blog post are related to prospecting, social selling, cold calling, lead generation, outreach, effective coaching techniques, etc.
You can also find exclusive sales insights from industry's top leaders.
Sales Hacker gives you the freedom on how you want to consume content. They publish content in various forms such as ebooks, webinars, videos, podcasts, etc. 
---
3. Sales Gravy

Founder: Jeb Blount
Jeb Blount, a sales accelerator specialist shares a lot of articles, videos, tips, tricks, podcasts and advice from the top sales experts on his blog.
Also, you can find ample content on filling the top of your funnel as he is one of the foremost experts on prospecting. He has also written a book on prospecting named 'Fanatical Prospecting'.
---
4. Gong

Founder: Amit Bendov
Gong is one of our big competitors and we just love them for the content they publish. The blog posts published on Gong are full of data, experts tips, advice for sales reps and sales leaders.
The data published in blog posts come from analyzing millions of recorded and transcribed sales conversations. 
Quality content backed by data will help you close more deals, meet sales quota and have more successful calls during the sales cycle.
They publish one blog post per week.
---
5. TopLine Leadership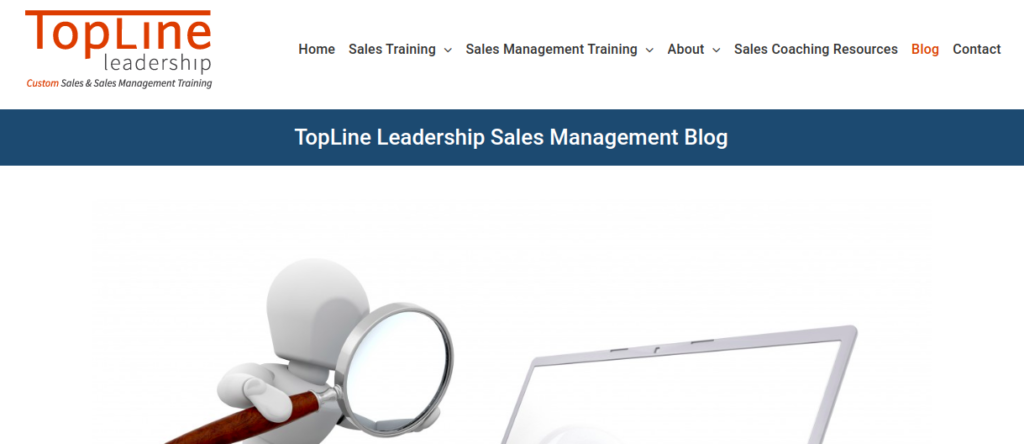 Founder: Kevin F. Davis
TopLine Leadership blog centres around motivation, coaching and performance management.
Motivating a sales team to achieve high performance is one of the difficult challenges faced by the sales leaders. 
In this blog post, you will find tips on how to manage and motivate your sales team to improve their performance.
---
6. The Sales Blog

Founder: Anthony Iannarino
Anthony Iannarino is an author, speaker and a well-known sales leader. He publishes tips and insights on his blog on a daily basis.
The sales tips mentioned by him are practical, straightforward and motivational. 
Also, his direct and no-nonsense approach to writing is more effective than most of the sales blogs.
---
7. A Sales Guy

Founder: Jim Keenan
Jim Keenan is a well-known sales expert in the industry. 
In his sales blog, he talks about sales, leadership, cold calling, and a lot more other topics but the focus of the blog is on tips related to hiring and recruiting top talent.
So if you are looking to recruit new members to your team or becoming a competent sales professional, then you can find a lot of resources on this blog post.
---
8. SalesFolk

Founder: Heather Morgan
SalesFolk blog helps you polish your sales email skills.
The blog provides you with excellent email examples ( both best and ugly), straightforward suggestions and fresh ideas.
This blog is important for those who understand the power of cold emailing in sales and also that writing a message that grabs attention straightaway is a difficult task.
---
9. The Make It Happen Blog

Founder: John Barrows
The person who wants to become a great sales leader must refer to this sales blog.
In his sales advice, John incorporates his learnings from his past as a salesperson and his current position as a sales trainer.
These personal stories that he includes makes his blog post both engaging and remembered among people.
Through his blog posts, you'll be able to give better presentations, address common objections, discover personal drivers, etc.
---
10. Jill Konrath's Fresh Sales Strategies

Founder: Jill Konrath
Jill Konrath is a sales expert who is looking for new sales strategies every day.
Through her blog, you can really learn how to increase sales, navigate through complex problems, win more businesses, etc.
All these topics become interesting because most of them include stories from her life along with sales tips.
---
11. HubSpot Sales Blog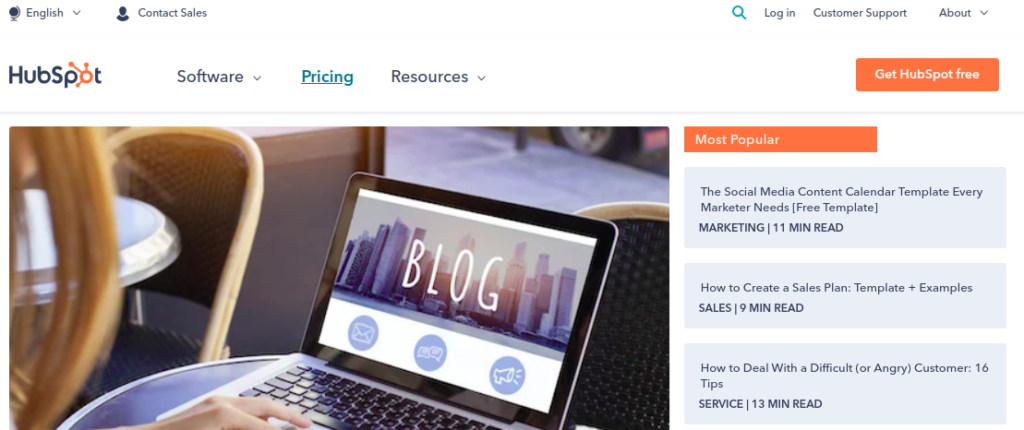 Founders: Brian Halligan and Dharmesh Shah
HubSpot is one of the well known sales blogs in the market. The blog has something to offer to everyone.
Whether you are a sales rookie or a sales veteran, you will gain valuable insights from this blog.
The blog covers a wide range of topics such as how to open a sales call, cold emailing techniques, closing techniques, how to lead a sales team, etc.
HubSpot is also famous for its inbound marketing strategies.
---
12. Predictable Revenue

Founder: Aaron Ross
Predictable Revenue is focused more towards strategies that help in increasing the sales. 
The topics covered in this blog are building sales teams, getting on top in your niche, growth secrets, power of long-term goal setting, business metrics, building an outbound prospecting program, etc.
Besides this you can also know about the latest B2B sales trends.
---
13. LinkedIn Sales Solutions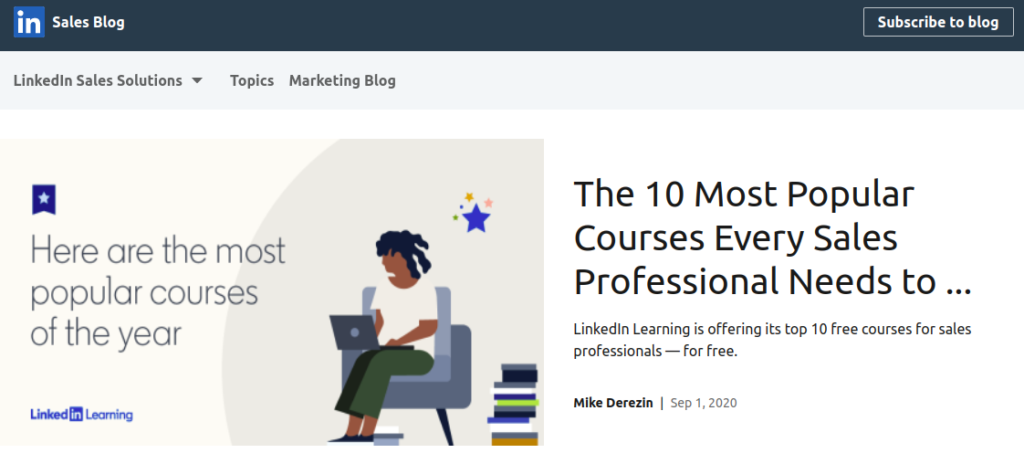 Founder: Mark Allen Roberts
Social selling has become quite popular among the sales teams. 
With Linkedin's sales blog, learn how to use the platform to maximum effect and also stay up-to-date with new developments in the arena of social selling.
The blog specializes in management best practices, prospecting tactics and social selling techniques.
---
14. SaaStr Blog

Founder: Jason Lemkin
SaaStr was started as a small sales blog and has now become one of the largest communities of SaaS founders and entrepreneurs in the world.
In this blog, you will know about the new developments in the SaaS industry, as well as tactical advice for founders and sales leaders.
---
15. Inside Sales Experts Blog

Founder: Trish Bertuzzi
With Inside Sales Experts Blog, you can discover new ways of expanding and optimizing your inside sales team, especially in tech companies.
The blog covers topics such as lead generation, inside sales productivity, sales training, industry trends and much more.
This blog has something to offer for everyone.
---
16. CloserIQ

Founder: Jordan Wan
Being a sales recruitment firm, CloserIQ blog is full of tactics and advice related to sales reps recruitment.
The blog covers topics such as top qualities a salesperson should possess, how to identify top talent and best practices to onboard sales reps.
This blog is perfect for those who want to hire the best people in their team.
Final Thoughts
That was it, our 16 best sales blogs.
Now, stay updated with the latest trends in the sales industry with these top blogs.
Do tell us which one is your favorite in the comments section below.